When it was announced that defenceman Jarred Tinordi underwent wrist surgery and is expected to face two to three months of rehab, it was an opportunity lost. The injury robbed Tinordi of being called up to Montreal for the NHL playoffs, especially with Nathan Beaulieu getting hurt and Greg Pateryn getting the chance to play. As a prospect, Tinordi has been slow to develop into that big defensive defenceman that he was projected to be on draft day and his lack of quick progress has him in danger of being pushed further down the depth chart.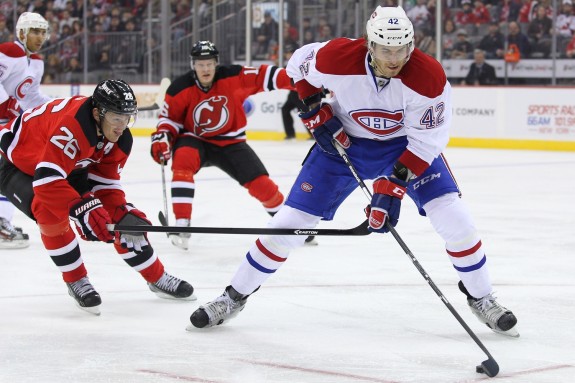 Background on Jarred Tinordi
At the 2010 NHL draft, the Habs traded up five spots in the first round to select Tinordi. He had just completed a very good season with the USA Hockey National Team Development Program that included winning a gold medal at the IIHF U-18 world hockey championships. Defencemen typically have the second longest development curve after goalies and taller players especially have shown to take longer in adjusting to the speed of the pro game and filling out their bodies.
At the pro level, Tinordi hasn't put up much offense but his defensive game has continued to improve. He has been solid in the AHL, but continues to struggle at the NHL level. He is inconsistent as he fluctuates from good to bad in a single game and looks overwhelmed at times. When he is on his game, he is using his 6′ 6″ and 225 LBS body to his advantage and making simple, effective plays.
The Next Chara or Bust?
For comparison's sake, Boston Bruins captain Zdeno Chara didn't emerge as an elite defenceman until he was 24, which was the age that coincided with him being traded from the New York Islanders to the Ottawa Senators. With Ottawa, Chara broke out to become a two-way force on the blue-line for the Senators. However, the likelihood of the 23-year-old Tinordi becoming Chara overnight isn't very high.
But the Habs have a careful choice to make. Last June, GM Marc Bergevin dumped former 2009 first rounder Louis Leblanc for a conditional fifth round pick and so far the decision to get rid of Leblanc has been proven right. Leblanc is still toiling in the AHL with little progress and has a very slim NHL future at this point. Tinordi has more value than Leblanc ever did and the Habs can either keep Tinordi and hope he makes significant progress over the summer or they can try to trade him for a similar asset. It's a tough decision considering the kind of potential Tinordi has but the lack of development from a prospect can be maddening at times.
Time to step it up
No doubt there is pressure on Tinordi to make the Habs next year, especially since he has been surpassed by Beaulieu with Pateryn pushing hard for a spot. PK Subban, Andrei Markov, Tom Gilbert and Alexei Emelin are already signed for next season. Beaulieu needs a new deal while the second year of Pateryn's deal becomes one-way. There is also the possibility that Montreal re-signs pending UFA Jeff Petry.
As a restricted free agent this summer, Tinordi has little leverage being in the AHL and recovering from an injury. I can see Tinordi being given a one or two year "show me" deal to prove to the Habs that he can be an NHL player one day. The Habs are typically patient with their prospects but like the Leblanc situation showed, they also aren't afraid to cut ties when the time is right. It may seem like there is no room for Tinordi next year in the NHL. But hopefully he accepts the logjam of defencemen as a challenge rather than a problem.
I have a Bachelor's Degree in Journalism from Ryerson University. I am a freelance journalist and a Montreal Canadiens writer for The Hockey Writers. I previously wrote for Simcoe.com and Last Word on Sports as well as interned at TSN.