The Calgary Flames will get forwards Sean Monahan and Johnny Gaudreau signed. When they do, they'll need a right wing to play on Calgary's first-line. Apparently, the Calgary Flames believe Troy Brouwer, one of the Flames most recent UFA acquisitions, will fill that void.
In obtaining Brouwer this summer, Calgary shelled out $4.5 million over four years for a player they believe checks off a lot of boxes. He's big, skilled, has a reputation for veteran leadership, is a proven playoff performer and he plays a position of need. All of these things ring true and on the surface; Brouwer sounds like a perfect fit.
Yet, if you start to take a closer look, Brouwer's numbers point out some interesting, perhaps concerning, things. Over the course of 82 games with St. Louis in 2015-16, Brouwer tallied 18 goals and 21 assists for 39 points. His highest point totals came in the previous two seasons, where with 43 points, he was a fairly consistent part of the Washington Capitals. Over four seasons with the Caps, he posted 152 points in 293 games for a.518 per game point total. The history books show Brouwer is consistent, somewhere around the 35- to 45-point marker, but not dynamic. With these numbers, it can be argued he's potentially not even first-line material. But at 6 feet 3 inches and 213 pounds, Calgary feels, or maybe hopes, Brouwer is both a steady hire and potentially ready to take an offensive step forward.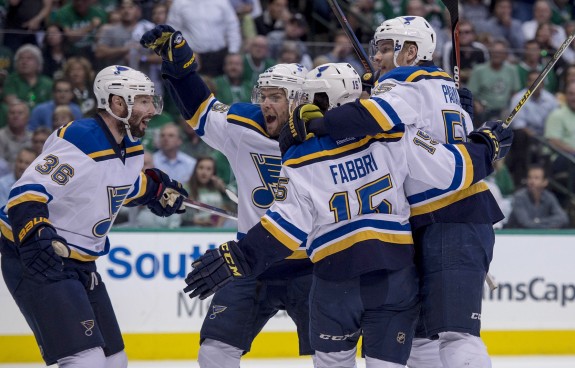 The History Books
The problem is, Calgary is taking a relatively expensive gamble without the past to show it's a smart bet. While it should never be said a player is doomed to repeat history, Brouwer simply doesn't have the kind of track record becoming a first-line offensive weapon. He certainly doesn't warrant the kind of blind optimism that suggests Calgary has suddenly found the perfect third for Monahan and Gaudreau (the perfect pair). Go beyond his average point totals and his underlying numbers may scare you.
By looking back to previous seasons, both with the St. Louis Blues and Washington Capitals, certain statistics were not kind to him. When you take a look at how he fared with his forward teammates and if you're a believer in the importance of relative Corsi or CF% you'll notice that in 2015-16, Brouwer only meshed in St. Louis with a couple players. And to say meshed, means, Brouwer didn't drag down teammates like David Backes and Robbi Fabbri as much as he did others. Nearly every one of Brouwer's regular linemates had a more positive CF% when he was not on their line, yet when he was, their numbers dipped.
In 5v5 situations, numbers like the ones posted with linemate Paul Stastny aren't pretty. When Stastny was on the ice without Brouwer, Stastny had a CF% of 55.5. When they played together, that dropped to 50.3. Brouwer had a negative effect of over five percentage points. Similar results happened with Alex Steen and Joel Edmundson. Brouwer's pairing with defensemen, specifically on-ice time with Jay Bouwmeester was an absolute train-wreck.
In short, Brouwer has a habit of bringing top-end players down to his level, not elevating himself up to theirs. Some of the Blues' most offensive weapons, became less productive weapons alongside Brouwer and their combined play was often not as effective as their individual results. For the sake of the Blues' offence, it's a good thing Brouwer didn't play much with Vladimir Tarasenko.
What This Means for Calgary
Because Brouwer has a history that shows he's more prone to bringing players down than boosting them up, is playing Brouwer with Gaudreau and Monahan the wisest course of action? More positive offensive zone starts will help hide Brouwer's inefficiencies, but five years of data would suggest this could be a fallible plan. Brouwer has had some on-ice success with players (like Nicklas Backstrom in Washington), but that success is few and far between.
Calgary needs a proven winger to play top-line minutes and someone who can accent Calgary's best offensive weapons. In short, Calgary paid $4.5 million to find that player. Because Monahan and Gaudreau make those around them better, Brouwer will be a beneficiary. That said; Calgary needs to watch this situation carefully, hoping Monahan and Gaudreau become the exception and not the rule.
Perhaps some will look back at this article eager to point out I was wrong, suggesting I was too quick to judge a proven NHLer, which Brouwer is. Because Brouwer's point totals stand to be the highest he's ever had during his NHL career, he may upon first glance appear worth the large investment Calgary made in a year where they are set to shell out two of the biggest contracts in Flames history. But, I don't believe asking if Brouwer's points will go up is the real question to ask. It seems obvious we already know the answer.
The $4.5 million question this year is, in giving Brouwer plenty of steady playing time with Calgary's best offensive weapons, will Monahan and Gaudreau continue to be the dynamic duo they were playing with Brouwer or playing without him? Will slotting Brouwer on that top line make them better? Or, as he's done so often in the past, will Brouwer drag them down, possibly improving his numbers, but hurting theirs in the process?
If Brouwer has an adverse affect on that first line and the production of Monahan and Gaudreau dip because of it, the love affair won't last. In the end, Calgary will have given a large contract to a second line player. Calgary has added a proven NHL veteran to their roster and Brouwer brings elements that continue to make him a useful hire for an NHL franchise. The only issue is, Calgary may have overpaid for him.
There is a slight possibility these numbers change and Brouwer turns out to be exactly what the Flames needed this summer. There's also better than average potential for this to backfire. If it does, Calgary may be in the market for another right winger.
Jim Parsons is a senior THW freelance writer, part-time journalist and audio/video host who lives, eats, sleeps and breathes NHL news and rumors, while also writing features on the Edmonton Oilers. He's been a trusted source for five-plus years at The Hockey Writers, but more than that, he's on a mission to keep readers up to date with the latest NHL rumors and trade talk. Jim is a daily must for readers who want to be "in the know."
Other content contributions include: NHLtradetalk.com, The Sportster and hosting weekly video casts, THW News and Rumors Rundown, plus Oilers Overtime.
For interview requests or to provide content info, follow Jim on Twitter or his social media accounts. They appear under his photo on articles like this one.