The "12 Days of Christmas" is a classic holiday song first published in its current form in 1908. In a nod to the classic carol, join The Hockey Writers as we count down the 12 Days of Hockeymas. Each day, we will provide you with a piece of hockey content or history as we eagerly await the start of the 2020-21 NHL season.
The 2020-21 NHL season is sure to make for an interesting one, no matter how it shakes out once the NHL and NHLPA come to a full agreement. We already know we will have a 56-game schedule, and the target start date is Jan. 13, 2021. For the New York Islanders, they're coming off an Eastern Conference Final appearance and will need to build off of that success. Therefore, on the 12th day of "hockeymas," let's dive into the Isles' wish list for the 2020-21 season.
A Top-6 Forward
As it stands, there are still a few unsigned forwards in the free-agent market, as well as some cap-strapped teams looking to clear some space. While the Islanders might be one of those teams, with the recent news of Johnny Boychuk "ending his career," that clears some cap space for general manager (GM) Lou Lamoriello.
Yes, the GM still has Mat Barzal to sign, but there's no sense of worry on either side that a deal won't get done. This should leave the Islanders with a little bit of wiggle room to add to their top-six forward group, as we know the team could use a boost in scoring.
Despite an Eastern Conference Final appearance, the Islanders sat at 22nd overall in the NHL in goals for per game, and there are a few names still available that might fit in the Islanders' lineup. Mike Hoffman would certainly help the team's goal-scoring issues. However, the four-time 25-plus goal scorer and recent 35-plus goal scorer just knows how to fill the net. But his price tag is likely a little high for Lamoriello, and he shouldn't be looking to add another contract over age 30.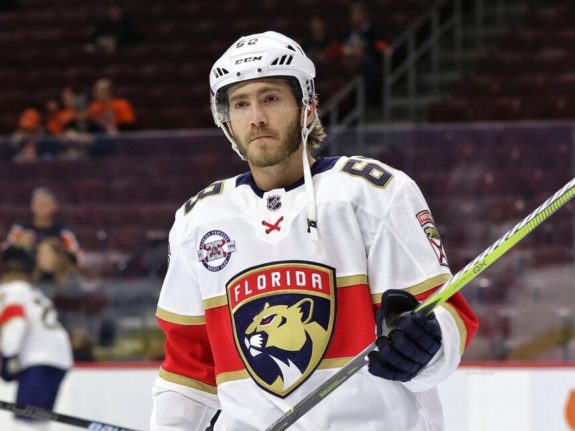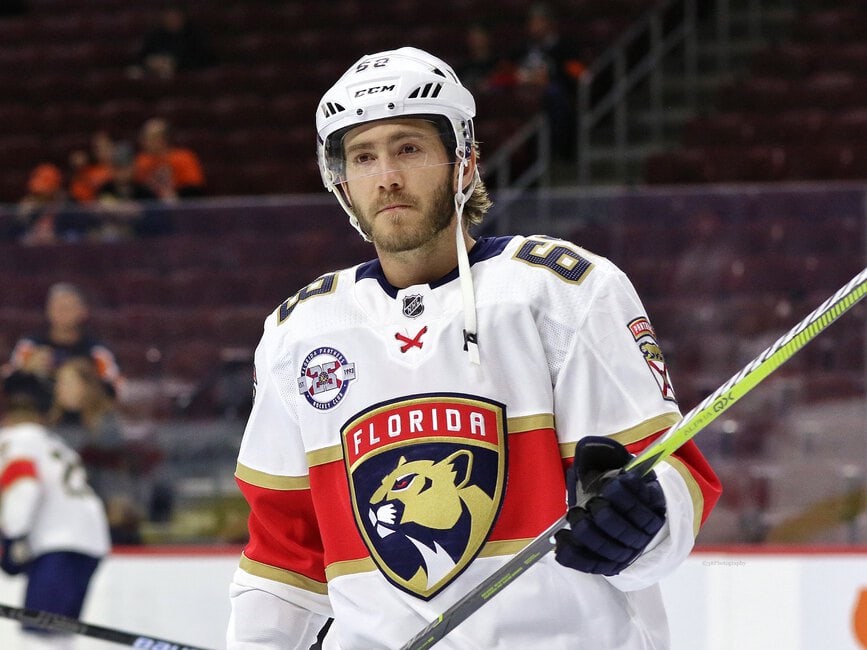 Other intriguing names such as Anthony Duclair or Andreas Athanasiou remain available on the unrestricted free agent market, and both have a history of scoring, as well as bringing some speed. Add on the fact that they're under 30, and they seem like good fits for the Islanders, even if it's just short term. Lamoriello could also opt for the trade market, seeing as some teams might be looking to adjust their rosters prior to the start of the season.
Whatever it may be, a scoring injection is necessary for the Islanders to take another step forward in the 2020-21 season.
Noah Dobson Breakout
After a shocking trade that saw Islanders' defenseman Devon Toews moved to the Colorado Avalanche, and Boychuk ending his career, the blue line will look a little different for head coach Barry Trotz this upcoming season.
"We would not have made this move if the ice time that Devon received, we didn't have the ability to put a player into that," Lamoriello said. "And Noah Dobson, we feel, is certainly ready to take the next step so we'll have to just wait and see."
With the vow of confidence shown by the Islanders' GM, Dobson appears to be a mainstay on the defense. The 6-foot-3, 179-pound defender has 34 games of NHL experience and seven points (1 goal, 6 assists) to add to it.
Dobson has shown flashes of mature ice presence and has a reserved two-way style to his game. Going into the bubble, Trotz paired the young defenseman with veteran Andy Greene, and the pair was so good in training camp that they had almost played their way into the every-night lineup.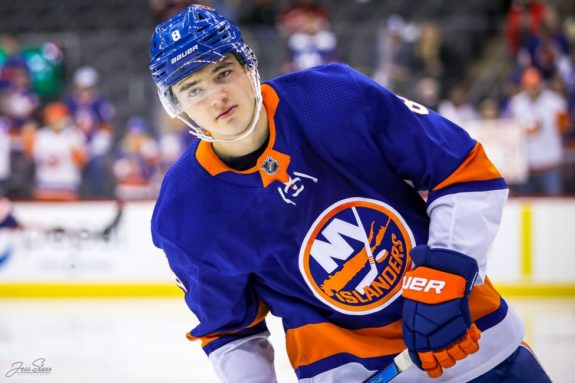 After what was an unusual rookie season for Dobson, regular ice time under Trotz should propel his game to the next level. Ideally, he'll be able to slide into the top-six defensemen and have some success on the second power play unit as their quarterback on the blue line. It's likely Ryan Pulock or Nick Leddy man the blue line on the first unit power play; however, don't be surprised if Dobson shows enough growth to take over first unit power play duties.
With Toews on the move, the power play QB position is up for grabs, and a breakout from Dobson would be a welcomed development.
Beauvillier's Continued Growth
Anthony Beauvillier had a bubble experience to remember. In 22 games during the 2019-20 NHL Playoffs, the Quebec native tallied 14 points, scoring nine goals and adding five assists. That's roughly a 53-point pace over an 82-game stretch — something he has never reached before.
Beauvillier matched his career high in goals this season with 18, and registered a career high in points with 39. However, his inconsistencies saw him disappear in stretches throughout the season, sometimes leaving the Islanders high and dry. That part of his game didn't present itself in the playoffs, making the 23-year-old forward a prime candidate to break out in the 2020-21 season.
Skating on a line with Brock Nelson and Josh Bailey, Beauvillier can staple his name as one of the Islanders' better forwards with another year of growth. As we stated earlier, the Isles lack a goal-scoring presence, and a solution from within would be beneficial to a cap-strapped team under the flat cap era.
Beauvillier's nine goals in 22 games equate to about 33 goals over 82 games, and a 30-goal scorer is exactly what the Islanders are looking for. If he can take his game to the next level, a promotion to the first line with Barzal can work wonders, as they're both high-speed, high-skill players.
Increased Power Play Production
It's no secret that the Islanders' power play has long suffered from a lack of scoring. Coming in at 24th overall in the NHL during the 2019-20 season, they had a hard time finding the back of the net on the man advantage, scoring just 17.3% of the time.
Despite the major success the Islanders had in the playoffs, the power play actually got worse, as they could only find the net 15.4% of the time. The problem could be the lack of a natural sniper or the lack of shots on goal. However, it's also evident that the power play is extremely stale.
The Islanders spend most of the two minutes on the man advantage passing the puck around until they can get a shot off at the blue line. Skaters are barely moving their feet or looking to force a defender out of place, and they will spend a lot of time chasing a dumped puck. A power play makeover is long overdue, and it will need to improve to stay competitive in a shortened season with a condensed schedule.
30-Goal Pace from Lee & Nelson
This might go hand-in-hand with increased power play production, but the Islanders really need a 30-goal scorer. It'll be difficult to score 30 in 56 games, but a 30-goal pace from both Brock Nelson and Anders Lee can and should happen.
Nelson was on his way to his first 30-goal campaign before the 2019-20 season was cut short by a global pandemic. He matched his career high with 26 goals in 68 games and needed just four goals in 12 games to be the Islanders' first 30-goal scorer since Anders Lee or John Tavares in the 2017-18 season. He was on his way and can be at that same pace again this season.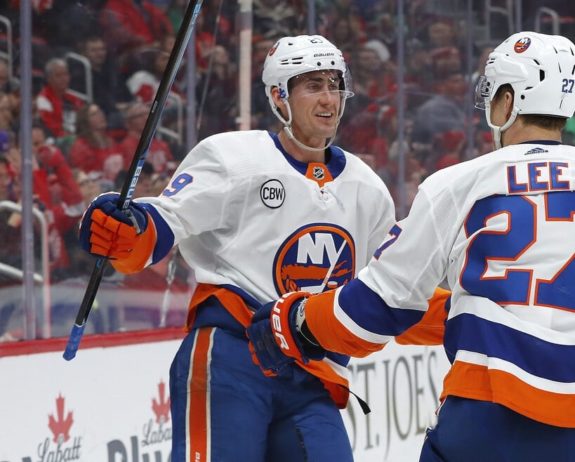 Speaking of Lee, he actually netted 40 goals in 2017-18, and there's no reason why the captain can't get back to at least a 30-goal pace. Skating on the first line with Barzal and Jordan Eberle, Lee just needs to park himself in front of the opposing goaltender and bury dirty pucks like he has done his whole career.
Forward Prospect Breakout
There have been a number of prospects in and out of the forward group over the past two seasons — namely, Otto Koivula, Oliver Wahlstrom, Kieffer Bellows, and Josh Ho-Sang.
It's been a long while since an Islanders forward prospect has burst onto the scene, and there is no better time than now. With newly acquired J.G. Pageau signed for the next six seasons, the Islanders finally have a mainstay on the third line that had been a revolving door for a long time. That said, any of the above-mentioned prospects now have their best chance to gain some chemistry and momentum at the NHL level.
Koivula is an interesting case, as he started as a winger in the AHL but has transitioned to the center position. Regardless, he could be the most NHL ready of the bunch.
Currently overseas, Koivula is showing he knows how to be productive in the Finnish Liiga playing for the HIFK. In 14 games, he's accrued 11 points (3 goals, 8 assists), including this pretty goal below.
Of the prospect group, Wahlstrom has the highest ceiling and could make a name for himself with his NHL-ready shot. As for Ho-Sang, this is likely his last dance at sticking around at the NHL level, and Bellows will need to bounce back after being caught by the league for using performance-enhancing drugs.
Sorokin Nabs 15 Wins
With games starting mid-January, it's likely the NHL schedule will be condensed, giving Ilya Sorokin the opportunity to split starts with Semyon Varlamov in net. That leaves 28 starts for each goaltender. It's entirely possible Varlamov gets an extra few nods, but for argument's sake, we'll stick with half.
Sorokin is the Islanders' goaltender of the future, with many regarding him as the best of the crop of goaltenders that have come over from Russia. Last season, Sorokin's buddy, and now rival, Igor Shesterkin started 12 games for the New York Rangers. Shesterkin posted a whopping .932 save percentage and 2.52 goals against average, good enough to secure a 10-2 record. Those are some pretty outstanding numbers for a rookie goaltender on a team who's known for defensive woes.
Sorokin comes to North America much more decorated than Shesterkin and has already made a number of highlight-reel saves in his career. Lamoriello made it his number one priority to get the Russian netminder in an Islanders' uniform and is already seen as an upgrade to former 1B Thomas Griess. It's entirely possible that Sorokin plays his way to 1A duties and runs away with the crease. Fifteen wins are not outside the realm of possibility for the Islanders' new goaltender.
Boychuk Hired Within
It was heartbreaking news when the Islanders and their fanbase learned Boychuk had to call it quits on his career. Prior to the pandemic, he suffered a scary laceration to his eyelid that was going to force him to miss the rest of the season. Shortly after, the NHL pause happened and he was able to recover, for the most part, and play in the bubble.
However, we learned in recent history that Boychuk's eye didn't actually make a full recovery and likely never will. "My peripheral vision is pretty bad, actually," Boychuk said. "And I think they said there's some optic nerve damage and other stuff, but it's been hard to process everything at the same time. I went and did all these tests and it's just been hard, actually really hard. When somebody tells you that you're not going to play again, or you shouldn't, or else you're going to get seriously hurt, it's been really tough."
The veteran defenseman will be a huge loss to the locker room and for a team looking to get back to the Eastern Conference Final. Since he'll still be on the books now that he is on long-term injured reserve, giving him a job where he can still be a presence around the team would benefit the Islanders greatly.
Having Boychuk around to continue to mentor the young players is important for the team's development as a whole and should be a priority on Lamoriello's list.
Another ECF Appearance
No one had the Islanders pegged for the Conference Final except for the Islanders and Trotz. It was a shaky season that saw some ups and downs, and they honestly might not have made the playoffs had the NHL pause not happened.
However, they did, and the Islanders dominated a good portion of each series they took part in. The experience the team gained as a whole should be plenty of motivation for what's likely to be the same roster (for the most part) returning in the 2020-21 season.
With most of the teams within the division unable to make any major improvements to their rosters due to the flat cap, there's no reason the Islanders can't be one of the top teams in the Eastern Conference this coming season. Another playoff run is entirely possible with an upgrade in net added to the experience gained during last year's run.
Jordan Eberle Consistency
It's no secret that Eberle is a streaky player. We saw it at the beginning of the 2019-20 season and again when the NHL returned to play. The 30-year-old winger will need to find some consistency to his game and avoid disappearing for an extended amount of time.
The Islanders re-signed Eberle to a five-year contract after his display of chemistry with Barzal and goal scoring touch in the 2018-19 playoffs. The Saskatchewan native led the Islanders with nine points (4 goals, 5 assists) and absolutely tortured the Pittsburgh Penguins, leading to a sweep in the four-game series.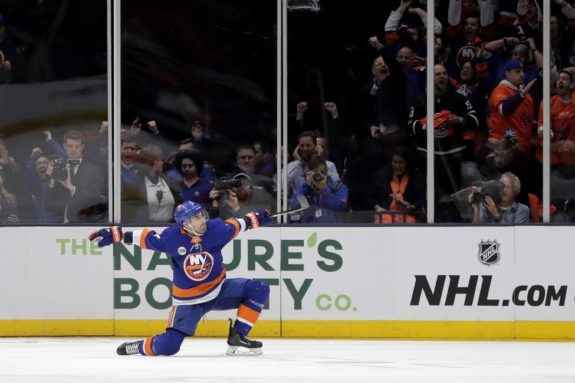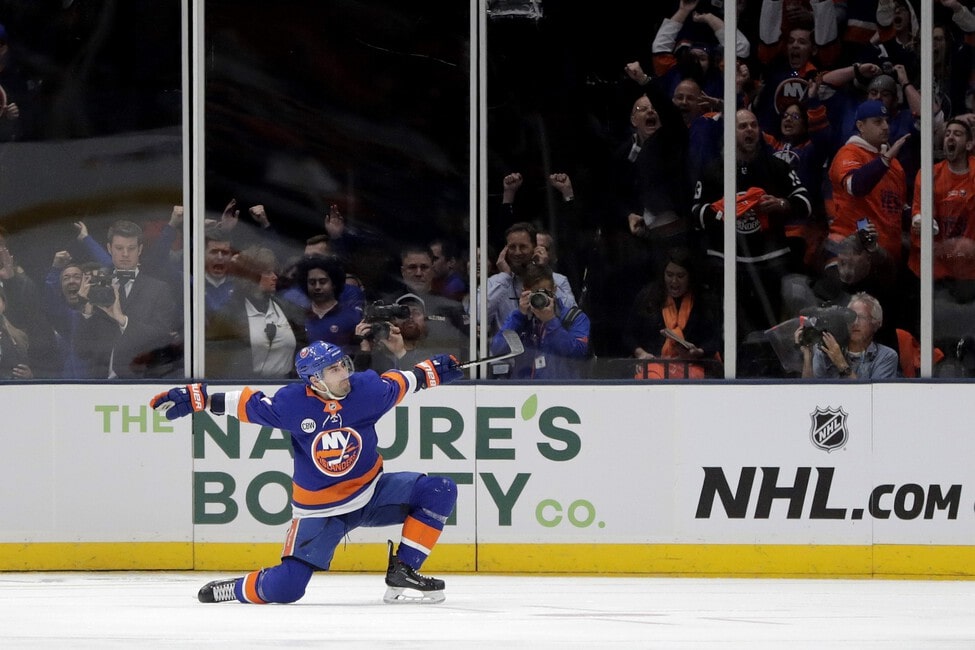 That kind of prowess needs to present itself consistently in Eberle's game, and it needs to be maintained throughout the regular season and carry over into the playoffs. Playing next to Barzal, there's no reason Eberle can't return to a 25-plus goal form.
Adam Pelech Stays Healthy
The only thing holding Adam Pelech from being an elite shutdown defender is his inability to stay healthy. The Islanders' top-pairing defenseman has emerged as one of their best, and when he's not in the lineup, it's evident the team suffers greatly.
Prior to the team's game on Jan. 2, 2019, against the New Jersey Devils, Pelech suffered a torn Achilles tendon that shut him down for the remainder of the season. The Islanders fell in the standings from then on, and it looked like they were out of playoff contention. With Pelech out of the lineup, the Isles went 10-13-7.
Of course, the world had other plans, so when the NHL returned, so did Pelech and the Islanders. Rested and healthy, the team was dominant in the Toronto bubble. Unfortunately, Pelech sustained another injury in Game 5 of the Conference Final, and the team revealed after Game 6 that he played with an injured wrist and required surgery. He's expected to have made a full recovery by now and should be ready to go for the start of the season.
Hopefully, the Islanders' top-pairing defenseman can maintain his health, as it's evident the team suffers without him. In a contract year, and a shortened season, it's more important than ever.
Beat the Bruins
By no means are the Islanders and the Boston Bruins rivals, but Patrice Bergeron and Co. have had the Isles' number for a long time.
Since the 2013-14 season, the Islanders' record against the Bruins is awful. A 3-15-1 record is a tough pill to swallow. Last season, the team was able to salvage a 1-1-1 record against Boston, yet, they were still outscored nine goals to five over the three games.
The realignment for the 2020-21 season is still in the works; however, it appears the Bruins will now be in a division with the Islanders, as well as the Buffalo Sabres. On their way out, it appears the Carolina Hurricanes and Columbus Blue Jackets will be part of the temporary Central USA Division.
The Bruins being in a division with the Islanders, and restricted travel, likely means they will see the Bruins more often over 56 games. Trotz will need a grade-A game plan in order to go toe-to-toe with what is considered one of the NHL's best teams.
For everything to come true on this long list of wishes, it will take plenty of hard work in a short amount of time before the season begins, and a sprinkle of luck throughout the 56-game schedule to stay healthy. Lamoriello, Trotz and the Islanders should all appear on the nice list, so it's not out of the question to check some of these items off, right, Santa?
Want more Islanders content? Check out the Nassaumen Hockey Podcast, hosted by The Hockey Writers authors James Nichols and Jon Zella. Follow on Apple Podcasts, Spotify, and Google Podcasts!
---
---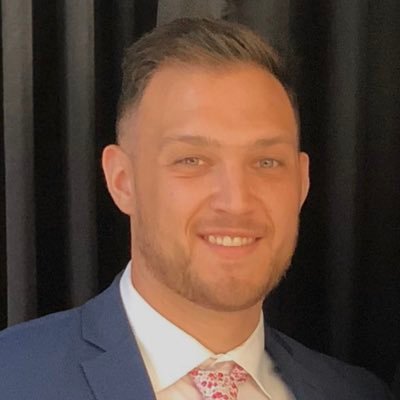 James is a THW New York Islanders writer and podcast host of Nassaumen Hockey Podcast. A trusted source for Islanders content for many years at THW, James is passionate about keeping Islander fans up to date on the latest in Islanders news. Other content contributions also include his Co-Editor-in-Chief status for NYIslesBlog.com. For interview requests or to provide content info, follow James on Twitter.