It was a busy week for NHL news, and it had plenty of implications for the New Jersey Devils. With plans still in the works, news keeps making its way out about what the format will look like for the 2020-21 season. Among the proposals are realigned divisions, which will give the Devils a new set of opponents for the upcoming season. 
Plus, a look at which Devils' prospects will be attending the World Junior Championships, as national teams finalized their rosters this past week. And an update on a prospect who continues to score at a torrid pace in the KHL. 
Devils and the East Division
Earlier this week, The Athletic's Pierre Lebrun unveiled what realigned divisions will look like for the shortened 2020-21 season. For the Devils, they'll have the usual suspects from the Metropolitan Division — the Philadelphia Flyers, Pittsburgh Penguins, Washington Capitals, New York Rangers, and New York Islanders. 
But they'll also have two new division "rivals" in the Boston Bruins and Buffalo Sabres, meaning the Carolina Hurricanes and Columbus Blue Jackets won't be division foes. The Devils will play all 56 games within the division to reduce travel and risk of exposure to COVID-19. So they won't be seeing the Hurricanes and Blue Jackets during the regular season. 
On the surface, this is a pretty tough division for the Devils. Every team other than them and the Sabres were part of the league's 24-team, return-to-play format in the summer. A look at point projections from Jack Fraser (you may know him as @JFreshHockey on Twitter) has the Devils finishing with 57 points, second to last in the East Division and just ahead of the Sabres. 
Though the Devils only project to finish with 57 points (an 84-point pace in an 82 game season), there's not a significant gap between them and the Flyers. The Devils upgraded their goaltending significantly when they signed Corey Crawford to a two-year deal in free agency. If he and Mackenzie Blackwood produce exactly as they did last season, the Devils should be competitive. Combine that with steps forward from Nico Hischier and Jack Hughes, and the Devils could surprise some. But there's no doubt the team has a tall task ahead of them in a stacked division. 
6 Devils Make WJC Rosters
It was a busy week for Devils' prospects, as national teams announced their final or close-to-final rosters for the 2021 WJC. Among them are six Devils' draft picks playing for five countries. Here's what nations each player will represent:
Alexander Holtz (Sweden)
Arseni Gritsyuk (Russia)
Shakir Mukhamadullin (Russia)
Dawson Mercer (Canada)
Patrick Moynihan (USA)
Jaromir Pytlik (Czech Republic)
Of those prospects, four of them were 2020 draft picks (Holtz, Mercer, Mukhamadullin, Pytlik). And all four should have significant roles for each of their respective national teams. 
Related: Devils Could Be Busy Before Puck Drops on 2020-21 Season
Moynihan and Gritsyuk were both late-round picks at the 2019 Draft, but they may be the most intriguing Devils' prospects at the tournament. Gritsyuk has 15 points in 14 games between the MHL and VHL — the Russian junior league and second division in Russia — this season. Moynihan, meanwhile, had 13 goals and 21 points in 34 games as a freshman at Providence College in 2019-20. 
Gritsyuk should have a top-six role for the Russians, while Moynihan will likely play in Team USA's bottom six and should see time on the penalty kill. They're two of the Devils' lesser-known prospects, but a good tournament could put them on the map. 
Sharangovich Keeps on Scoring
At this point, Yegor Sharangovich pretty much has a section reserved for himself in these weekly posts. Hey, I can't help it if he keeps playing so well. He finished this week with three points (3 assists) in two games and has 12 points (6 goals, 6 assists) in his last 10 games in the KHL.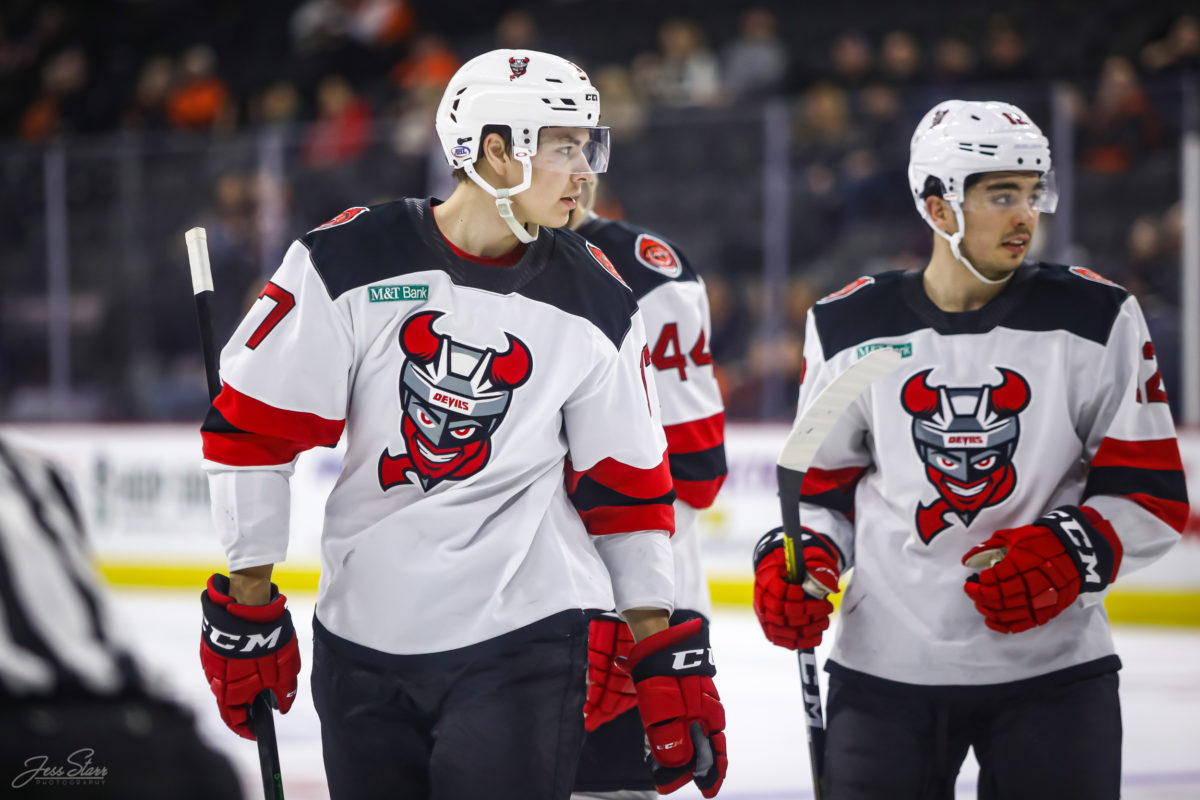 The Devils loaned Sharangovich to Dinamo Minsk to get some ice time before the 2020-21 NHL and AHL seasons get started. But it's hard to imagine they expected him to perform as well as he has. It looks like a Jan. 13 start to the NHL is on the horizon, so that could mean he'll be on his way back to North America sooner than later. 
It'll be interesting to see what happens with Sharangovich in training camp. His KHL scoring rate would translate to 50 points in an 82-game NHL season (via Dobber Prospects). It's hard to imagine he suddenly produces at such a pace with the Devils, but it'd be a surprise if he wasn't competing for a spot on their NHL roster. At the very least, he should be a top candidate to land a role as a bottom-six winger or center. And it looks like he may be ready for it. 
Related: 3 Devils Poised for a Breakout in 2020-21
That covers it for this week's Devils' news and rumors roundup. With the start of the NHL season looming, the trade and free-agent markets should become more active in the coming days and weeks. We'll also have more Devils' WJC coverage over the next couple of weeks, so make sure to keep it here at The Hockey Writers.  
---
---