The Colorado Avalanche have put together one of the league's most dynamic cores over the past decade. Specifically looking at the draft, you could go all the way back to 2011 to mark the first piece falling into place when they drafted Gabriel Landeskog second overall.
Follow that with taking Nathan MacKinnon first overall in 2013, Mikko Rantanen at tenth overall in 2015, and Cale Makar at fourth overall in 2017, and you've got yourself a team worth watching. But ever since the Landeskog draft, there are two first-round picks that don't really line up with the others.
The first one is Conner Bleackley, who the Avs took at 23rd overall in 2014. This isn't even worth talking about, as he actually ended up re-entering the draft in 2016 and being drafted in the fifth round by the St. Louis Blues. He's been an AHL/ECHL journeyman since then and hasn't had any impact on the Avalanche organization whatsoever.
The second one is Tyson Jost. The Avalanche drafted him tenth overall in 2016 after he absolutely terrorized the BCHL in his draft year, notching 104 points in 48 games for the Penticton Vees. It was a truly heartwarming moment for everyone involved, including his grandfather, who was visibly emotional at the draft.
Jost spent his post-draft season with the University of North Dakota and continued to light it up, finishing his freshman season with 35 points in 33 games. But whereas Landeskog, Mackinnon, and Rantanen all made an impact for the Avs almost right away, the Alberta native's development has been a little bit slower.
The Rookie Season
Jost's play as an NCAA freshman was good enough to earn him an entry-level contract in March of 2017, and he'd see his first taste of NHL action right away. He would score his first NHL goal in his fourth game with the Avs in a loss to the Minnesota Wild.
Heading into the 2017-18 season, the expectation was Jost would be a full-time member of the team. And with all things considered, his rookie season wasn't really that bad. The Avs used him in a middle-six role for the most part, and he finished the season with 22 points in 65 games.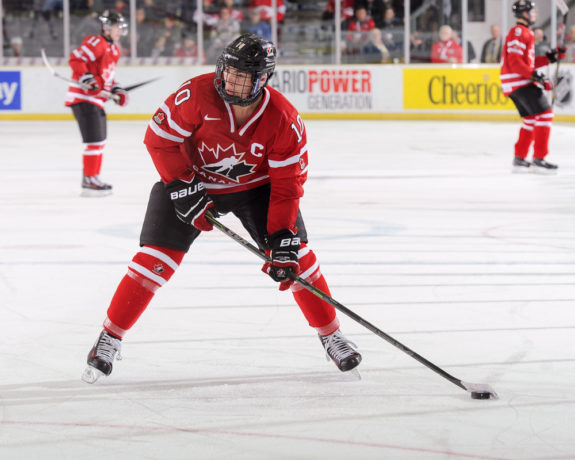 Sure, maybe it wasn't as successful or eye-opening as he or his team would have wanted, but not every superstar breaks out in a big way during their rookie season. Hell, Joe Thornton only had seven points in his rookie season. The Avalanche were eliminated in the first round of the playoffs that year, but Jost stepped up and represented Team Canada at the World Hockey Championships, putting up six points through nine games.
The Sophomore Season
The 2018-19 season was a slight improvement for Jost, but really not by much. He surpassed his rookie season total of 22 points with a 26 point campaign through 70 games for the Avs. This season also saw Jost have a short stint in the AHL, where he put up four goals and five points in eight games for the Colorado Eagles.
Jost contributed a little bit in the playoffs as well, putting up four points through 12 games for the Avs. He saw his ice time decrease from just north of 14 minutes a game to around 13:00 on the dot, and though it wasn't by much, it could definitely be a contributing reason to his lack of improvement into his sophomore season.
Last Season
Entering the 2019-20 season, the Avs were surely hoping Jost would take another step forward, but it didn't happen. He finished the season with 23 points in 67 games, and while that would leave him with nearly 30 points over an 82-game pace, it's safe to say that's still not what Jost or the Avalanche would have wanted.
Jost was also relatively quiet during the playoffs, with only one goal through 12 games. And he saw his ice time decrease once again, finishing the season with an average TOI of 12:46.
A Slight Improvement?
Now, you could argue that Jost has steadily improved a little bit over the past three years. Not by much, but he's not necessarily spinning his tires. His possession metrics show that he's gotten a bit better each season. In 2017-18, he had a Corsi rating of 46.0%. The following season, it was 48.3%. In 2019-20, he upped it to 51.6%, meaning that he was officially in the area where the team controlled the puck more often than not while he was on the ice.
Also, while I'm typically against using plus-minus to gauge a player's talent, it's worth mentioning that he finished the 2019-20 season with a plus-minus rating of plus-11. This comes after a plus-two last season and a minus-ten the season before.
The Bottom Line
So what does the upcoming NHL season mean for Jost? To put it bluntly, he needs a breakout season. The Avalanche re-signed him to a one-year contract in October, which to me means his 2019-20 is a "show me, don't tell me" type of season, especially when you consider the Avs have Alex Newhook waiting in the system. The 19-year-old Newhook plays a similar type of game and actually followed a similar career route to Jost's, playing in the BCHL and then going to the NCAA.
Jost, 22, is still at an age where it's far too early to deem him a bust. His development hasn't progressed as quickly as he or the Avalanche may have hoped, but like I said, not everyone is an early bloomer. He may just need an opportunity where he can get more ice time.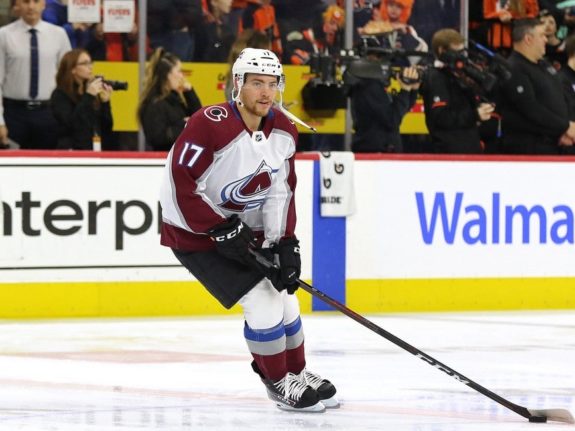 The thing is, when you have Newhook set to challenge for a roster spot over the next two seasons, having Jost around doesn't really make sense if he's going to keep pumping out 20-30 point campaigns. Whenever the NHL season gets underway, you can probably expect Jost to resume his same role from last year as a third-line left-wing alongside J.T. Compher and Joonas Donskoi. The top line of Landeskog, Mackinnon, and Rantanen obviously isn't going to change, and the expectation is newly-acquired Brandon Saad will slide into the 2LW spot with Nazem Kadri and Andre Burakovsky.
Overall, Jost needs a breakout season this year. At the very least, it would up his trade value and give him a chance to really shine with another team. But I'm sure the Avalanche would prefer to see him turn his game around and remain a member of the burgundy and blue. Just like they intended when they drafted him in 2016.
---
---