New York Islanders defenseman Scott Mayfield has reached a critical juncture in his professional career. The 30-year-old is a pending unrestricted free agent (UFA) for the first time in his nine-year NHL career. But with the Islanders facing salary-cap issues, general manager (GM) Lou Lamoriello may not have the budget to offer four-plus million to Mayfield. 
Related: Islanders' Veterans Are Key to Success Moving Forward 
There is little doubt that Mayfield has been an important part of any success the Islanders have had over the last decade, and he does play a brand that Lamoriello places significant value on. The real question is, will he want to test the UFA market and try to maximize his salary, or will he remain on the Island and work within the constraints the club has? 
Mayfield Set to Test the Market 
The 30-year-old defender is coming off of a five-year, $1.45 million per season contract and is entering the summer where he can demand the contractual payday of his career. As a lifelong Islander, he does have some sense of loyalty to the franchise. However, he does need to do what is best for his family.  
"I've never been in this position, so it's new to me, the whole season was kind of new to me, without the kind of long-term security — whatever you want to call it — four years after, but, for me, it was all about just going out there and playing my game and just kind of bringing it as hard as I can every night. I think I did some good things this year. But yeah, I mean, it's always in your mind. It's definitely something I'm sure that I'll ramp up here the next month, couple of weeks. Who knows? I don't know what to expect or not."

– Scott Mayfield 
It all falls on the value he could demand on the open market and if Lamoriello is able or willing to inch his way up to that level. Anyone watching the 2023 Stanley Cup Playoffs sees the impact Radko Gudas is having for the Florida Panthers.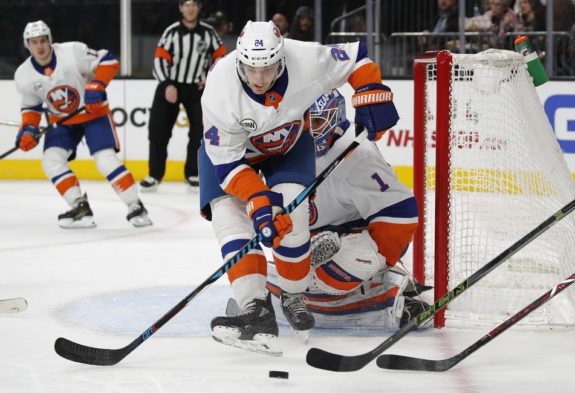 The soon-to-be UFA is older than Mayfield (33) and has played fewer minutes on average per game (17:33), but there will be a line of NHL clubs ready to pay him north of $4 million on a deal with some term (two to four years). There is little doubt that Mayfield could demand equal salary and term, perhaps more. 
Mayfield's Role With Islanders  
Mayfield is more than a bottom-pairing defender. His function with New York has been as the top shutdown defender capable of playing significant minutes in a top-four role (21:02) and providing a big body that can play the harder minutes, especially on the penalty kill (PK). Despite being considered a bottom-pairing defenseman by those outside the Islanders' circle, he has consistently played above that spot.  
Over his career, he's been the main force on the Islanders' PK and has steadily played a top-four role in the last four seasons. With UFA status looking over him all season, he completed a career season in goals (6), assists (18) and points (24), all without missing a single game all season. At 30 years old, Mayfield will be getting a pay raise from his $1.45 million.  
The Islanders' blue line is crowded as well; Ryan Pulock's $6.15 million eight-year extension began in 2022-23. Adam Pelech signed an eight-year $5.75 million annual extension in 2021-22. And the youth movement on the blue line, Noah Dobson and Alexander Romanov, each signed three-year bridge deals in the summer of 2022 for $4 million and $2.5 million, respectively. That is $27.25 million for their top four, a very reasonable price, but Dobson and Romanov will need raises in two seasons, complicating matters for Lamoriello.
With Pelech, Pulock, Romanov and Dobson more than capable of playing in the top 4, and eating lots of minutes, Mayfield is a luxury to have on hand. But if his salary reached the $4 million mark, it's a far too expensive one. It is especially time for Dobson to step up. The 6-foot-4, former 12th overall pick will be 24 years old in the upcoming season and now has well over 200 games played. He may be ready to take another step and assume the mantle of the top pairing defender. Also, restricted free agent Samuel Bolduc is ready to become an NHL regular and can play one side of the bottom pair, leaving one roster position open. 
Islanders' Options 
With little wiggle room under the cap, one option is to allow Dobson and Romanov to take on larger roles, then to sign a lesser UFA defenseman on to play the role of a third-pairing defender who can cover 15 to 17 minutes without hurting the team defensively. There are several options, but few fit with the Islanders' cap structure. Also, they will need a veteran they can rely upon to stick to their role, play up in case of injuries and avoid creating issues in the dressing room if their playing time is cut. Essentially, a consummate professional, something Lamoriello is always in search of.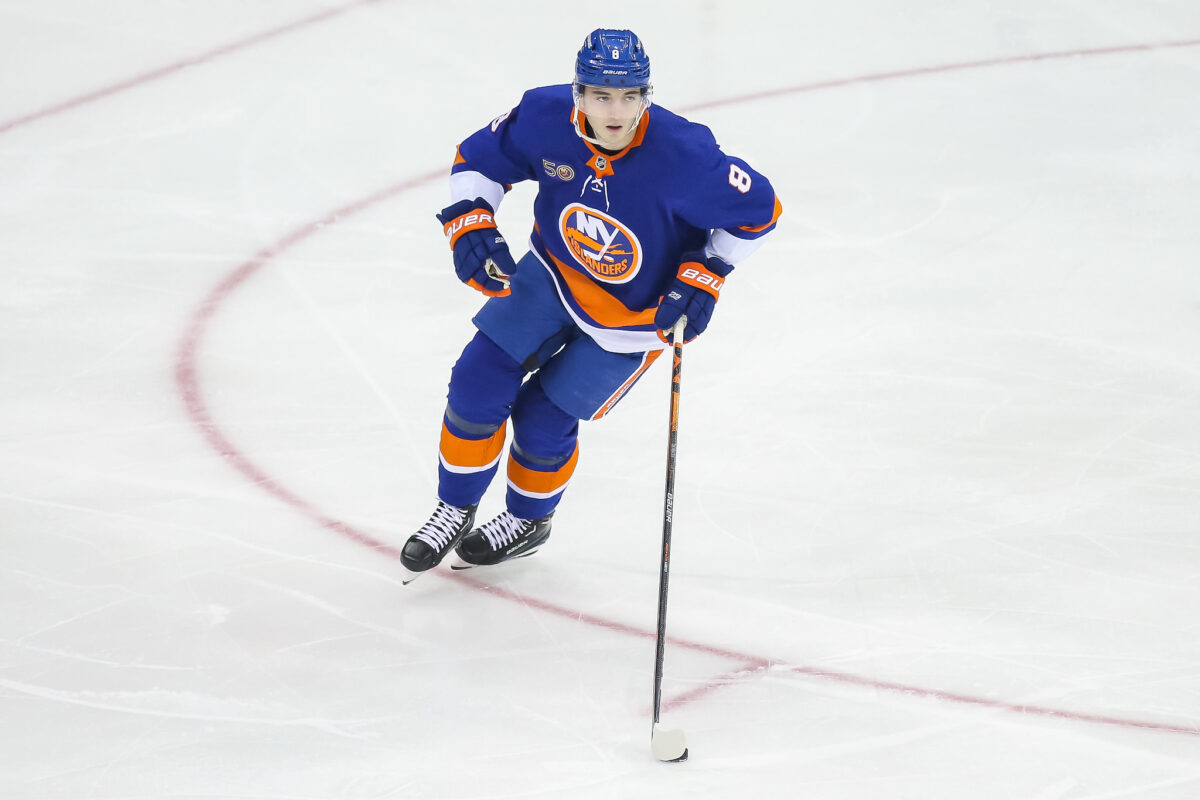 Ian Cole is an upcoming UFA that could play a similar style and can play both the left and right side of the blue line. The 34-year-old is coming off of a one-year, $3 million deal with the Tampa Bay Lightning. He will cost much less than Mayfield will, but with the age and mileage, term will be an issue for Lamoriello.  
Another option is already in the Islanders' system, that being left-hander Dennis Cholowski. He is coming off a two-year deal paying him $775,000, almost the league minimum, and could fill that role. He is a defender that plays a more mobile, less physical brand of hockey but could be relied upon as the depth they need and be signed for under $1 million. 
Islanders' Trade Target 
The Islanders lack the significant assets to make a splash on the trade market. But they could identify one veteran defender as a target who may not cost them much in salary or assets, and that is Joel Edmundson. He is similar in age to Mayfield, plays the same style of game as he does, and is relied upon heavily to fill in on the PK as well. 
---
Latest News & Highlights
---
As a former Stanley Cup champion in 2019 with the St. Louis Blues and his top-four role with the Montreal Canadiens in their 2021 run to the Cup Final, he provides significant experience and leadership as well. If the Habs were willing to retain 50 percent of the final season of his $3.5 million salary, the 6-foot-4, 225-pound defenseman could be an option. 
But any deal like that would also mean the Islanders shed salary off the roster as well, allowing them room to maneuver in adding the necessary scoring depth up front. In this scenario, if the Habs retain the 50 percent on Edmundson and take on an expiring contract, they could ask for a first-round pick (Islanders' 2024 pick) in return, similar to what they did in the Sean Monahan deal with the Calgary Flames. If there is no salary dump from New York, that value drops to a second-round pick or perhaps a pick and a late-blooming prospect such as Daylan Kuefler. 
For the Islanders, the biggest hurdle this offseason will be to decide the construction of the blue line and, more importantly, the construction of the salary cap structure. With needs to be filled on defense, in net and at forward, and only $5.34 million in cap space, Lamoriello has some very difficult decisions to make, and loyalty to a player will fall on his list of priorities.