The New York Islanders acquired Kyle Palmieri from the New Jersey Devils along with Travis Zajac on April 8, 2021, and signed him to a four-year extension worth $20 million. While Palmieri was a key part of the team's 2021 Playoff run, he has struggled to find the same offensive consistency since then. He hasn't put up 20 goals for the Islanders since he signed the extension.
Palmieri missed a significant amount of time this season with an upper-body injury. He returned in late January and has played his best hockey for the club, matching his goal total from last season already with 16. He has 10 points in his last six games, including the game-winner on Monday night (March 27) against his former team. With the injury to Mat Barzal, the Islanders needed Palmieri to produce more offense, and he has come through. General manager Lou Lamoriello is finally seeing the return on his investment.
Providing an Offensive Spark
Palmieri was a goal scorer throughout his time with the Devils, with five consecutive seasons of over 20 goals. He has not been able to replicate those stats on Long Island but he has found his scoring touch and has earned the praise from the coaching staff while playing on a line with Brock Nelson and newly acquired winger Pierre Engvall.
Related: 4 Takeaways From Islanders' 5-1 Win vs Devils
---
Latest News & Highlights
---
"Kyle was outstanding to me," head coach Lane Lambert said after Monday's win against the Devils. "Strong right from the beginning of the game. That power forward kind of game. He's injected an element of offense into our group. He's doing the same thing that he's been doing since he came back [from injury]. He's just getting rewarded for it."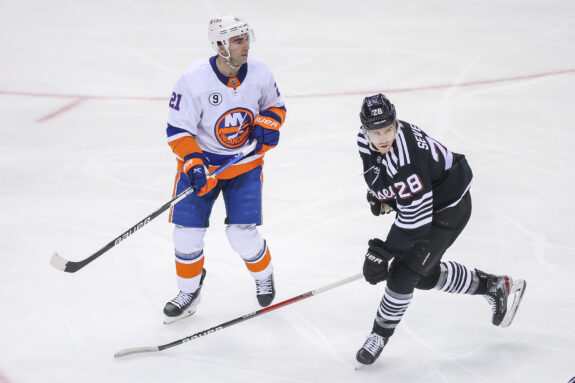 The trio has found success recently, and they are the only line that has been consistently producing offense over the past few weeks. "Playing with Palms and (Engvall) for a bit now, hopefully, continue to try and build on some offense, some chemistry, and be a line that we can rely on and depend on both sides (of the puck), and contribute offensively even more," said Brock Nelson (from "Islanders' line consistency pays off as they wait on Mathew Barzal's return," The Athletic, 3/23/23). It helps that they are having success because the Islanders' first line, led by Bo Horvat, has struggled since the Barzal injury. As long as the Palmieri line continues to produce, the Islanders should get into the playoffs.
Islanders' Playoff Performer
Palmieri made an instant impact in the playoffs. He contributed nine goals in 17 games, most of them meaningful goals, including his memorable overtime winner in Game 1 of their first-round series against the Pittsburgh Penguins. He also came up clutch in the second round against the Boston Bruins with six points in six games.
Palmieri knows what will make the Islanders successful. "We're a team that likes to get in on the forecheck," he said. "In order to do that, you gotta eliminate guys, and we did that in the D-zone" (from 'Islanders show hopeful playoff signs in impressive win over Devils', NY Post, 3/27/23). They are at their best when they outwork their opponents and capitalize on their mistakes.
Related: Pierre Engvall Fitting in Nicely with Islanders
The Islanders are in the top wild-card spot in the Eastern Conference, six points ahead of the Florida Panthers – the only team realistically still in the hunt for one of the final playoff spots. Monday night's win against the Devils put them in a good position to solidify that spot. With the Panthers on a losing streak, the Islanders have a chance to gain some ground, and they will need Engvall, Nelson, and Palmieri to continue to stay hot in order for that to happen.