Something needs to happen and fast, or else the New York Islanders' season is over. Now sitting at the bottom of the Metropolitan Division with a 5-8-4 record, the team is running out of excuses on offense and in net.
A lot of the Islanders' troubles this season have stemmed from bad penalties and a lack of precision on special teams. Islanders captain John Tavares only had 38 penalty minutes in the entire 2015-16 season and already has 18 through the team's first 17 games.
Many of the team's penalties this season have also come at the beginning and end of periods, killing off rallies and golden opportunities to pick up momentum. With the NHL's 22nd-ranked penalty kill and 28th-ranked power play, the Islanders have often been taken advantage of on special teams and lack the punch needed to dig themselves out of holes.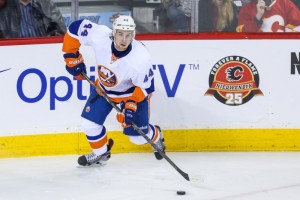 Changes Needed
Add in the team's four overtime losses and it's easy to see that the Islanders are snake-bitten. If they are ever going to climb out of this funk, it's going to be by making a change on the forward lines. Sadly, it's probably going to take the Islanders giving up a defenseman in order for them to get the help they need.
Right now, the Islanders also need a center that can win faceoffs, as well as a winger that can hit and even better, drive possession. The only way they're going to get that is if they trade a high-end prospect like Mathew Barzal or a talented defenseman such as Calvin de Haan or Ryan Pulock.
The bigger question here is whether the Islanders prepared to make such a move. Or are they okay with letting this season go down the tubes in order to get another solid draft pick and take the team back to the drawing board for Tavares' last year under contract?
Ladd & Chimera Continue to Underperform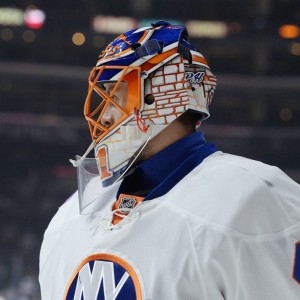 A lot of the team's issues have come from a lack of offense. While Brock Nelson and Anthony Beauvillier were hot to start the season and the Islanders hovered around .500, the goals were coming from enough places to keep them in games. At that point, the inconsistent goaltending of Jaroslav Halak was called into question.
A few weeks later, it's obvious that goaltending is just one of their concerns. Combining for eight points and a minus-10 in 17 games, offseason acquisitions Andrew Ladd and Jason Chimera haven't gotten the job done. Add in the under-performing Anders Lee, who has only one goal this season, and you have someone on virtually every one of the Islanders' forward lines that isn't scoring.
It doesn't help either that the Islanders are giving up 31.9 shots a game. Forcing your goaltender to work that much and not scoring or winning faceoffs is a recipe for disaster. With so many causes for concern, the Isles must do something.
Over the past ten years as a working journalist, Patrick Hickey Jr. has covered the New York Islanders, New York Rangers and New Jersey Devils, as well as the Brooklyn Aces of the former EPHL, contributing pieces and/or holding Editorial positions at NBC, New York Sports Day, NY Sportscene Magazine and the New York Times. During that time, he has interviewed NHL stars the likes of Brendan Shanahan, Bernie Nicholls, Bob Probert, Martin Brodeur and Zach Parise. He is also the first winner of the New York Islanders Blog of the Year Award, for his work on TheDriveForFive.com in 2008.