The Oilers were struggling. Connor McDavid wasn't scoring. And the offence of the team generally runs through number 97. It's normal for stars to go on dry spells, but going 10 consecutive games without a goal felt like an eternity. But you can't keep great players down. Against the Dallas Stars, McDavid not only broke his scoreless streak, but he scored his first ever NHL hat trick. That's busting a slump in style. Ironically, his first goal came as a fluke, when he was actually trying to pass instead of shoot. That's McDavid's style, he's a pass first guy. So going without a goal is going to be commonplace. Prepare yourselves accordingly.
Great Players Have Ups and Downs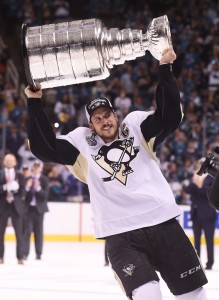 When measuring the greatness of any particular player, you have to look at their track record. There will always be those flash in the pan players, who have an incredible stretch but aren't able to sustain it. You'll have guys who go on memorable runs in the playoffs but fail to ever live up to the lofty expectations again. The only way to truly evaluate whether someone is a star player is their consistency. Not by one great season surrounded by a bunch of poor ones. And certainly not by one slump sandwiched into a great career.
Remember last fall, when Sidney Crosby wasn't producing? Everyone questioned what was wrong with him if he was washed up if his greatest years were behind him. It seems really silly now because since then he's won a Conn Smythe, a World Cup MVP, been a Hart Trophy runner-up and led his team to a Stanley Cup championship. Oh and he's also tied for the league lead in goals with 12 despite playing in only 12 games (Patrick Laine also has 12, but in 21 games played).
Remember the 2010 and 2011 NHL seasons, when Alex Ovechkin finished with 32 and 38 goals respectively, and we all wondered if he was old news? Maybe the league had figured him out. Maybe he was just a one-trick pony who was slowing down. In the three years following the lockout, Ovechkin scored 51, 53 and 50 goals respectively, re-cementing himself as the best goal-scorer in hockey. (He also won the Rocket Richard Trophy the last four years in a row).
Remember last season, when Marian Hossa looked old and overpaid, and many wondered if the Chicago Blackhawks would be forced to bury his contract somehow. Don't look now, but he's fourth in the league in goals scored and looks every bit like the superstar we know him to be. Hockey players aren't robots. They'll have their highs and lows. Sure, the lows can be frustrating, but greatness will always bounce back.
McDavid is Among the Elite
It's been well documented over the course of this season that opposing teams will do whatever they can to slow McDavid down. The days when obstruction penalties were outlawed are long gone because you can hook and hold and interfere all you want, and there won't be a call. Connor McDavid is learning that reality the hard way. Nobody wants to be embarrassed by McDavid's speed, so they'll continue to maul him so long as they get away with it. McDavid should be honoured because it means he's entered into elite territory.
Connor McDavid is so fast that he's invisible to NHL referees. It's the only thing that makes sense for these non-calls. #oilers

— Harambaggedmilk (@jsbmbaggedmilk) November 18, 2016
Breaking News: Referees will also allow the LA Kings to steal Connor McDavid's wallet in the parking lot if they choose. -bm #oilers #nhl

— OilersNation.com (@OilersNation) November 18, 2016
It's not easy to fight through all the garbage but it's part in parcel of being a superstar. McDavid's 22 points through 19 games prove that teams haven't in fact "figured him out", because if illegal plays are the only way to slow him down, they haven't figured out anything. It must have felt nice to break through with three goals because the Oilers captain has been visibly frustrated at the refs. But he'll have to get used to it, and eventually, he will start getting some calls. He's already proven in his young career that he's a star.
Because of the way teams gun for McDavid and his propensity to pass off instead of shoot, these goal-less streaks will happen. Crosby has gone on droughts. He even changed his game to shoot more (resulting in a 50 goal season and a Rocket Richard win). McDavid's game will continue to evolve, and if something isn't working, he'll figure out a way to fix it. The Oilers losing streak coincided with McDavid's drought, which is obviously a big concern, but don't panic if he goes through a long stretch without lighting the lamp. It might happen again.
It looked like Connor McDavid disappeared for a while, but he came back in a big way. In reality, he never left.