It has been a long time since a New York Islander defenseman has won a Norris Trophy. Denis Potvin was the lone player to do it, as he won the award three times during his Hall-of-Fame career. While the Islanders have had some excellent defensemen since Potvin, they have developed a star in Ryan Pulock. Despite being a bit unknown throughout the league, he has blossomed into one of the top defensemen and needs to be considered a dark horse to win the Norris Trophy this season.
Since Pulock has played with Adam Pelech, the two defensemen have blossomed into New York's top pairing. The two have great chemistry and play exceptionally well off each other, as Pelech is stable in the defensive zone, and Pulock brings a ton of offense to the team. However, he has shown that he can play against the opposition's top players and can kill penalties.
Special Teams
What Pulock has over many of the other defensemen in the league is his slap shot. It has been recorded at over 100 miles per hour and is lethal when he has space. While it will be tough for Pulock to win a Norris Trophy, one way he can help his case is on the power play. The Islanders have been below average on the man advantage for much of the past two decades. They have had only one season since 1994-95 that they have been over 20 percent.
Pulock is the main quarterback on the power play, and despite the percentages being low, he has a chance to shine this season on a very familiar-looking man advantage. Having someone like Mat Barzal as a playmaker and a player like Anders Lee and his size in front, Pulock is destined to shine. When he scores, he seems to find that same spot Alex Ovechkin likes to be when up a man. It would not be surprising to see Pulock lurking outside the faceoff circle waiting to blast one-timers.
Pulock has never had more than five power play goals in a season. If he would surpass that number in a short season, he will definitely be one of the top-scoring defensemen in the league.
Overall Game
When the Islanders drafted Pulock in the first round in 2013, there were question marks about his defense. He has quieted many people, as he plays physical in the defensive zone and has a long stick that can break up passes. With him on the ice against the opponents' top players, he generally sees 25-plus minutes of ice time a night.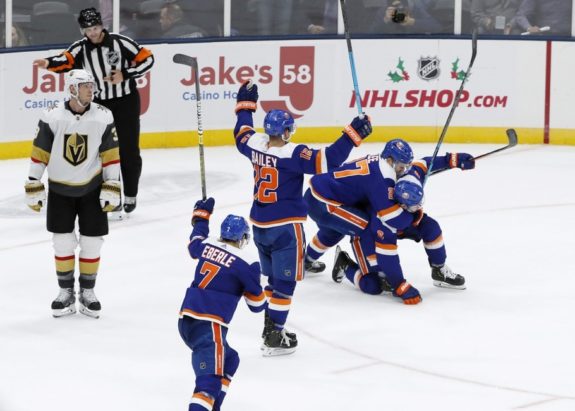 While Barry Trotz has always been a coach that likes to play all six defensemen at any time, Pulock could be a player to steer Trotz away from that. With the loss of Devon Toews and Johnny Boychuk this offseason, the Islanders have a young rookie in Noah Dobson, who will likely be seeing more minutes. Especially early in the season, as Dobson gets his feet wet, Pulock may very well see some extra shifts as he settles in.
Another area where Pulock excels is late in games. It is not necessarily all about the number of goals a player scores, but more about the impact it has on a game. Already, he has two overtime goals in his career and sees plenty of three-on-three ice time. He also had a memorable goal in the final minute of a game against the Philadelphia Flyers in 2020.
For Pulock, it will be important to have a strong plus-minus. If he is able to replicate his plus-21 from back in 2018-19 and he can score some goals and play solid defense, there is no reason why Pulock shouldn't get Norris Trophy consideration. Despite some very talented defensemen in the league, he should become a name much more popular throughout the NHL and can potentially be the second Islanders player to ever win the award.
---
---