When the New York Islanders made a trade for star forward, Thomas Vanek, on October 27, 2013, they were hoping that they had finally found the missing piece to their long term success plans.
Fast-forward just four months, and those plans will have to change once again. On February 3rd, Arthur Staple of Newsday, reported that the pending UFA rejected a "substantial" offer to remain with the club on a multi-year contract.
According to Staple, the contract offer was believed to be in the range of 7 years/$50 million, similar to his deal that is set to expire in June.
With that, the short-lived dream snapped back into reality as it appears the 30-year old Austrian will be dealt before the March 5th trade deadline next week.
What they gave up
Vanek gained quite the reputation in Buffalo as a prolific scorer with elite talent, so when the Islander traded for him early in the season, the addition of his skills to an already potent Isles offense was a welcome sight for fans on Long Island.
However, in order to pry him away from the Sabres, it cost the Islanders a hefty price of LW Matt Moulson, a 2014 1st round pick, and a 2015 2nd round pick. For fans, Moulson was the most difficult piece to part with, as it meant that captain John Tavares would be losing his right hand (well, technically left-hand) man.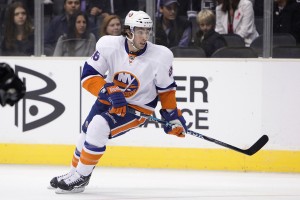 From the time that Tavares entered the league in the 2009-2010 season, he and Moulson became one of the most lethal tandem up front in the NHL. From 2009-2013, they amassed 225 points when united on the Isles top line 5 on 5, and with Moulson, JT notched 54 goals and 62 assists for 116 points individually, nearly double his point total than with any other player in his career.
The chemistry that Moulson and Tavares formed in the 4 seasons they spent together in New York was obvious, and even with the addition of top-end talent in the form of Vanek, question marks still arose about whether or not JT would be able to duplicate the type production without him.
Now granted John Tavares is one of the most talented players in the NHL, and so anytime he's on the ice he is a major threat, regardless of who else is out there with him. However, losing Matty Moulson is like breaking up Jordan and Pippen, Montana and Rice…McCartney and Lennon. They simply made each other better, and the Islanders risked losing that when they dealt the 30-year old winger.
What they gained
However despite the risks, New York gained a valuable offensive asset in Vanek. While giving up Moulson may have stung, the draft picks they sent to Buffalo weren't a major concern to an organization that has potentially one of the deepest farm systems in the league.
With players like Ryan Strome, Anders Lee, Matt Donovan, and Anders Nilsson beginning to get some NHL experience, while still largely developing in the minors, the Islanders are not too concerned about the depth of prospects that could help the big club in the near future.
Looking at it that way, the deal was essentially Moulson for Vanek straight-up from a strictly roster-ready stand point.
In Vanek, the Islanders gained a 2-time 40 goal scorer, a one-time +47 player, and someone who has surpassed the 50-point mark in 6 out of his 8 completed seasons so far, with the only time not reaching that mark coming in his rookie season in '05-'06, as well as, during the lockout shortened season last year.
They got an explosive offensive talent, with the ability to make things happen each and every time he hits the ice. During his time in Buffalo, the Sabres fielded varying levels of success (or lack there of), however Vanek was always consistent and durable, as he has never missed more than 11 games in a single season.
Since coming to Long Island, the #5 pick in the 2003 NHL Draft has notched 40 points in 45 games, with a +/- rating of +4. While the Islanders haven't exactly has the stretch they had hoped for in that time, Vanek's production has certainly paid off.
What they'll get
While Vanek's decision to reject the Islanders extension offer seems like a failed ending to a once promising addition to the club on the surface, dealing him before the deadline could actually benefit them down the road.
It's already rumored that the Isles' will attempt to deal D-man Andrew MacDonald within the next week in order to receive a solid NHL ready defensemen and/or a high-end defensive prospect that could help them to revamp a struggling blue line core in the near future.
With Vanek, a proven goal scorer still in his prime, New York could really generate some interest that could help them get exactly the type of assets they need moving forward. It has been reported by multiple outlets that GM Garth Snow has already fielded some calls from teams around the league inquiring about Vanek's services, however, Snow has not yet received an offer good enough to pull the trigger just yet, indicating that this one may go right down to the wire.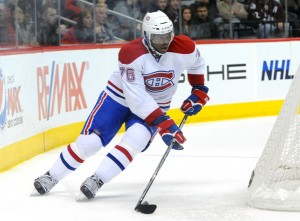 It's no secret that defense and goaltending are the Islanders' most pressing needs in the long-term, and with Vanek as trade bait, they may be able to ask for pieces to bolster those areas. In fact, it has recently been rumored that Montreal Canadiens defenseman, and Tavares' Team Canada teammate, P.K. Subban may be on the Isles' radar as a piece to build their defensive core around.
Being that Subban is also set to become a UFA at the end of this year, it could be the perfect timing for both clubs to make a swap.
On the other hand, with both Vanek and Subban's contracts expiring it may make things more complicated for each side unless both players can commit to signing long-term extensions with the respective clubs.
A rental for a rental would certainly not be an ideal situation for either side, especially the Islanders, who are already thinking beyond this season. And while Subban would certainly bring a gritty all-around game to New York's back-end, should he end up here, it is believed that Montreal is trying to pull out all the stops to keep their young star despite his potentially high asking price.
At any rate, the Islanders should be looking to turn any deal for Vanek into something that could help them primarily on the blue line, or between the pipes.
The Problem
While Vanek's value is very high, his status as a pending UFA may narrow the market for the sniper within the next week. Unless he commits to signing an extension with his potential new team, it is unlikely that many teams would offer up quite what the Islanders would be looking for if he may only be there for a couple of months.
Although his talent could help any potential contender in the home stretch, and playoff run, the uncertainty surrounding his future may limit his overall value. Unfortunately for the Islanders, it appease as though Vanek is set on testing the market after this year:
A few more notes about Vanek after the last couple days: 1) This isn't about 7 or 8 years. He wants to be UFA, so that's what will happen.

— Arthur Staple (@StapeNewsday) February 4, 2014
If this is the case, then New York may be stuck in a difficult situation. They can't keep him and risk getting nothing in return should he leave in free agency during the summer, but at the same time, they may not be able to get the pieces that they feel they deserve if and when they do pull the trigger on a deal.
The Solution
It has been widely speculated that should Vanek reach free agency this summer, his number one desired destination would be the Minnesota Wild. This is mostly due to the fact that people believe he would like to return to the state where he spent his college years as a member of the Minnesota Golden Gophers, and help the improving Wild roster gain even more traction in the West.
Should this, in fact, be the case, the Islanders may be able to put together a deal with the Wild with the hope that Vanek would agree to an extension with Minny before he hits the open market.
So let's talk hypotheticals.
The Islanders are in dire need of defense, and the Wild would certainly welcome Vanek's offensive prowess. Obviously, the main name that gets thrown out there when you talk about Minnesota's defense is Assistant captain, Ryan Suter. However, that is wishful thinking as there doesn't appear to be any way that the Wild would ship their star defenseman anywhere just one and a half seasons after signing his massive multi-year deal as the premier D-man in the 2012 free agent class.
The Wild do have other assets that could help should a trade go down. If the Islanders were to try for a deal, they could potentially target a package of forward Nino Niederreiter and D-man Clayton Stoner (and maybe even a middle round draft pick) for Vanek.
Now granted this deal would take a lot of work, but it would certainly be helpful from the Islanders standpoint.
Niederreiter is a familiar face within the Islanders organization, as he had been up and down between New York and Bridgeport over the last couple of years as one of the more highly-touted prospects. Nino joined the Wild in the offseason as part of a trade for Cal Clutterbuck, and has impressed the front office with his offensive abilities this season.
Now should he return, he wouldn't provide the type of offensive punch as Vanek would, but coupled with a solid defenseman, he could fill the offensive gap just enough to make it an interesting deal. Also, with no Moulson and no Vanek on the roster, he could potentially fill the role left open as a top 6 forward, and finally get that ice time he so desired.
In Stoner's case, the 6'4″, 216 lb. blue-liner could be exactly what the Islanders are looking for on the back-end. Stoner brings a big, physical presence, who could add plenty of grit and consistency to an often lethargic defensive core.
Stoner has become an impressive force on defense lately, and while he may not exactly rack up the points, he would fill a major need as a consistent defensive defenseman if the Islanders were to acquire him. At this point, New York needs defense much more than it needs offense, and because of this, Clayton Stoner should certainly be on the Islanders radar should he become available by the Wild.
The Prediction
Again, this is all speculation at this point, as there are so many rumors flying around it would be impossible to make an accurate prediction. I wish I could, but I really can't.
However, if we are looking at purely need-based possibilities, a solid defenseman is something that the Islanders should be looking for when they look to deal Vanek at the deadline.
The belief is that Vanek is poised to end up in Minnesota anyway, it would make sense for the Isles to try to work something out that could mutually benefit both of these clubs.
While nothing is set in stone, and Garth Snow definitely has his work cut out for him, a Vanek for Neiderreiter and Stoner deal may be worth checking out.
The Future
There are only a few days left until the NHL trade deadline hits, meaning that there are only a few more possible days that Thomas Vanek has in an Islanders uniform. While the experiment did not work out in terms of a long-term solution, this does not necessarily spell disaster for a team positioned for a bright future.
While Vanek's time in New York may soon be up, between the young prospects coming up, and potential assets they may get back in the form of trades, it is certainly no time to panic at the Nassau Veterans Memorial Coliseum.