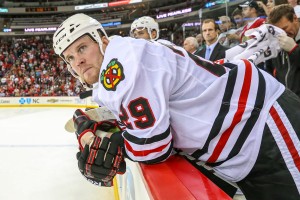 The current Chicago Blackhawks team has been referred to as a dynasty, although they are dealing with a gaping hole in their lineup that could prevent them from becoming one.
Despite the fact that the Blackhawks have won the Stanley Cup twice in the last four years, Coach Joel Quennville cannot find a second-line centre. The position has been occupied at times – over the last few seasons – by Dave Bolland, Patrick Kane, Patrick Sharp, just to name a few and nobody seems to stick. Bolland played heavy minutes at centre last season and is now a Maple Leaf, Michal Handzus played well in the playoffs and Kane has not centred a line since the 2011-12 season.
Last night, Quennville went with Peter Regin – Regin was acquired on Feb.6 from the New York Islanders for a fourth-round pick in the 2014 NHL Draft – on the highly talented second line. Regin managed to score a late-goal for Chicago in the Hawks 2-1 loss to the Rangers but was not on the second line towards the end of the game.
It bares mentioning that Regin had a tough time in Long Island, managing only two goals and seven points in 44 games.
Also, it's highly doubtful the Hawks can obtain a top-six center before the trade deadline and if they hope to repeat as Stanley Cup champs, they'll have to fill the position sooner than later.
It's been a carousel, to say the very least, at the centre position,  as the Blackhawks have played rookie Brandon Pirri, Handzus, Marcus Kruger and Andrew Shaw on the line this season.
If Quenville decides to stick Pirri back on the second line, the rookie will have to mature quickly and will undoubtedly have a ton pressure on his shoulders. Especially, if the 22-year-old is required to play heavy minutes in this year's Stanley Cup Playoffs.
Check out our partners at TiqIQ for the best deals on Chicago Blackhawks tickets for all 2013-14 games.