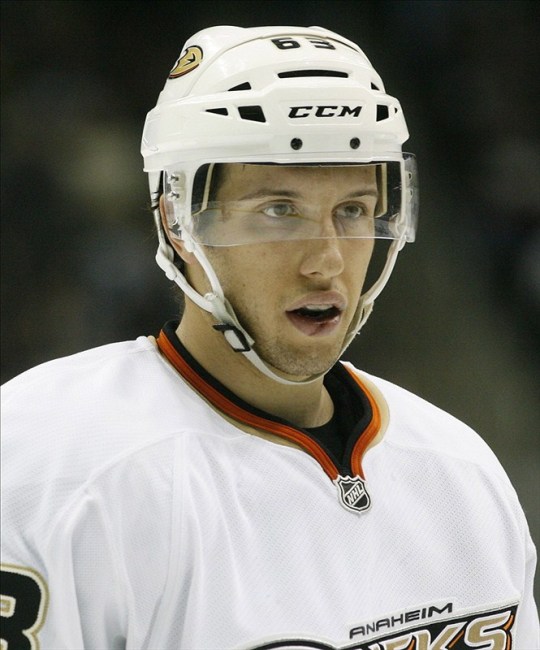 Heading into the Olympic break, the Anaheim Ducks experienced a bit of a slide. For just the second time all season, Anaheim lost three consecutive contests, managing a paltry two goals over that span. They were without sturdy defenceman Mark Fistric and breakout forward Nick Bonino, who sits third on the team in scoring. It was proven last year Bonino's presence was more valuable to the team than most expected. Anaheim raced out of the gate with a 17-3-3 record before Bonino missed the next 20 games with a hamstring injury. During those 20 games, Anaheim slowed down to the tune of 9-8-3.
The Ducks managed to win their last game (5-2 over Nashville) before seven of their teammates flew over to Sochi for a chance at winning glory for their country. Now that the Olympic break is over, the Ducks are looking ship-shape and may have more momentum than ever. As mentioned a few days ago, five Ducks have returned from Sochi with a medal, and both Bonino and Fistric are coming off the injury list. This means Anaheim is almost completely healthy save for Sheldon Souray and his unfortunate wrist injury.
Ryan Getzlaf and Corey Perry will still be on a high after winning their second consecutive gold, Jakob Silfverberg will be gleaming as he carries his silver, and who will sport a bigger smile than Teemu Selanne? You can add his bronze to his all ready impressive pile of hardware. Add to that the fact Selanne's Finnish teammate, Sami Vatanen, is having a great rookie campaign and has almost been guaranteed a spot on the roster by Bruce Boudreau after the trade deadline (when contracts can be added to the roster as long as the team remains under the cap). Jonas Hiller played lights out for Switzerland all tournament and even though Cam Fowler had a disappointing finish, he has quite a bit to be happy about from his experience in Russia.
So why should the Ducks be worried? Anaheim sits first overall. They're almost completely healthy. Morale is high. The Ducks' plumage is in full, if you will. What could possibly get in their way? Well, tonight's matchup maybe.
St. Louis at Anaheim
The St. Louis Blues have given up five goals or more on five occasions, one of those coming against Anaheim on Dec. 7, when they fell 5-2. The Blues again fell to the Ducks on Jan. 18, 3-2. Tonight's game is the third and final in the season series, marking a hump in the season's calendar for both teams. In Anaheim's corner, it represents a hump, that, if surpassed, will be a good vehicle for momentum heading into the final quarter of the schedule in their bid for the President's Trophy. For St. Louis, it means putting themselves in contention for that same trophy, and proving they can beat the league's top talent. Take a look at the overall standings:

Anaheim sits three points up on St. Louis, which is by no means a stranglehold; especially when you consider the Blues have two games in hand. With a regulation win, St. Louis can move themselves one point behind Anaheim with that same gap in games played, which puts a lot of pressure on tonight's game. The only way Bruce Boudreau will be happy after tonight is if his boys can win and avoid extra time.
The Ducks caught a little bit of a break earlier in the week as the team's chasing them looked shaky. The Blues played the win-starved Canucks on Wednesday and managed zero goals with just 20 shots on net. On Thursday, Pittsburgh squandered four leads against Montreal before eventually losing in a shootout, and Chicago looked fatigued against the New York Rangers, falling 2-1 in regulation.
That being said, St. Louis will be hungry tonight and will come out firing on all cylinders. They know they have to beat the NHL's top team. They also know avoiding a losing streak is probably even more important while Chicago remains tied with them for first in the Central Division. It will most certainly be an electric 60 minutes at the Honda Center. This may be Anaheim's biggest game of the season so far, which will be a great litmus test to see how they react under pressure as a full unit. Everyone needs to be on the same page as nothing short of a regulation win will be a true success. The Ducks need to make a point by making mince-meat of a team who many predicted would win the cup before the season began. Those who returned from Russia should be well rested and inspired. Those who stayed will have hopefully worked hard on their game in the meantime. This is the biggest must-win for Anaheim thus far and, if successful, might be looked back upon as the true moment in which this dominating team made their mark during the season.
Note: St. Louis had nine Olympians and four medal winners. Chicago had 10 Olympians and six medal winners. Both teams looked dismal on the ice in their first game back. However, Detroit had 10 Olympians and six medallists as well, and they walked all over a well-rested Senators squad with a 6-1 win. There's no telling how the break will affect Anaheim.
Note: Tonight marks the beginning of a five game home stand for Anaheim. They have the fifth best home record at 22-5-2.
Note: Getzlaf now shares second place in points with Phil Kessel (67), though Kessel has played five more games.