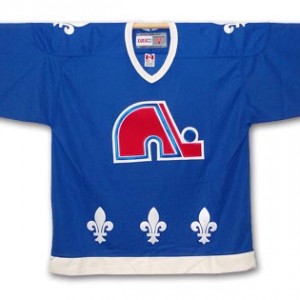 A third period collapse is pretty much the only way to describe the Islanders 5-4 loss last night to the Atlanta Thrashers. The term "frustrating" has been used way too often and has transpired into the emotions of every player in an Islanders uniform game after game. It has led to John Tavares dropping the gloves with only 5:01 left in regulation; it has left Rick DiPietro seemingly unable to stop shots that shouldn't even be taken in the first place; it has left a team at the bottom of the standings with only 5 wins in their first 27 games of the season.
Could there be a few bad apples on this team that Snow may want to look at by the March trade deadline? Possibly. But the core of this team wants to win and they want to do it with each other. The fact that players like Parenteau, Joensuu and Martinek have dropped the gloves this year in response to a hit on one of their teammates, none of which whom are fighters by nature, shows that they are a tight team despite the losses. What the line-up lacks is scoring leadership, and right now that is something that will not come from within. The Islanders need help, but that is a blog that I have already written once, and will probably write again as the year continues forward.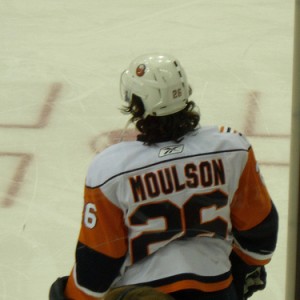 There are only a few positives that can be taken away from this game. Moulson netted his 10th goal of the season, continuing to show that hard work pays off and that he was not a one-year bust. Snow will have to do whatever he can to keep this guy on board since he will be an impending UFA this summer.
And you can criticize the guy all you want, but Rob Schremp may rival Alexander Ovechkin for the best celebrator in the entire league. No matter how he scores his goals, Schremp finds a new way to show the fans and his teammates that he is proud of his play. He has 9 points in 13 games played and has scored in two consecutive games. Call it cocky, call it unnecessary, but this kid loves to score goals and has the hands to do it. Passion is something that is hard to find on a losing team. Hopefully Schremp's attitude will eventually become contagious in the locker room and find it's way to some others that have been in recent slumps.
It may not have been until the final minutes of the game, but the New York Islanders power play scored a goal. Yes, they FINALLY scored a goal with the man-advantage after going 46 attempts without success. The goal also came from Blake Comeau, who may be slowly coming out of his scoring struggles as he has five points in his last five games played (a three-point night last night after a two-point night against the Rangers on Dec. 2nd). Both the power play and secondary scoring need to be more successful if the Islanders want to find a way to stop the bleeding.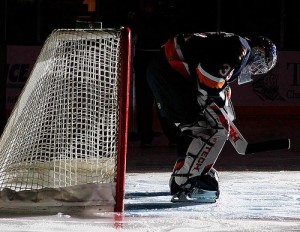 And then there is Rick DiPietro. He had a very solid start to the game but his awareness is still not back up to speed as indicated on the third period floater that was scored off the face-off by Bryan Little. There are simply no excuses for a play like that. The fact that it was a shorthanded just made it that much worse. Rick can stop the puck and keep his team in the game, but his focus is still not where it needs to be at this stage of his revival period. Hopefully that won't be the case by the end of the year.
The Islanders were able to fight back to tie the game after leading 2-0 in the first period, but they literally gave this one away with some pretty bad and timely goals in front of a crowd that had fans that weren't from Long Island or Atlanta. A group that calls themselves "Nordiques Nation" traveled down from Quebec, approximately 1,000 of them, to attend the game to prove to the NHL that they deserve a team back in their home town. They roared for the Islanders all game long which was probably the first time that the Coliseum had real positive energy since opening night. It was definitely an eye-opener for how passionate the fans of Quebec really can be.
General Manager Garth Snow was quick to state that the Islanders will be in Nassau County until the end of their lease in 2015. But it cannot be ignored that this is only a sign of how serious things can be when it comes down to the Islanders new arena. Things have been quiet on the front of the Lighthouse Project. Those two words have barely been uttered in Islanders country for some time now and Wang has discussed the need to explore all options in the past. Gary Bettman has publicly stated that he does not want to relocate any of his teams and is firmly against the idea. But eventually Wang will have to make a decision on what will be the next course of action for his team that continues to lose money as well as games with a fanbase that is losing it's patience.
Only time will tell.
-Rob McGowan
Follow me on Twitter!
http://twitter.com/IslesRM