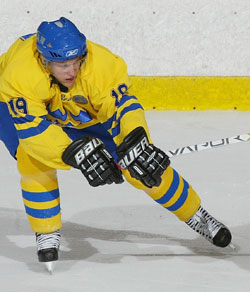 Edmonton Oiler forward Linus Omark is no stranger to dazzling viewers with his moves in the shootout. The Linus Omark Shootout Goal is becoming a standard headline, he's become famous for it.

Linus also showed glimpses of his magic hands during the NHL preseason. Thanks to a few injuries up front, Omark was called up from the Oilers AHL affiliate Oklahoma City this week, and made his NHL debut last night vs. the Tampa Bay Lightning. And his first game in the pros did not disappoint. He drew an assist on the Oilers third goal, and it was a crucial one, as the powerplay marker gave the Oilers a lead before Steven Stamkos sent the game into overtime. Omark had 11:49 ice team, with one shot and was a minus 1 on the night. His assist came because of his willingness to crash the net and create chances. It was a solid debut for the 23 year old. In an interesting twist of fate, shootout specialist Omark would see his very first NHL game require extra time to be solved. And when it came time for the shootout, Oilers coach Tom Renney decided to send Omark out. He had a false start on his first attempt, but he made no mistake on the next. His tally was ultimately the deciding goal, and the Oilers went on to win 4-3. Seems like a pretty good night for the rookie, right?
"He's a young kid. Whatever he did, it worked. "Do we need that? I don't know. It's kind of a slap in the face a little bit, you know? Maybe it's a little too much, I don't know. To get beaten in the shootout and to get beaten with something like that, it's tough to take, but he did it and it worked." TSN.ca
Another Famous Linus Omark Shootout Goal

Steven Stamkos, goalie Dan Ellis and coach Guy Boucher were equally unimpressed at the rookies shootout moves. The incident caused quite a stir, and apparently is now a controversy, with those against Omark citing that rookies need to earn respect before they try stuff like that, similar to Flyers captain Mike Richards gripe about Canadiens rookie PK Subban. Now I can understand what their sentiment is. There should be a level of respect among players, and rookies do need to know their place in the grand scheme of things. But in Omark's case, he did a fancy move in the shootout, and it worked. What's wrong with that?
The shootout is meant to be entertaining, it's meant to inspire creativity and it's meant to excite fans. And now we're trying to stifle it? If Omark had missed, he probably would have been made fun of quite a bit, thus he had a lot of guts and confidence in his ability to attempt it. I'm all for respect in hockey, but the bottom line here is that the Lightning lost the game. They outshot the Oilers 41-23 but couldn't come away with a victory. They are a talented team, but they have gotten very poor and inconsistent goaltending, something they are understandably frustrated with. Rather than direct that frustration within, they lash out at a rookie who used his skills during a skills competition. Omark didn't run his mouth, he didn't call anybody out. He did what he was supposed to do. Score in the shootout and make it interesting. Martin St.Louis has done a spin-o-rama move before. But I guess it's okay since he's a veteran, right? What cannot be ignored here is that not only did Omark score, but the Lightning lost. I have a feeling their reaction may have been different if just one or both of those things hadn't happened. Everyone seems to be voicing their opinion, so what do you think? Should Omark be praised for being creative in a shootout or outcast for showing a "lack of respect"?