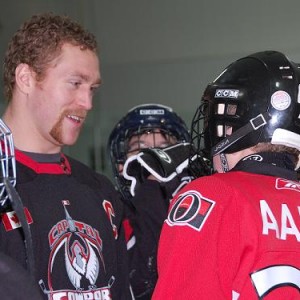 When we are growing up, many of us play hockey as much as possible – we would play twenty-four hours a day if we could. While we are on the ice, we dream of winning the Stanley Cup. Perhaps one day we will lace up our skates for a team in the National Hockey League or wear the national colours at the Olympic Games. We may not become Hall of Fame members, but at least we have the opportunity to play the game we all love.
What if you were forced to sit on the sidelines though, watching your brothers, sisters, and friends play because you had a physical or learning disability? For some children and teens in Ottawa, they are finally getting an opportunity that many of us take for granted – the chance to play hockey.
When AHL veteran Bryan Helmer emailed friends last week, asking that we all support the Capital City Condors in the Aviva Community Fund Challenge, I immediately clicked on the link and cast my vote for the Condors. It only took a second and it was to help a great cause. As I investigated further, I discovered the important role the Condors have in the lives of Ottawa children with special needs; it is a truly inspiring story.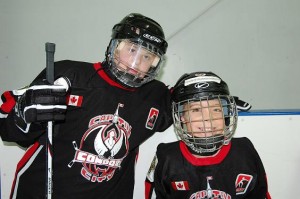 Shana and Jim Perkins are changing lives with the Capital City Condors and giving kids that would often be overlooked or never given the chance to play the game we love, the opportunity to be part of a team and play their favourite sport. With the help of many wonderful volunteers and support from the community, the Condors are taking flight on and off the ice.
"My wife and I were talking with my father-in-law, he is a businessman in the Cambridge, Ontario area, and he has never been a big sports fan," Jim Perkins said in a recent interview with The Hockey Writers. "We noticed that he was talking about a hockey team a lot and he had a hockey jersey on, and we couldn't quite figure out what had happened to him. He started telling us more about this team; it was a team for kids and young adults with special needs."
"The more we listened, the more we became intrigued by that and we got to meet some of the folks in Cambridge, see the program, and the benefits that it was having for the kids and for their families. On our trip back, my wife and I spent the whole ride talking about whether something like this existed in Ottawa; if there was not a team for kids like this, then there had to be."
In the three years since that conversation, the Capital City Condors program has experienced tremendous growth. Forty children and teenagers proudly wear a Condors jersey and there is a waiting list of kids ready to take part in the fun. The goal of the program reaches beyond hockey. While some of the kids are improving their skills on the ice, all of them are gaining a new confidence that carries over into their everyday lives.
"The success of the Condors is not how great these kids become on the ice," said Perkins. "It is being part of a team, having a team jersey with their name and their favourite number on it. It is all about as much of their dream as possible coming true. Some of them will make a lot of progress, we have seen that, and some of them won't, but that's okay."
"We get so much out of this, the interaction with the kids and their parents. Many of these parents are like heroes to us – the tenderness that they demonstrate to their kids. It has been really moving for us. It is a great thing to be involved in, a ton of work, but we get a lot out of it in return. This isn't just a team, it is a community."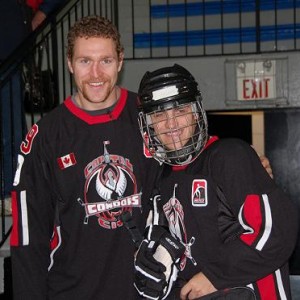 Jim and Shana Perkins, and all the volunteers work diligently to support the program, but one volunteer in particular has helped bring a few extra smiles when he arrives at a practise – Ottawa Senators defenceman Matt Carkner.
"I can't say enough about Matt," said Perkins. "Every picture you see of him with the kids, he is genuinely engaged with them, his smile is sincere. He came to our banquet last year and helped hand out the trophies and awards, calling the kids by name and taking the time to have his picture taken with each of them."
"He brought autographed cards the first year, and of course we are at a public rink, so there were other teams around and other kids around. He said 'I'll sign some autographs for you guys (the other teams) as soon as I am done with these guys (the Condors) because I really came for them today.' For our kids to hear that – their confidence grew, you could see it. That extra confidence was kind of making them stand a few inches taller. It makes them feel like they are valued and special."
Carkner's support not only benefits the kids, it also generates some much-needed publicity for the program. Working as a non-profit organization with a limited budget, Perkins is glad to have the help raising awareness about the Capital City Condors.
"It gives us almost an instant credibility," Perkins explained. "Part of that is because Matt is such a well-thought of player and person, so his character is kind of put out there for our benefit too. He gives the team that much more credibility and exposure."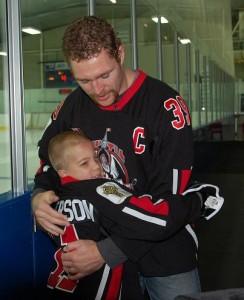 Along with supporting the Condors on the ice, Carkner has donated equipment to the program each year. He recently brought equipment bags for all the kids to one of their practises. He also had a special surprise for them on December 8th – Carkner invited the kids to skate on the ice at Scotiabank Place after a Senators practise.
"Matt was having them shoot on him in net, and Brian (Lee) and Bobby (Butler) were playing tag with the kids. They were outstanding with them! Some of the players stayed around, and a number of them – Chris Phillips, Chris Neil, and Nick Foligno stopped and made a big deal about the kids as they were leaving. Of course, every one of those interactions makes the kids feel like gold!"
If you live in the Ottawa area, the Capital City Condors take to the ice on Saturday afternoons at the Jack Charron Arena in Kanata. If you would like to cheer them on, make a donation, or perhaps become a volunteer, you can visit their website for details. Your support is always appreciated. For these great kids, playing for the Capital City Condors is a dream come true.
Andrew Rodger is an independent sports columnist and member of the Canadian Association of Journalists. Along with operating The Voice of Sport, he covers the Ottawa Senators and writes the "Ask the Alumni" series here at The Hockey Writers. He is the resident writer for the NHL Alumni Association and a contributor on CBC News Now.