by Jas Faulkner, Nashville correspondent
Kids who show a talent for the arts are often encouraged to spend time in libraries, museums and performance venues where they can enjoy first-hand experience of seeing people working in a discipline they want to follow.  Young athletes can benefit from similar exposure, but accessibility to professional is sometimes problematic.  While there are videos,  the internet and television available to most kids, nothing replaces expert instruction and seeing the pros in action.  This can be limited by geographic location, social currency of the sport in question and available resources.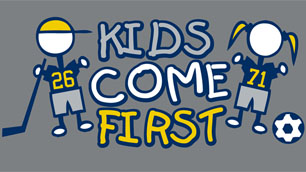 Ice hockey in Middle Tennessee is an excellent case in point. Nashville has enjoyed the presence of professional teams on and off since 1965.  The leagues who have had a franchise presence in Nashville have always offered their name association and resources to those who wished to create youth leagues.  In the past, children in Nashville who wished to pursue ice hockey as their sport were faced with the challenges of keeping leagues alive when the city's professional teams were disbanded or relocated, taking public interest and resources with them.
The arrival of the NHL to Nashville  in the late 90s' has given hockey an increased presence.  The burgeoning social cachet the sport offers those who participate both as players and supporters has made it easier for youth hockey groups to attain sponsorship and venues, especially in the last ten years.
Support from various municipal recreation programs and underwriting from the Predators is making it easier to find venues and leagues and equipment trade networks are making the sport more affordable for most families.  However, the cost of putting a child through a progression of recreational and sometimes varisty programs can still constitute a big sacrifice.  Sometimes the hard choice has to be made between league participation and supporting the team that inspired a child to take up hockey in the first place.
Veteran Left Wing Steve Sullivan is only too aware of the depth of commitment it takes from both kids and parents who decide to take up ice hockey:
"I have three young boys and they're really involved in hockey.  It's a sport that's very demanding financially for the parents who make that commitment. " -Steve Sullivan
To answer this growing need, Sullivan, along with Predators teammate J-P Dumont, created their own program earlier this year.  "Kids Come First" provides children who might not otherwise have the opportunity a chance to attend hockey games.  Both gentlemen see the project as a long-term endeavor.  "We were both giving to different causes with him giving to the hospital and me giving to youth hockey. J-P and I decided that with both causes involving kids that we could team up now.  Both of us plan on staying here and this is something we can do for years to come."
For Tim McAllister, director of hockey operations atA-Game Sportsplex in Franklin, Tennessee, Kids Come First has a decidedly positive impact on the program's recipients.
"It allows our kids to have a night out together amongst teammates and coaches and helps develop new friendships and strengthens current ones." -Tim McAllister, director of hockey operations, A-Game Sportsplex
McAllister stated that children are chosen at random to participate.  There is an effort to select teams form various age groups so everyone has a chance at sitting in the suite on the nights that youth hockey is invited by KCF.   Typical night at Bridgestone courtesy of Kids Come First is one that young athletes are likely to remember for some time to come. According to McAllister,  players and coaches meet at Bridgestone Arena and  then go to the Kids Come First Suite.  "Kids have a blast in the suite and always get their picture on the Jumbotron.  After the game, players and coaches are escorted downstairs where Sully, JP, and some of the other Preds meet them.  They also get to see the locker room, which is always a jaw dropping experience.  I always get the scoop the next time the kids come to the rink, as they are so excited to tell me about their night."
It should be noted here that everyone involved with the programs who benefit from Kids Come First stated first and foremost that not only were they extremely grateful for the program, but the generosity from the parties involved came as no surprise.
Tim McAllister offered this apt summation of everyone's feelings:  "Sully and JP spend a tremendous amount of time being involved with various groups in the Nashville area.  They are excellent role models and always, always take the time to go one step further than expected.  It has been great getting to know Steve, JP, and their families over the past few years.  It is just so nice to see that this is not something they have to do.  This is something that they WANT to do.  To give back!"
If you want to get involved, The Nashville Predators Foundation would love to hear from you! Want to keep it local?  Check with your nearby professional team. Regardless of the league, nearly every pro team has a charitable foundation. The men and women who run them would appreciate your support.
This is Jas Faulkner, who is seriously considering getting a bumper sticker that reads, "Ask me about my hockey team!"  I'll see you at The 'Plex and The 'Stone and online at Facebook and Twitter!
Jas Faulkner is a minimally socialised writer and artist who lives and works in Nashville, Tennessee. She hearts her attitude problem.