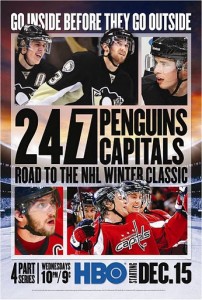 Following Pittsburgh's 3-2 win over the Atlanta Thrashers on December 2nd, I stepped outside the locker room with Penguins Vice President of Communications Tom McMillan to ask him a few questions about the upcoming HBO 24/7 show.
"Oh boy, a 1-on-1 interview for Tommy!" winger Pascal Dupuis exclaimed from over my shoulder. "Tommy, talk about your big win tonight — or your great blocked shots," Dupuis continued with a grin on his face as he scurried toward the player lounge.
"That guy," McMillan said pointing to Dupuis.  "He's going to be one of those guys that fans will want to see."
HBO's award-winning series 24/7 is making it's first attempt at exposing the NHL to the world as the Penguins and Capitals move toward their Winter Classic meeting on January 1.
The first episode of 24/7 Penguins-Capitals: Road to the Winter Classic is set to air Wednesday, December 15 at 10pm ET and will be followed by three more weekly episodes giving a behind-the-scenes look at the sport and it's superstars.
The cameras have been rolling for almost a week and I spoke with executives from both teams to get their take on what fans should expect, their concerns, and players to watch for in the four-part series.
McMillan (PIT) = Tom McMillan, Vice President of Communications, Pittsburgh Penguins
Ewell (WASH) = Nate Ewell, Vice President of Communications, Washington Capitals
What should fans expect from this unprecedented show?
McMillan (PIT): "I think we're all excited about it.  It's never been done in hockey before, so I think the league and both teams thought this was something our sport needed at this time, and this was the perfect event, and these were the perfect teams.  A lot of us know what goes on behind the scenes, but that's clearly what the fans don't see so we think it's going to be very entertaining.
Talking to HBO, the goal is [to connect with] non-hockey fans.  They know hockey fans are going to watch it.  I think the idea here is to try to expand the reach of the game and that's why we're all doing this.  This will be building momentum toward the game on January 1st.  The goal is so the casual fan will eventually watch the Winter Classic, and hopefully keep watching beyond.
NASCAR has done this very well over the past few years.  They were the first to put 'mikes' on the drivers and 'mikes' on the pit crews, and give access that wasn't available before and it really helped their popularity."
Ewell (WASH): "We expect it to show a whole different side of the game, and the team, and the player. It's been surprising to see how ever-present the cameras are. I've noticed guys coming off the ice between periods and they aren't thinking about it. Then they remember the camera is in the room and it's kind of like "oh yeah!". There are so many things that [HBO] is seeing that nobody has ever seen before. It's pretty amazing.
I think one of the smart things HBO has done is their producers aren't all hockey people.  They're coming in and the things that impress them or open their eyes are the things that they're going to highlight.  The toughness of a guy that comes off the ice and runs to the locker room before running back out onto the ice – that's something that's taken for granted in hockey, but to the outside fan that'll be pretty impressive."
Players that 24/7 might shed a new light on…
McMillan (PIT): "I think some guys have different personalities that don't come out through the media.  There are a lot of guys who have different roles and different personalities in the locker room when the cameras are off.  I think people are going to see a different side of Evgeni Malkin.  His English has actually become quite good, but he just gets nervous when he's speaking to the media.
The other thing is we have stars on our team and there might be only six or seven guys in the media spotlight.  There's some other pretty interesting guys who, because of their roles on the team, don't get that media exposure.  I think that's one of the purposes of this kind of show – to show people those personalities who you might not have a sense of.  Some of your grinders, your third line guys who make up a fabric of a team.  There's going to be guys like that on both teams that you're going to get a completely different view of.
I think the show's also going to bring out assistant coaches and trainers, part of the day-to-day operations that only we see."
Ewell (WASH): "I think you'll see more of Nicklas Backstrom's personality than has ever come out before. He comes across as shy, but when he's in his comfort zone around friends he's actually a funny and talkative guy. The guys in our room that have the reputation for talking a lot like Matt Bradley or Jason Chimera, you'll see even more of them.
I think one thing people will also see is the exuberance that Alex Ovechkin has is authentic. It's something that's always there. You see him jumping into the boards [after scoring a goal] in games, but he has that same excitement about life."
Will fans see a different side of Coach Bylsma and Coach Boudreau?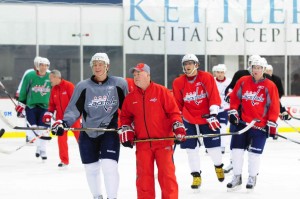 Ewell (WASH): "[Coach Boudreau] is pretty authentic all the time, but I think on both teams you'll see how ever-present the coach is.  Coaches in hockey are so important and you'll see how much time they actually spend at the rink which is tremendous."
McMillan (PIT): "I think you can see Dan's personality come through in his interviews, but you see it more behind the scenes.  He even made an interesting point.  He said "we know how our team looks behind-the-scenes, we wonder if it's going to look like that in the show."  We're interested in seeing whether the show is reflective of what we think we are.
Dan [Bylsma] and Ray [Shero] have been very adamant about, if you're doing this, you have to go the whole way.  You can't really say to the cameras, okay you have to leave now.  You almost want them to become part of the furniture.  They're going to be in the training room, in the weight room, they'll be there when a guy's getting stitched up, they'll be in there for all of it."
The interesting aspects of the game that fans never get to see…
McMillan (PIT): "The thing that always fascinated me as a fan is: what's said before the game?  What's said by the coach, what's the strategy, what's said between periods, what's said after the game?  I think those things are going to be really interesting to the fans.
You'll also see how guys are completely different before games.  You'll have 20 guys playing and they might have 20 different routines."
They want you to be not just interested in Sidney Crosby, but they want you to be interested in Mike Rupp, Pascal Dupuis, [Equipment Manager] Dana Heinze, [Assistant Coach] Tony Granato, and all the guys that make up the fabric of a team.  That's what your team is, it isn't just the stars.
Ewell (WASH): "One thing they've been able to pick up this week is guys picking up and moving on a moment's notice after they've been traded.  They've been able to follow Scott Hannan [after his trade from Colorado] from his first visit to the practice rink to apartment hunting yesterday.  They're going to get him meeting his wife at the airport next week when she finally comes and joins him.  That off-the-ice element in particular should be pretty fascinating."
Concerns about the show being a distraction…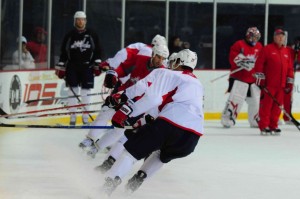 Ewell (WASH): "I think there's some valid concerns.  There are some things we're going to encounter that we never thought about.  From [Coach] Bruce's standpoint, does it change the way he addresses the team in the locker room because there's a camera there?  Is he not getting the same message across?  Hopefully over the course of four weeks he'll get comfortable to the point where he doesn't even notice it.  But the saying in science is you can't observe something without altering it, and I think the same thing can be said about this.
We want to grow the game and we feel good about the game, so we don't feel like we having anything to hide.  Specific to our team, we're proud of the guys we have here and the environment that we've created."
McMillan (PIT): "I think there's always concerns, but the goal here is for the greater good of the game.  So even things that might make both of our teams uncomfortable will probably be popular with the viewers.  We have to remember that we agreed to do this, and once you agree to do it, the cameras are going to be there.  You may have a four-game losing streak in the middle of this and people will see what that's like too.  Hopefully we don't, but that's a possibility.
Some of that stuff from the Hard Knocks NFL series with the New York Jets, that's what made that series iconic.  And while for the Jets players or for their PR staff that might've been uncomfortable the next day, that's what the country was talking about.  Part of the fun is we don't know what they're going to see because it depends on what happens in the four weeks.  It's going to be totally unscripted and that's why it's going to be entertaining.
But this is also unprecedented because the NFL shows have not been 24/7.  They've just been following a group for a period of time.  This 24/7 series is based on their boxing model which follows each fighter and their camp to the event.  This is the first time they've done it with professional teams and the first time they've done it in the regular season.  Hard Knocks was in training camp.  This is for real."