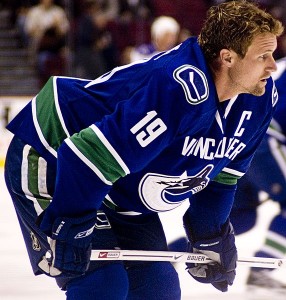 Markus Naslund never lifted a Stanley Cup above his head, nor did he lead his team past the second round of the playoffs as Stan Smyl and Trevor Linden did in the past. Never was Naslund a memorable post-game quote or did he ever throw down for a fight in the middle of a big game to swing momentum.
No, Markus Naslund was all about efficiency. Until Henrik and Daniel Sedin smash Markus' franchise points and goals record, Nazzy holds a genuine place in the record book as the Canucks' most effective player ever. With a no-nonsense, let's-get-it-done, workmanlike spirit he scored goals. Lots of them. He was arguably the best player in the league in the 2003 season and was awarded with the (then-named) Lester B. Pearson trophy as the Most Valuable Player as selected by other players, the highest individual honour a hockey player can receive. He had 48 goals with a team that didn't have much else and was 2nd in the league in goal-scoring and points.
Naslund rejuvinated hockey in Vancouver. Left a desolate wasteland in the early 2000s thanks to the disastrous Mark Messier era, the Vancouver Canucks had gone four seasons without making the playoffs between 1997 and 2000. The Canadian dollar was low, Winnipeg and Québec had already moved South, attendance was scarce and there wasn't a lot of positivity in Canuck-ville. That all changed when then-coach Marc Crawford put together one of the most exciting lines of hockeydom. Markus Naslund, coming off a broken leg that ended his 2001 campaign, was put with powerforward Bertuzzi and Brendan Morrison.
After the return of Trevor Linden in November of 2001, coupled with the force of 'The Big Line' (later known to Vancouver fans as The West Coast Express) Naslund, Bertuzzi and Morrison led the Canucks fantastic second-half tear (from 14-21-4, the Canucks finished 42-30-7-3) that ended in a playoff berth and a dissapointing six-game playoff loss to the eventual champion Detroit Red Wings.
The run took the Vancouver Canucks off of life support. Jerseys around town still sport the numbers '19' '44' '7' and '16'. Buses were flashing 'GO CANUCKS GO' and Canuck flags sprouted up around cars. The Big Line very likely saved the Canucks, and on Saturday we're meant to honour that line's best player, the team's captain and a Vancouver Canuck through-and-through, Markus Naslund.
—
March 30th, 2008 is a day that will live down in Vancouver Canuck infamy. It was a 6-2 blowout over the Calgary Flames, and at the time, people thought that we saw Trevor Linden's last goal as a Vancouver Canuck. As it turned out, it was Naslund's last as well, scoring a goal that needed to be scored. The Canucks needed every win, and help, to make the playoffs, and this effort-driven goal by a determined captain is what they needed:
Unfortunately, the Canucks would lose their last three and miss the playoffs.
My own favourite Markus Naslund moment is one that epitomizes all that he was about. The Canucks were often high up in the league in scoring and powerplay percentage, and a big part of that was Markus Naslund's devastating wrist-shot from the half-wall. In Game 7 against the St. Louis Blues in 2003, Naslund scored a second-period powerplay goal which put the Canucks up 3-1.
Look at the way he bursts off the perimeter and drives towards the net. This shot was so deadly, and I can remember thinking, watching this game, as soon as he kicked off the wall, that this puck was going in. There was a perfect screen and Naslund could shoot a puck through the eye of a needle in his prime.
Born in Vancouver, Cam works as a freelance writer out of Kamloops, BC and now writes for SB Nation's Nucks Misconduct.