Book Review: They Call Me Killer: Tales from Junior Hockey's Legendary Hall-of-Fame Coach
– by James Duthie (TSN) & Brian Kilrea
TSN's James Duthie is on quite the roll this year, equating to what I might compare to a 20-game point scoring streak. Maybe it's more like striking double gold at the Olympics. Okay. Not quite, but the entertaining sports reporter and writer with a brilliant comedic edge has authored two successful sports books this year.
I recently reviewed his first – The Day I (Almost) Killed Two Gretzkys.  It's well worth the read and is about as productive at producing laughs as Sidney Crosby is these days at racking up points.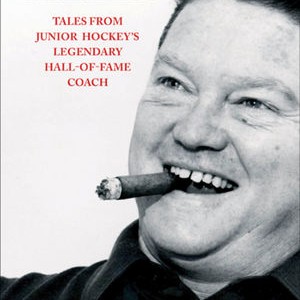 Though the cover could be mistaken for a biography of some famous mobster, They Call Me Killer is an in depth into the story of Hockey Hall of Fame junior hockey coach, Brian Kilrea.  If you are not familiar with "Killer", he is regarded as perhaps one of the best junior hockey coaches (CHL) of all time. He is a dynamic story teller. Above all else, he is outstanding and well respected person and has positively greatly influenced countless young hockey players – from future NHL stars to guys who moved on from hockey following their junior hockey careers.
While most famous for being a coach, he also played a few games as an NHLer and actually scored the first goal in the history of the franchise for the Los Angeles Kings. As well, he had a two year stint as an assistant coach to legendary coach Al Arbour for the New York Islanders just after the dynasty years of the franchise.
In Kilrea's own words, with some Duthie one-liners and former players of and associates of Kilrea, They Call Me Killer is insightful look into junior hockey from a veteran coach's perspective.
Here's a video of Duthie discussing both books released this year: CTV
From the publisher, Wiley:
"With more wins than any coach in junior hockey history, and a personality as large as his winning record, Brian Kilrea is more than a hockey legend, he's one of the most beloved figures in the game.  Also known as "Killer", Kilrea was inducted into the Hockey Hall of Fame in 2003. Even the Canadian Hockey League's Coach of the Year award (which he has won four times) is now named after him.
With his years as a player, then as coach and now General Manager of the Ottawa 67's and two years spent with the New York Islanders, Killer has a lot of stories to tell.
With TSN host and writer, Duthie, Kilrea gives fans a rink-side view of his early days as a player with the Red Wings organization and what it was like to score the first ever goal in the history of the L.A. Kings. He discusses his role as a coach for the Ottawa 67's and as a mentor to young stars of the future. With stories and comments from famous NHLers who played for Killer, including Bryan Trottier and Bobby Smith, as well as coaches, trainers, and general managers, readers will get a taste of Kilrea's hardnosed coaching style, as well as the knowledge and dedication that has made him last so long.
Kilrea reminisces about:
Playing for Eddie Shore and the subsequent player strike for proper medical care and equipment that birthed the National League union
His time in Springfield, as teammates with Don Cherry
Playing a game of pool with Gordie Howe and Ted Lindsay, when he was just a teenager, then playing one shift with them in the NHL
How he motivated his playing to perform under pressure
His decision to retire from coaching
Prone to yelling, cutting comments and colourful language, he is nevertheless adored by his players, beloved by his fans, and respected by the hockey establishment for his knowledge, motivation and dedication to the game.  They Call Me Killer is full of true, often very funny stories about life in minors and junior hockey from one of the greatest characters the game has ever known.
With a Foreword by lifelong friend, Cherry, They Call Me Killer is a fascinating, real-life look at the world of junior hockey and the man who has meant so much to the sport."
*Follow The Hockey Spy on Twitter as I infiltrate, dissect and analyze happenings of hockey prospects and the NHL entry draft.
Chris is THW's senior draft/prospect analyst and a Managing Editor. Watch for "The Next Ones" Prospect Profile series, exclusive rankings, mock drafts, as well as the annual THW NHL Entry Draft Guide. Follow @ChrisRalphYQ on Twitter as he infiltrates, dissects and analyzes all happenings of hockey prospects and the NHL entry draft. Email: cralph[at]thehockeywriters[dot]com