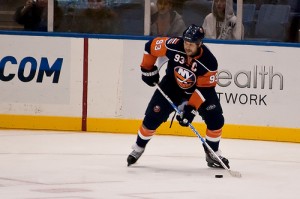 It was well known throughout the Islanders community that Doug Weight would be returning to the Isles for his third season with the team, but it was unknown as to when the contract would be finalized. Well, the wait is over. The Captain will be back in gear for the 2010-2011 season on a one-year deal.
According to NHL.com's Brian Compton, the deal is for an inexpensive $850,000 salary with potential bonuses. Weight's value to the team cannot be measured by his contract, but by his professionalism in the locker room; his vocal presence on the bench; the leadership he possesses and delivers to all of his younger teammates that have and will continue to learn so much from him.
Prior to the start of free agency, it was uncertain on whether or not Doug Weight would be back with the Islanders after and injury riddled season forced him to bow out early due to surgery in March. He tore his labrum in his shoulder and was playing hurt from the start, handcuffing his ability to produce as he only posted 17 points, (1 goal and 16 assists), leading to speculation that Weight's career might have come to a disappointing end. When I interviewed Kyle Okposo back in June, he and I discussed the possibilities of him becoming the next Captain if Weight did not return. But this is all Kyle had to say:
"Obviously I'd be honored by it, but as far as I know Doug Weight is our Captain and he's done a great job in that position and he's such a good leader that until the time comes he's our Captain."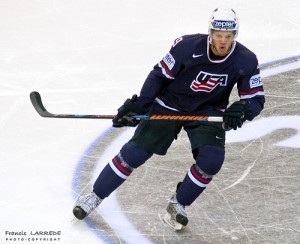 Straight and to the point, Kyle did not want to even think about taking a position that belonged to someone as respected as Doug Weight. Josh Bailey had a lot of positive things to say about #93 as well:
"Obviously with Dougie, he brings so much leadership. He's someone that really I've been able to look up to and a lot of guys look up too, as a hockey player and as a person. He's been so good to me since day one. I still remember in my first year living in the hotel and he would have me over for dinner with his family. I became pretty tight with him and his family so I'm really excited that he's back."
In addition, many Islander fans are aware of how he has mentored John Tavares since he was drafted two summers ago. During the course of the 2010 season, Tavares was living with the Weight's and was accepted as part of his family. He even took Matt Moulson in his guest house as well. All of this goes to show that his value cannot just be measured by what he is capable of producing on the ice; it's what he does off the ice that likely earned him one last run with a team that he has helped grow each year. A veteran of 19 NHL seasons and 1,220 career games played, the Captain still has a lot to offer.
-Rob McGowan
P.S. I have started a Facebook fan page for all of my blogs from here, The Hockey Writers, as well as The Checking Line. Be sure to check it out and add it to your pages! http://www.facebook.com/#!/pages/Rob-McGowans-Islanders-Blogs/137174856326185?ref=ts
Follow me on Twitter!
http://twitter.com/IslesRM