It has been a relatively quiet summer for the New York Islanders. However, the blue and orange are faced with a serious issue as the season approaches. Restricted free-agent, Brock Nelson, has still not been re-signed and risks being benched for the entire 2015-2016 season. Newsday's Arthur Staple has reported that a new deal has been made by the Islanders but no information regarding the terms of the deal have been released.
The Isles have had a policy in place to sit a restricted free-agent for one year if an extension has not been agreed upon by the beginning of training camp. This means that the two sides have until September 16th to come to an agreement or one of New York's more valuable assets will be forced to sit during a season with extremely high expectations.
Nelson played an important role in the Isles success last season. He contributed 20 goals, which was good enough for third best on the team. At 23-years-old, Nelson is expected to be one of New York's better forwards and improve on his impressive efforts from last season.

No Backing Down
Losing Nelson for an entire year would be a very big blow to the Islanders organization. With all signs pointing in the right direction, this is the last thing Garth Snow wants to deal with. The Isles need to win at least one playoff round in 2016 and not having Nelson lace up his skates will make this a more difficult goal to achieve. With all of this said, it is important that the Islanders stick to their guns when handling the Nelson contract issue. The Islanders cannot cave in and agree to work out a deal after training camp starts with the hopes of having the problem resolved before the start of the regular season.
It is true that there is no knowledge of the proposed deal the Islanders offered Nelson. Some may argue that this information could affect their stance on whether or not the Isles should uphold their strict policy or not. I must argue that it should not matter what the terms of the deal are. The Islanders have offered Nelson a deal that they consider to be appropriate considering what the player has to offer the organization. By allowing a player to dictate the terms of a deal in order to make sure he plays, the player than receives the upper hand. This would cripple the Islanders in every deal they make with a player from here on out. Any athlete and their agent are going to take full advantage if they believe that a team can be strong-armed into paying more money. Yes, having one of your better players sit for a whole season can obviously have negative affects on on-ice production but it still shows players that the franchise still has the final word and most power.
Everyone can agree that it does benefit the Islanders to lose a player like Nelson for an entire year. However, we cannot forget that this altercation will affect Nelson's value as well. Not only will his development be delayed, other teams across the league will view Nelson as difficult to work with. Nobody wants to employ an individual that has a reputation of causing issues. Most organization want to avoid the extra headaches and will fear that Nelson's potential behavior could weaken chemistry in the locker room.
Running Out of Time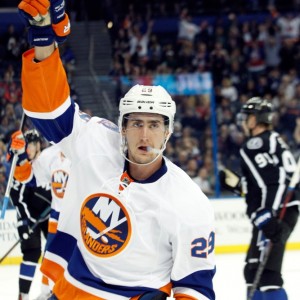 Unfortunately for all parties involved, September 16th will be here very soon. Very little information about what is taking place behind closed doors is known but it is safe to say that Nelson's people and the Islanders are not on the same page. If a deal cannot be made and Nelson is forced to sit, it would be in the Isles best interest to seek out a possible trade for the young forward. Snow does not want to lose such a valuable young asset but will not have much of a choice if Nelson makes it clear he does not want to pull a blue and orange sweater over his head anymore. It would benefit New York to attempt to receive something of value instead of walking away from this entire debacle empty handed.
The Islanders and Nelson have a week to set aside their differences and come to an agreement on a respectable deal. A lot can happen in seven day but as of right now things do not look promising. For right now, Islander faithful must wait in uncertainty and pray to the hockey gods that their team does not take a hit that would put their quest for the cup on delay.
John Gove is an experienced hockey writer who admires the game at all levels. Currently, John is a contributor for The Hockey Writers, covering the Philadelphia Flyers.