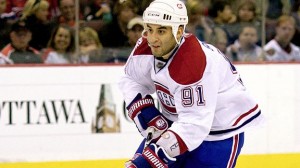 Every so often it is my goal here at The Hockey Writers to simply do a piece on just how mad this hockey world can really be. After all, this is a business where mistakes can be sent home arbitrarily without supper even though they still get paid ultimately. It is also a world where the bizarre and unexpected happens either on or off the ice. Nobody quite knows the twists and turns or where they will go for that matter. It like a long and wild ride that has a stop button except it stops when it wants to.
Think of this as "Spanning The Hockey World" and then the rooster goes flying off your screen. Well here it is.
A special thanks to those old Len Berman videos that filled over two decades of my life. People have joked that it takes something special or a little bit crazy to have this kind of wicked sense of humor. Every week we will spotlight the absolutely zany in the NHL world plus a nod to some of the other fine leagues out there.
Occasionally, we will also find some things that can only be classified as "out there". One of those videos was something that could only be described as Superhero Hockey. Who knew that Bane really could end the lockout for NHL fans.
Always expect the unexpected. There is just that hunch sometimes that the crazy is about to occur. The hockey world will always have that very thing going for it. The NHL season opens up soon and a near full slate of games is on the docket. Anyone feel like a rendition of "Twas The Night Before Hockey"?
People often need to be reminded of what the dire straits were like for the hockey fans. The problem is did the fans go too far in their displeasure? Did the media? Naturally because hockey is back, most do not care about that now. All they want is to say how thankful they are that the NHL is on. Then there was this last minute news on Friday night.
 @Real_ESPNLeBrun , full terms for Alex Edler: 6 years, $30 million.
It is all in another night's work. Just when there is a nice bit of humor, there is a bit of news that always oozes out so to speak. However, it is time maybe to close out with a little dose of the best medicine available (a long hockey game!). Enjoy the new NHL season and remember what a crazy ride it is going to be.
Thanks for reading and if you have something funny, we want to see it. Bring it to the comments section!