Before the season started, there were high hopes for the Columbus Blue Jackets. Would they make the playoffs again? Would Johansen recreate his point totals from last season? Will you go deaf from the cannon blast if you attended enough Blue Jacket home games?
All these questions begged to be answered. Who would raise their hand and give us the answers every Blue Jacket fan desired? But like an RKO out of nowhere, the injury bug came — and so far — has stifled any of the answers to how well the Blue Jackets will do this season.
Just because the injury bug has claimed enough Blue Jacket talent to start its own franchise, it doesn't mean the season is over. At the time of this post, the Blue Jackets have played just 12 (!) of their 82 games, and injuries have been sustained to Nathan Horton, Boone Jenner, Brandon Dubinsky, Sergei Bobrovsky, Nick Foligno, and a few others. At the moment, the situation does look bleak, but time *literally* heals wounds.
The Blue Jackets will be okay.
They Get Knocked Down, But They (Eventually) Get Up Again
Fortunately, the injuries sustained to the Blue Jackets' stars don't require a payday loan from Grandfather Time. It's almost a tiered return system the Blue Jackets will face — Foligno is back now; Bobrovsky, Matt Calvert, and James Wisniewski return within 1-2 weeks, then Mark Letestu, and then the just about everyone else returns to the ice within 4-6 weeks.
The only Blue Jacket that is really questionable is Nathan Horton. His back injury hasn't healed as expected — and it could threaten his career. As I mentioned before in previous posts, Horton is instrumental to the whole Blue Jacket operation. However, if he's out, others will have to step up.
The sky will not fall because these Blue Jackets are injured; the season isn't lost. Ryan Johansen has a team leading 14 points, followed by Foligno with 13 points, and Scott Hartnell with 10 points. Once the injured return, they will gradually get back into the rhythm they were in at the start of the season — a rhythm that won games!
Depth, Friends
In training camp, the chimes were that the Blue Jackets had some depth.
It's been a recurring theme throughout #CBJ Training Camp: this team has depth. READ –> http://t.co/wLuJuGFiDb pic.twitter.com/uDLQfH8ka3

— NHL Blue Jackets (@BlueJacketsNHL) October 3, 2014
Starters have gone down with injuries, but like any legitimate playoff team, there is always some sort of depth to the roster. Younger stars-of-tomorrow like Marko Dano, will be what the Blue Jackets will need to rely in the coming weeks.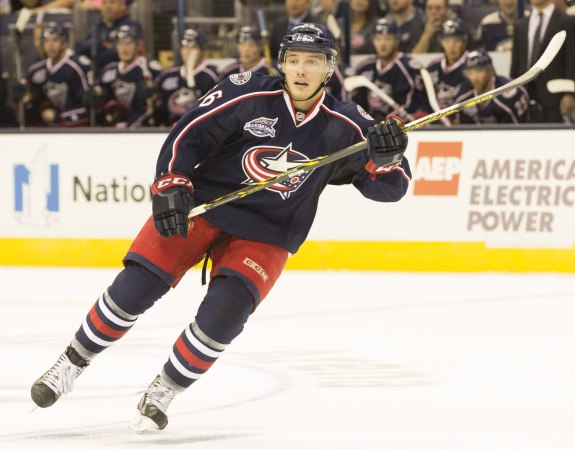 A bright side to the Blue Jackets have been the amount of playmakers on the team. Yes, most of them are currently out with injuries, but Hartnell, Foligno, and Johansen are the three big playmakers at the moment. On any given night, any Blue Jacket could have a break out game. Not every team can say that.
How Can They Be OK?! They've Dropped  6 in a Row!!!
If this was late March, and Columbus was thawing out from winter, yea, I would be concerned. However, it's barely November, and there is plenty of hockey to be played before even the best of the hockey predictors make playoff pictures, draw on Smartboards on national television, and create bar graphs of their favorite pies.
Understandably, this isn't the start the Blue Jackets were looking for, nor the 5th line was anticipating. However, nobody was expecting an all-star caliber of players sitting on trainer tables with injuries.
During the current six game losing streak, the Blue Jackets managed to lose four of the games by more than two goals.
Point production has been tough in the losing streak, but Johansen has stepped up with his point game streak — reaching ten games before the streak ended to New Jersey on Nov.1. If Johansen still is getting points with a depleted roster, just imagine if everybody came back healthy.
The point is this: the Blue Jackets are struggling now. Let's revisit their place in the Eastern Conference after the All-Star break – which coincidentally is in Columbus this year.
While a six game losing streak may make the Blue Jackets appear  like the Black Knight missing extremities, they are well on their way to finding Camelot — or the playoffs.
Currently a student at The Ohio State University. Play-by-Play announcer for Ohio State football, basketball, and other sports on student radio. Writer of the Columbus Blue Jackets and other sports for U Weekly Newspaper. I believe I'm the real life version of Ted Mosby.