This past Thursday, the Michigan Sports Hall of Fame inducted Sergei Fedorov into their ranks. It is a deserving honor for a player who meant so much to the city of Detroit and the state of Michigan. Yet, it feels as if there's something missing – an even greater honor that Sergei has earned. It's time for Fedorov's jersey to hang in the rafters of Joe Louis Arena.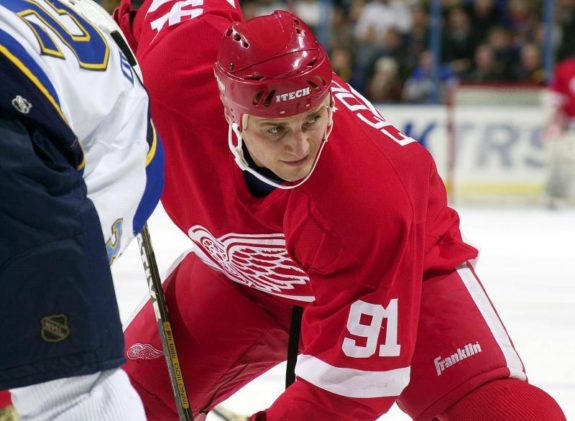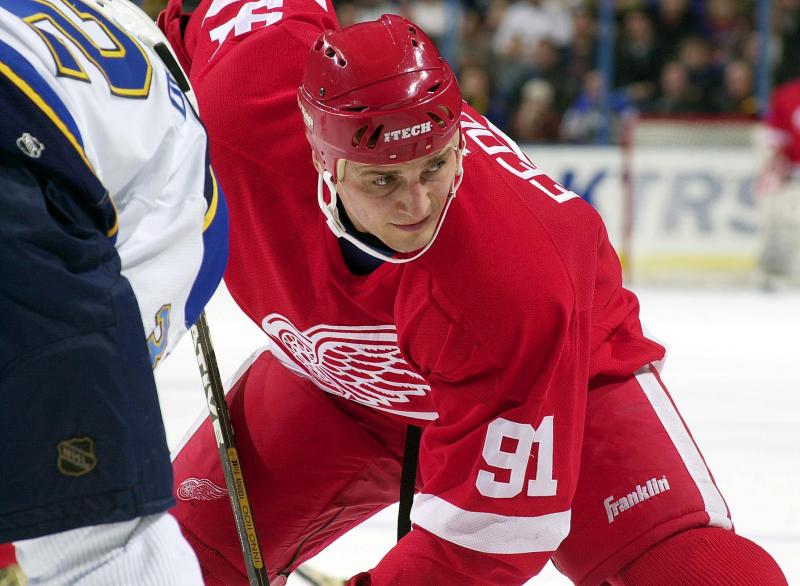 During the ceremonies on Thursday, both parties appeared receptive to the idea. Though nothing is certain, Holland seems to think that the Red Wings and the NHL should honor Fedorov.
From Carlos Monarrez of The Detroit Free Press:
Holland: "Well, certainly he's somebody that's got to be considered to put his jersey in the rafters in Detroit for everything he did for our franchise," […] "Hopefully he gets into the Hockey Hall of Fame, too. Certainly he's been a great player, and he did it over a long period of time."
Fedorov appears to be ready and willing for a jersey retirement ceremony, though there is a slight hint of uncertainty about the other parties involved.
Fedorov: "Obviously, it's a huge honor if that's the case," […] "Kind of exciting, but don't know what to expect and what really needs to happen in order to be that. … It's got to be very special. Plus, I'm always here. So, anytime I will be ready."
So what's stopping Sergei's ceremony?
The Falling Out
It's arguable that Fedorov's no. 91 would already be in the rafters, if not for several off-ice disputes that left him at odds with Detroit management. Sergei didn't do himself any favors when he held out for more money, after the 1996-97 season. After several months of negotiating, the Red Wings matched a 6-year, $38 million dollar offer sheet from the Carolina Hurricanes in late February of 1998.
The real blow to Detroit fans and management came in 2003, when Fedorov elected to go to Anaheim, accepting a 5-year, $40 million dollar contract from the Ducks. Detroit reportedly offered similar money, though for one year less on the contract term. Despite Fedorov citing the expiration of the CBA in 2004 as the reason behind his move, many Red Wings fans at the time felt as if Sergei chose money over loyalty to his team.
One Of The Best
When you look past the off-ice issues between Fedorov and the Wings, his numbers indicate he's a worthy candidate for jersey retirement. The dynamic forward spent 13 seasons in Detroit, playing in 908 games. In that time, Fedorov scored 400 goals and 554 assists, good for 954 points and fifth spot in all-time scoring for the Red Wings. When you look at some of the other Detroit greats to grace the rafters of the Joe, Fedorov ranks above both Lindsay (728) and Abel (463) in points. Not to mention, he still holds second place in plus/minus (+276), short-handed goals (31) and game-winning goals (79), respectively.
Perhaps even more impressive is his success in the playoffs. Fedorov was a point-per-game player in the post-season, scoring 163 points in 162 games for Detroit. He was able to score 20 points or more in four consecutive playoff appearances, running from'95 to '98. Sergei also won the Hart Trophy and Lester B. Pearson (now Ted Lindsay) Award in 1994, the Selke in 1994 & 1996, and was a huge part of the '97, '98 and '02 Stanley Cup victories. Simply put, the Detroit Red Wings would not have experienced the success they did throughout the 1990's without Fedorov.
At the end of the day, it's tough to forget the way Sergei Fedorov left Detroit. It has left a bitter taste in the mouths of Red Wings fans for many years. When you push past all of that, you have a man whose offensive contributions to Detroit rival those who currently hang above the ice in Joe Louis Arena. Enough time has passed – it's time for no. 91 to ascend.