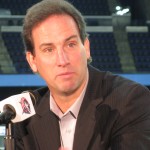 After a hard-fought but ultimately disappointing 4-1 loss to the visiting Toronto Maple Leafs, it appears the Columbus Blue Jackets have some tough decisions to make.  Goaltender Steve Mason was simply awful in allowing four goals on seven shots (that would be a .429 save % for those scoring at home) before being pulled for backup Allen York.  To go along with their goaltending issues the offense failed to score on 38 of their 39 shots against a third-string goaltender making his NHL debut.  At this point I simply cannot see the Jackets starting Mason again anytime soon, there is no way the players can have any confidence in his ability to keep them in games.  If Mason is indeed still the starter it will only be due to York's inexperience and the injuries to Mark Dekanich and Curtis Sanford.
The Blue Jackets deserved better, they out-shot (39-18), out-hit (28-12), and out-drew (59%-41% in faceoffs) the Maple Leafs.  They did everything but out-perform them where it matters most – the scoreboard.  Unfortunately for the Jackets this seems to be a pattern for their games this season.  They play hard and put up plenty of shots on net, only to score one or two and allow three or four.
The question is how does this team right the ship?  2-10-1 is an abysmal start for a team that has monetary and attendance issues.  For reasons that may not entirely be their fault, I simply cannot see Head Coach Scott Arniel and General Manager Scott Howson making it much longer if this slide continues.  If the team were showing more than just the occasional sign of being able to win a hockey game Arniel would probably get the benefit of the doubt.  Unfortunately this team has been doing this for ten years.  The fans are tired of moral victories and maybe-next-years.  If the team doesn't turn this around in the next few games it will take more than kids-get-in-free promotions and ticket giveaways to Nationwide employees to get butts in the seats.
If the team thinks it truly needs to see the team close to injury-free to assess them fairly and isn't ready to fire Arniel or Howson just yet, then some personnel changes are in order.  The most likely people that could be moved are anyone not named Rick Nash, James Wisniewski, Ryan Johansen, or Jeff Carter.  Those four seem to constitute the main core moving forward, everyone else seems to be on a somewhat movable contract.  Perhaps a shake-up trade with a team like Boston or Winnipeg could be mutually beneficial.