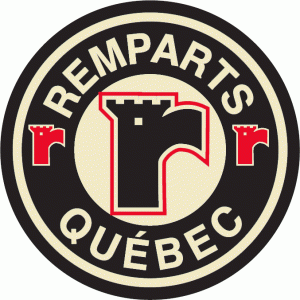 Follow Shawn Reznik on Twitter.
Nick Sorensen had high hopes this season of making a splash in the Quebec Major Junior Hockey League.  The 2013 draft eligible right winger hopped across the pond to join the Remparts when they selected him as the 20th overall pick in the 2011 CHL Import Draft.  He started the season on the injured list, but when he returned he went on a tear, putting up five goals and four assists in eight games.  The future was looking bright for him until Oct. 28 against Baie-Comeau Drakkar.
Late in the second period, Sorensen cut across the ice with the puck when Jonathan Lessard delivered a brutal knee-on-knee hit.  On the play, Lessard received a 2-minute penalty for kneeing.
Laying on the ice in excruciating pain, it was clear to see how bad the injury would be for Sorensen.  Hearing how long he would be out would be even harder to take in.  After speaking to a specialist and talking it over with general manager Patrick Roy, it was determined that Sorensen would miss the remainder of the season after suffering damage to his ACL and LCL.  Following the decision, Nick went to his Facebook page and posted the following: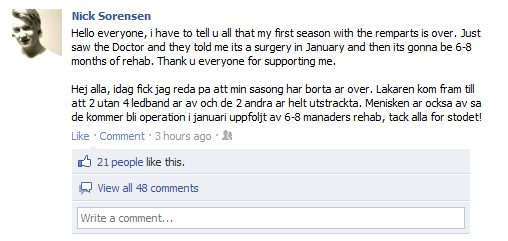 That news is hard for any player, but the harder news were the punishments imposed on the Lessard hit.  QMJHL's disciplinarian Raymond Bolduc handed Lessard a 15-game suspension.  An additional $2,500 dollar fine was given to Roy for commenting that Bolduc was "too nice" to hand out a stiff penalty.
"Losing someone like Nick really is a big loss on and off the ice," teammate Adam Erne said of Sorensen.  "He is such a threat offensively and defensively, but off the ice he's such a good teammate.  Me and him have become really close and are best friends.  I hate to see him like this, but I'm sure he will get over this and be right back where he left off.  He had an incredible start and I am sure he will get right back to it next year."
This could be a huge blow to Sorensen's career, but the if the rehab goes as scheduled, Sorensen will be back in shape (likely better and stronger) come next season.  What I have a huge problem with is the length of suspension.  The hit was vicious and there was clear intent to injure.  Lessard had little disregard for Sorensen in this situation and because of it, Sorensen is now out of commission for the remainder of the season.  This also isn't the first time Lessard has had to deal with a possible suspension.  Last season, Lessard delivered a late hit after a goal that sent Rimouski Oceanic forward, Jakub Culek, awkwardly into the boards.  He wasn't given any suspension for that incident.  So it seems Patrick Roy was right in his assessment of Bolduc after all.
Lessard got 15 games, but Sorensen got 60.  Is that a fair tradeoff?…I think not.