By now, there is little doubt that you have not heard of Sarnia Sting defenseman Jakob Chychrun, who is currently projected to be a top-ten selection at the quickly approaching 2016 NHL Entry Draft.
The top ranked defenseman ahead of this year's draft, Chychrun possesses all the tools of a true number one NHL defender.
Not only does he retain excellent offensive instincts, as illustrated by his 16 goal rookie season in just 42 games played in 2014-15, as well as his 38 points over 51 games thus far in 2015-16, but Chychrun also boasts an incredibly sound defensive game. He has the ability to maintain his composure under pressure, especially in the defensive zone, allowing him to make accurate, crisp outlet passes to his teammates. Further, his considerable size and strength, weighing in at 6 foot 2, 214 pounds, allows Chychrun to be an intimidating force, using his large frame to out-battle opposing forwards in puck battles.
Having personally witnessed Chychrun play on multiple occasions, he reminds me of a younger, bigger-bodied Duncan Keith. The manner in which he uses his speed and skating abilities to not only produce offense, but also defend on a consistent basis, will provide Chycrun the opportunity to enjoy a long NHL career.
Currently projected to be selected in the fourth to sixth overall range, Chychrun will fall to a team in need of a future number-one defender, and no team is in need of more drastic defensive help than the Edmonton Oilers.
The Key to Oiler Success?
In the NHL, the typical re-building process emphasizes building from the net out, focusing on securing a quality goaltender followed by a talented, yet deep defensive core.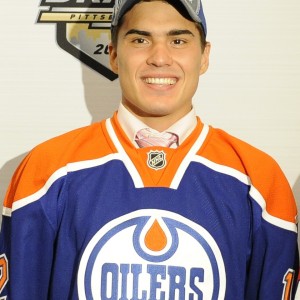 In Edmonton, the Oilers re-build has taken place in reverse order, with the team stockpiling highly skilled forwards throughout recent history rather than building a team relatively strong in every position. Drafting Chychrun would provide the Oilers the opportunity to immediately address this issue, as it would allow them to drastically improve their weakest position, which has long been defense.
In recent years, the Oilers have done a better job in attempting to address this glaring weakness by drafting, trading for and signing numerous free agent defensemen in an attempt to upgrade the position. Those of greatest impact have been added through the draft, with Oscar Klefbom (1st Round, 19th overall in 2011), Darnell Nurse (1st Round, 7th overall in 2013) and even Brandon Davidson (6th Round 162nd overall in 2010) all showing considerable promise in their relatively small amount of time in an Oilers uniform. These young players appear to be solid pieces for the Oilers moving forward.
On the other hand, trading for Griffin Reinhart and signing Mark Fayne and Nikita Nikitin are moves which have yet to, and may never pay off for the Oilers.
As such, it appears as though the draft will be the most likely road to success for the Oilers.
With Klefbom and Nurse poised to become solid, dependable top-four defensemen, likely filling out the second pairing in the long-term, selecting Chychrun would provide the Oilers with a definitive franchise defender, a luxury they have lacked since Chris Pronger left town following the 2005-06 NHL season and playoffs.
An Uncertain Future
As we have seen, the Oilers' continued upgrading of their defense core can best be defined as a long-term process, and is one heavily dependent on the outcome of the annual NHL Entry Draft.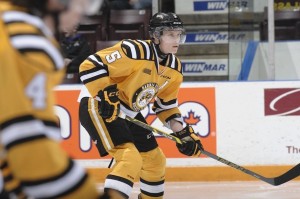 Having endured a shift in their drafting philosophy, the Oilers are now focused on drafting promising young defensemen, and there is no doubt that Chychrun would be excellent fit within Edmonton's organization.
However, the Oilers' future, and their ability to select the future number one defender, relies solely on the outcome of the annual NHL Draft Lottery. With the season quickly winding down, the Oilers once again find themselves at the bottom of the standings, a standing which, (un)fortunately, will once again provide them with exceptional odds of securing a top three draft pick, if not the first overall selection.
[Related: Would the Edmonton Oilers Trade the First Overall Pick?]
As a result, the Oilers' ability to select Chychrun will boil down to how Edmonton finishes the 2015-16 season. However, if past success can predict future results, the odds are certainly in the Oilers' favor, who have been exceptionally fortunate when it comes to the Draft Lottery in recent years.
Whatever the case may be, drafting Jakob Chychrun will be essential to the Oilers' success in the near and distant future. Long lacking a quality, dependable and defensively sound defender who can confidently log top-pairing minutes on a consistent basis, Chychrun would act as a pillar of strength on the Oilers' back-end for the long-term.
Competitive teams, especially those who embark upon deep, annual playoff runs, have long been dependent on the services and skills of a true number-one defenseman. Until the Oilers are able to acquire one, whether through draft, trade or free agency, it remains highly unlikely that Edmonton will free itself from a state of perpetual irrelevance in the NHL.