On June 27, 2014, the Nashville Predators made a blockbuster draft day trade with the Pittsburgh Penguins to acquire James Neal in exchange for Patric Hornqvist and Nick Spaling. Nashville general manager David Poile made the trade as a sign of change in the organization. With a new offensive-minded head coach in Peter Laviolette, Poile wanted to give him something to work with. Neal was to be the Predators' go-to goal-scorer.
The move was a breath of fresh air since the Preds had not had a pure goal-scorer since Paul Kariya in 2007.
Nashville was buzzing.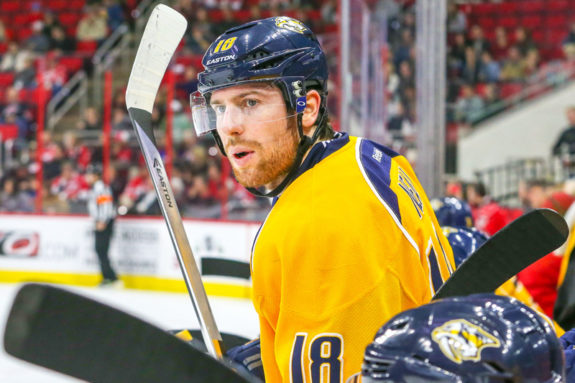 The biggest variable to the success of the trade was whether or not Neal would be as productive without his partner in crime Evgeni Malkin from the Penguins.
To no one's surprise, he was not.
Prior to being traded from the Dallas Stars to the Penguins in 2011, Neal was a prominent player offensively but not yet elite. He amassed 131 points (72 goals, 59 assists) in 214 games with the Stars. It wasn't until his Neal's first full season with the Penguins that he was donned as elite after placing seventh in scoring among all NHL-ers with 40 goals and 81 points in 80 games in 2011-12.
The reason he put up those career high numbers was because he was playing alongside Malkin, whom won the Hart Trophy that year after tallying 50 goals and 59 assists, most of the season. Neal lived and died by Malkin. As Neal's time in Pittsburgh continued for another two seasons, it became clear he was not the same player without Malkin. Per game in Pittsburgh playing without Malkin, Neal averaged three shots, 0.24 goals and 0.63 points less.
After one year with a new team, Neal has proven he needs Malkin.
Or someone of the same skill level.
Neal played alongside promising 20-year-old Filip Forsberg and passing ace Mike Ribeiro most of the year, but neither can compare to Malkin. The result? Neal struggled and did not meet expectations.
Neal's first season with the Predators was disappointing. The assistant captain's 37 points (23 g, 14 a) in 63 games was his lowest offensive numbers since his 2008-09 rookie season in Dallas when he scored 37 points (24 g, 13 a) in 77 games.
There were glimpses of Neal being Nashville's go-to scorer, but he was very streaky. Neal's best game of the year was on October 23, 2014 against the Chicago Blackhawks when he scored a hat trick in a 3-2 win. Later in the year, there was a span between February 21 through March 7 when Neal went nine games without a single point.
Unfortunately, many Predators fans are so numb to mediocre offensive numbers — though it is not their fault — that they will not call Neal out for his lack of production. However, when a player is making $5 million a year to score but finishes eighth in scoring on his team, it is fair to call the year a disappointment.
In 2015-16, Neal will be in the fourth year of a six-year, $30 million contract. With a salary that large, Neal needs to step up to the plate next season.
Subscribe to our Predators stories to get email updates every time a new story is published.
Colin Fitts is a Nashville Predators staff writer for The Hockey Writers. You can follow him on Twitter, @FittsTHW.