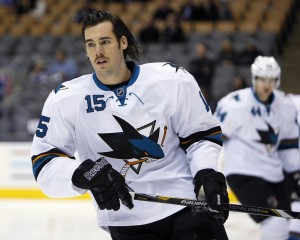 No, James Sheppard didn't actually jump and turn 180 degrees in the face-off circle in order to win a draw, but he might as well have. More on that in a moment, but first a bit of a background on No. 15 in teal. Many believe the Minnesota Wild rushed him into the NHL right out of junior which stunted his development. In the 2010 offseason, an ATV accident caused him to miss multiple seasons with an injured knee. During the 2011 offseason Sheppard was traded to the Sharks for a third round pick. He made his Sharks debut over a year later during the 2012-13 season, playing in just 32 of the 48 games. Last season though the 26-year-old center established himself as an effective bottom six player.
45 —-> 55
Sheppard really started developing his game a year ago as a fourth line winger with four strong games heading into the Olympic break. Furthermore, points in five straight games from Feb. 5 through March 4, really jump started his season. He would get bumped into the third line center position where he started racking up points in bunches. Sheppard finished the month of March with 11 points in 15 games.
Despite the offensive success, there were a couple of concerns with Sheppard at the center position. First and foremost was that he did seem to spend quite a bit of time in his own zone despite the offensive success. Part of the reasoning for that was his abysmal face-off percentage at just 45%. For the season, his corsi-for percentage was a respectable 52.8% but this year that is up to 55.9%. Speaking of 55%, amazingly, and I do mean AMAZINGLY, that was his current face-off percentage going into the last game against Boston.
.@jimmysheppard15 2nd on #SJSharks in FO% (55.5%); has won 50% or more of his FOs in 10 of last 13 games. Last 5 games 65.7% (44-for-67)

— Ben Guerrero (@brguerrero) December 3, 2014
Now perhaps followers of other teams have seen players make similar jumps, but a centerman improving his face-off percentage by 10% in a single offseason is something I've never heard of before. For his career, Sheppard is still just at 43.4%, but this year, his now 54% success rate (had a tough night in the circle against the Bruins) is still right up there with elite face-off teammates Joe Thornton and Joe Pavelski (55.9 and 55.7 respectively). Going from a poor percentage to a fantastic percentage is something we simply don't see very often, yet Sheppard has found a way to do it.
Much Needed Depth
While some will say face-offs are overrated in terms of possession analytics, starting with the puck is still advantageous no matter how small of a difference. We have all season games where goals are scored late in the third period to tie the game shortly after an offensive zone face-of win by the trailing team. Little things do add up over time, face-offs are just one of them.
Thus far on the season, Sheppard has picked up eight points in 21 games, which would be about a 30 point 82 game game pace. That is solid production from a third line center. The key though is being able to rely on him in all three zones. Now there is still little doubt that Joe Pavelski centering the third line would make the Sharks deeper and a harder team to play against but Sheppard is certainly growing his game. If he can continue to improve, and his line with Tyler Kennedy and Matt Nieto keeps playing well, perhaps the Sharks (gasp) could have three legitimate scoring lines with Pavelski remaining in the top-six. That play of the current third line is by far the biggest positive of San Jose's current three game win streak as they haven't had much depth during their early season struggles.