By Terrance Gavan – Files from Paul Walsh (Star Tribune)
Guess what the Winnipeg Jets don't need in this, their redemption year?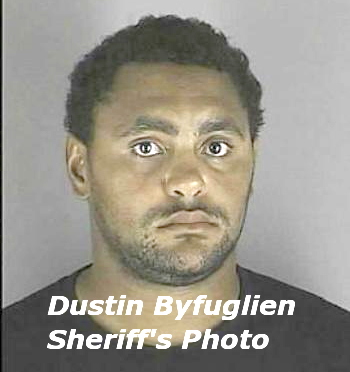 They don't need one of their marquee players, Stanley Cup winner Dustin Byfuglien, making headlines for all the wrong reasons.
But, boys will be boys, and this is the National Hockey League after all. So maybe Big Biff Byfulgien will skate on this one. Pun intended. Because the sooner we can get these guys into training camp the better.
Who says the summer's too long? Oh yeah. NHL fans; and GMs; and coaches. And maybe, considering this off-season from hell, the fans, the GMs and the twitchy mentors are right.
"NHL star and Minnesota native Dustin Byfuglien was arrested on Lake Minnetonka and booked on suspicion of boating while intoxicated," authorities said on Thursday.
"He was arrested at 8:15 p.m. Wednesday on Lower Lake South in Excelsior and refused to submit to a blood or urine test," the Sheriff's Office said in a Minneapolis Star Tribune article penned by Paul Walsh.
According to the report, he was brought into the jail at about 11:10 p.m. and released a little more than three hours later pending formal charges. The sheriff's office declined to say any more about Byfuglien's arrest.
The Star Tribune reports that: "A message was left for Byfuglien on his cell phone seeking comment about his arrest. His Twin Cities-based agent, Ben Hankinson, declined to answer any questions.

"Byfuglien, who was born in Minneapolis and raised in Roseau, starred for the Stanley Cup champion Chicago Blackhawks during the 2009-10 season, scoring 11 goals in 22 playoff games."
Byfulgien's stepdad Dale Smedsmo was refreshingly candid in an interview with the Star Tribune. "He's got to grow up," Smedsmo said when told of the arrest. Byfuglien rents a home on Lake Minnetonka in the off-season.
Smedsmo, who lives in northern Minnesota and regularly enters Canada, added that a conviction on an alcohol-related charge could complicate Byfuglien's ability to cross into Canada. Manitoba has some of the toughest drinking/driving laws in Canada.
Jets spokesman Scott Brown told the Trib that team officials are aware of Canada's strict laws on allowing drunken-driving violators to enter the country. However, Brown added, "there is a very real possibility that he will not be charged at all," noting that authorities had yet to do so as of Thursday afternoon.
In the meantime, Brown said, "we will keep gathering information and see what happens."
Byfuglien has been skating in a Twin Cities camp in preparation for the season and appeared to be substantially heavier than his playing weight of last season.
So now?
Probably a good time to get out of the boat and onto a bike for Dustin B.
Mug shots are not CV friendly.
gav@pardontheeruption.com twitter.com/terrancegavan
Sens reporter Terrance Gavan was born in Ottawa. Attended Carleton University, graduated from University of Manitoba. Sports Editor for The Manitoban; Sports Information Director at the U of M. History: Interlake Publishing, CP, UPI, Winnipeg Sun, Assignments:CBC Radio/TSN. Managing Editor/Kanata Kourier/Standard 92-93. Quebecor; Currently: Sports and Entertainment Editor The Highlander, Haliburton, ON. Award winning photographer and poet. Lives by a lake with his dog Billie Jean. Happy. Happy.