The Washington Capitals are currently the best team in the NHL and have allowed the fewest goals (90). However, injuries to key defensemen Brooks Orpik and John Carlson may tempt head coach Barry Trotz and the Caps' senior management to test the trade market. One possible target: the Winnipeg Jets' Dustin Byfuglien.
Orpik has been out for most of the season with a lower-body injury. Carlson had played a remarkable 412 consecutive games for Washington until his own lower-body injury forced him out.
Because of Orpik's injury, the Capitals have relied heavily this season on D-men Nate Schmidt, Taylor Chorney, and – most recently because of Carlson's absence – Aaron Ness from the AHL. Each has performed well, especially Schmidt with his Ovechkin-like slapshot from the blue line. However, Trotz is contemplating a long postseason this term and at least one extra experienced defenseman is required.
Carlson may return quite soon, but an Orpik return in the near future is unlikely. Winnipeg's Byfuglien is a worthy trade target and pairing him with a fit-again Carlson on the top defensive line would pay dividends. If Orpik returns, it's a win-win for the Capitals going into the later stages of the season.
Dustin Byfuglien is Good Business
Regardless of Orpik's playing status, picking up Byfuglien is still good business. Chorney and Ness were obviously not part of Trotz' 2015-16 defensive plans and Byfuglien could slot in on any defensive line.
Byfuglien, 30, leads all Winnipeg defensemen in points this term with nine goals and 14 assists, and he will become a free agent at the end of this season. In 640 career NHL games, he has 142 goals and 225 assists for a points total of 367. At 6' 5" and 260 pounds, he would be a welcome (and massive) addition to any Capitals defensive paring. Byfuglien is set to make $5.2 million this term.
But, who goes in Winnipeg's direction in exchange for Byfuglien – or for any player the Capitals make a move for? Forward Marcus Johansson and a prospect. Or—Johansson and cash.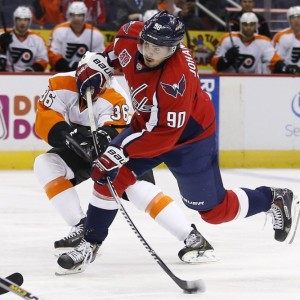 Johansson's salary is $3,750,000 this season, after which he becomes a free agent. At 25, he's younger than Byfuglien with his best seasons ahead of him. In 384 NHL games, Johansson has scored 71 goals and recorded 141 assists for a total of 212 points.
Mike Richards Changes Everything
The arrival of forward Mike Richards in Washington raised some eyebrows – especially about Johansson's future with the club. Richards is a seasoned, Stanley Cup winner with 482 points from 710 NHL games. He could play on any line, but (if Johansson moved on) Richards would fill the void on the third line or play on the second line after some shuffling.
Winnipeg, bottom of the Central Division and with a minus-13 goal differential must turn things around. A trade is always a good kick in the pants for any struggling team. On the flip-side, Washington sit atop the entire league and are looking to get every last piece of the Stanley Cup puzzle firmly in place.
Another Cup winner on the roster is a shrewd move – especially a goal-scoring defenseman like Byfuglien.