As we embark on another edition of THW's Fantasy Findings, we're taking a look at how some of the best fantasy players stack up at the mid point of the NHL season. Who's making a push to get into the top 100 and which players are making a case for fantasy MVP this season?
This week, Pete Jensen took to NHL.com to hand out his list of top 100 forwards from a fantasy hockey standpoint. The usual suspects are easy to guess at. It's those bottom level guys – the ones in the mid-80s and 90s that you can focus on acquiring on the waiver wire or in a trade (depending on the depth of your league).
While some players – that Jensen mentions – can benefit from a second half turnaround, others might benefit from a few more bounces going their way – including Toronto's Nazem Kadri and Pittsburgh's Patric Hornqvist.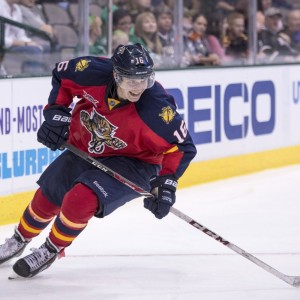 That being said, there were three players who debuted on Jensen's list this week. Kadri joined the list at the 85th position, while Brandon Dubinsky and Carl Soderberg closed out the top 100 at 99 and 100 respectively.
While the top 20 have roughly stayed the same for the past couple of weeks, there are some big climbers on Jensen's list this week. With Florida's sudden hot streak, both Aleksander Barkov (jumped 10 spots) and Jonathan Huberdeau (jumped 15 spots) took significant leaps up the list to 55 and 73 respectively. But more than anyone else, Big Joe Thornton moved up 16 spots to 57. Not bad for the San Jose power forward.
Fantasy Advice: Depth Wins Championships
We always hear the typical cliches from athletes – the team gave 110 percent, we worked as a five-man unit – and all that usual business. In fantasy hockey, those same overused lines tend to have some validity.
You see, on a high calibre fantasy team you have to have the right replacement players. Let's say your top end guys go down – Seguin or Benn get hurt – or guys like Crosby just aren't producing. You need someone who can fill the hole with consistency.
Look to the lower end guys on this list. Even those who narrowly missed the cut are worth taking a look at if you're wanting to make a change on your roster. Look to guys like Kyle Palmieri in New Jersey (75th ranked) or Milan Lucic (69th ranked). You should try Ryan Spooner (89th ranked) or Leo Komarov (98th ranked). Even guys just outside the top 100 could help the depth of your team – Hornqvist, Nielsen, Wennberg, or Anisimov.
The key is find the players who are about to go on hot streak – catch them before they put up the numbers that can help you jump the standings in your pool. For that, take a look at what Jensen has to say in his latest top 100 rankings.
But if you're looking for a solid second half player, start by taking a look at who was picked as the best and worst from the first half of the season. Heading back to the NHL.com fantasy hockey page, their fantasy staff put together their picks for the top player at every position, along with the biggest surprise, let down and best rookie to this point this season.
When it comes to the overall MVP and positional MVPs, the NHL staff determined winners by unanimous votes. Patrick Kane took home the overall first-half MVP with his 63 points (25g-38a) in just 45 games along with the right wing MVP. Tyler Seguin was the unanimous winner of the center MVP, while his teammate Jamie Benn won at left wing. Erik Karlsson was the top defenceman and Braden Holtby got all five votes for top goalie.
The biggest surprise in the first half was a little more broken up. Artemi Panarin two top place votes, as did John Klingberg. Leon Draisaitl had one first place and one runner-up vote. While Palmieri, Jaromir Jagr and Evgeny Kuznetsov closed out the runner-up voting.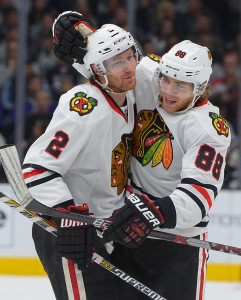 The biggest underachiever was an all Penguins edition with Phil Kessel taking two first place and one runner-up vote and Crosby taking the other three first place votes. The runner-up votes were closed out by one vote each for Ryan Johansen, Ryan Getzlaf, John Tavares and Derek Stepan.
Finally, there was the top rookie. That – like the positional MVPs – was a unanimous vote for Chicago's star rookie Panarin. Dylan Larkin had three runner-up votes with Shayne Gostisbehere and Connor Hellebuyck each getting one.
Fantasy Advice: Look Ahead With Kadri and Couturier
Along with the first half award candidates, the NHL team offered up some possible fixes for your team heading into the second part of the season. From Seth Jones to Bo Horvat, there are some interesting players that are looking to have big second halves.
But two players to keep an eye on – or that you should try to acquire – are Sean Couturier and Nazem Kadri. The Leafs forward is working on the tail end of a one-year contract so he's gunning to have a good second half. Through 40 games he has just 22 points (8g-14a) but 141 shots. At some point, that has to turn around for him.
In Philadelphia, Couturier is starting to find the net. He's notched 20 points (9g-11a) in 34 games with four goals and two assists in his last five games. A former eighth overall pick, he's starting to grow into his own with the Flyers – something that fantasy owners should watch over the coming weeks.
But if you're looking for someone else to keep your team rolling forward, take a look at what this article has to offer.
For more fantasy news, check out THW's fantasy homepage and follow Andrew on Twitter at @AndrewGForbes.