The Pittsburgh Penguins are a much improved team since they fired former head coach Mike Johnston and promoted Mike Sullivan from their AHL affiliate in Wilkes-Barre. Sullivan has instilled a new mindset, a new approach even, that seems to have motivated the Penguins in ways that Johnston was unable to accomplish. He has opened things up on offense, allowing the likes of Sidney Crosby and Evgeni Malkin to use their creativity and generate offense in a way that plays to their strengths. Crosby has soared, while Malkin has played well but hasn't been racking up points as he was just a few short weeks ago. That in itself is an example of where the Penguins' current issues reside. Where is the consistency?
On Tuesday night, the Penguins faced the Carolina Hurricanes at PNC Arena in Raleigh. It was almost as if we were watching Pittsburgh on repeat, using recorded versions of their performances from their back-to-back contests vs. Chicago just a week ago. The Penguins started slowly with little intensity and failed to create much offense throughout the first 20 minutes yet again. It's becoming a trend that needs rectified quickly.
You don't need to look much further than last night's boxscore to see what I'm talking about. Pittsburgh tallied just five shots-on-goal in the first period, then followed that up with only seven in the second. The second period was a much better effort than the first but not on par with what this team is capable of based on a few recent performances. In the third, Pittsburgh tallied 13 shots and looked dominant for much of that frame. The end result was a trip to overtime, a bad offensive zone penalty by Malkin, and a forfeited point in the standings when Carolina's Jeff Skinner scored during 4-on-3 play. It's even more concerning when you consider that this is yet another Metropolitan Division loss to a team that is now just one point behind the Pittsburgh Penguins in the standings.
Saying the Right Things Only Goes So Far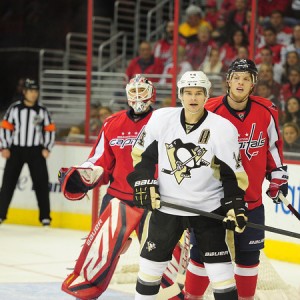 Chris Kunitz, after last night's loss, had the following to say about their slow starts.
"It's been a few games now. In Detroit. In Chicago. Here. We've got to find a way to raise our level in the first period. We need to be the team that's putting the pressure on."
Olli Maatta also chimed in, stating that "the first period was bad" and also added that they "can't keep giving these games away". However, that's exactly what they're doing on a nightly basis. And, this isn't about coaching anymore, it's about effort. It's about execution. Thankfully, in a few of the games that Kunitz mentioned, they've been able to come away with points. The issue though, is that fighting back as they have, only to come away with the loser point in OT, will wear on them and be detrimental to their place in the standings.
No one on this team believes that they are accomplishing anywhere near what they're capable of. And, they're right. You can hear it in their voices during post game media scrums and see it in their demeanor after losing to a far less talented team. They're disappointed, maybe even angry, that they continue to start games in such a lackluster way, only to claw their way back and come up just short when the final buzzer rings. Well, it's time to act on those emotions, as opposed to simply talking about it.
If the Playoffs Began Today, The Pittsburgh Penguins Would…
The truth is, for this team, the playoffs have already started. In fact, the playoffs have started for most of the Metropolitan Division, as all teams are so tightly wound in the standings that only a few points could mean a playoff spot or an early summer. That's precisely why games like last night, against a Hurricanes team that the Penguins should easily defeat, are so important.
Outside of the outliers in this division, which are the Washington Capitals at the top and the Columbus Blue Jackets at the bottom, a mere eight points separate the rest. The Penguins are currently fifth, looking in from outside of the playoff picture. They're only six points out of second place in the Metro but at the same time, they're only three points out of seventh. Are they ready to buckle down and start playing like their playoff lives depend on it? It's only January but in their situation, it has already come to that.