Last Wednesday, the Philadelphia Flyers took a giant leap forward in their quest for salary cap freedom. General Manager Ron Hextall traded away Luke Schenn and Vincent Lecavalier to the Los Angeles Kings in return for Jordan Weal and a 3rd round pick. Although the Flyers retained 50% of each contract, they still opened up nearly $4 million in cap space for this season.
Hextall, who managed to trade the contracts of Chris Pronger and Nicklas Grossmann away this summer, could see both Schenn and Lecavalier come off the books this summer. Schenn is an impending unrestricted free agent, while Lecavalier has two years left on his deal. However, Kent Hughes, Lecavalier's agent, has confirmed that his client will forgo the remainder of his contract and retire after this season. Had he been planning to play out the rest of his deal, the trade may not have been able to take place.
Therefore, the Flyers look to be in good shape heading into next season. According to Cap Friendly, the Flyers have about $58.5 million committed to 16 players. Assuming they waive Andrew MacDonald and/or Lecavalier decides to play for one more year, that number could fluctuate between $57-61 million for 15-16 players.
The salary cap will likely end up between $71-73 million, leaving the Flyers roughly $10-12 million to add 7-8 players. More space could be opened up before next year if the Flyers decide to buy out RJ Umberger or trade someone like Mark Streit at the trade deadline. Although this would still leave things relatively tight, the team is in a great position for next season. Here are three things they should do with their newfound cap freedom.
Re-Sign Important Pieces
The Flyers have quite a few impending free agents, both restricted and unrestricted. A list of players can be seen below.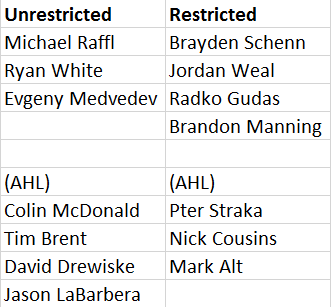 Unrestricted Free Agents
Among the unrestricted free agents, Michael Raffl and Evgeny Medvedev are the most likely to be re-signed. Raffl, despite relatively low numbers this season, is still a quality player who provides top nine value for the Flyers. He is one of their few true left wingers and has shown that he can be a good compliment to either Claude Giroux or Sean Couturier.
Although Medvedev has had his share of struggles in the defensive zone, and has yet to fully gain coach Dave Hakstol's trust, he is still a likely candidate to be re-signed. He will not be in a position to ask for a big raise this summer, nor a long term contract, but he could be a solid place holder for the next year or two until Travis Sanheim and/or Samuel Morin is prepared to take on a full-time NHL job.
Ryan White and the free agents playing in the AHL will likely not be re-signed because of an influx of forwards joining the pro ranks within the Flyers' organization at some level next year (Nicolas Aube-Kubel, Radel Fazleev, and possibly Oskar Lindblom and Travis Konecny), there will be fewer spots to distribute.
Restricted
Among the restricted free agents, Brayden Schenn and Radko Gudas are the most likely NHL players to be re-signed, while Mark Alt and Nick Cousins will likely earn one-year "prove it" contracts. Despite the fact that Schenn has not lived up to his pre-draft hype, he is still a solid contributor. He can play a top nine role and will probably be re-signed for a slight raise.
Radko Gudas has been a pleasant surprise for the Flyers this season. He has provided top pair minutes and been solid in all three zones. He is also a perfect fit with Michael Del Zotto, who is signed for another year.
Brandon Manning has been an NHL/AHL tweener for the past few seasons, but has been a mainstay on the Flyers for the entirety of the 2015-16 season. Due to the organization's new-found depth on the back end, he will likely become expendable this offseason.
Mark Alt, Nick Cousins, and Petr Straka have all shown that they can be solid AHL performers, but none of them have solidified an NHL job. Like Manning before them, all three players will likely be given a season or two to show the organization that they can be viable NHL options moving forward. Although all three players are too young to dismiss, they are at the point in which time is running out. They have top prospects breathing down their necks and established veterans are not getting out of their way, so they will definitely not be signed long term.
Disclaimer: The Flyers could, and might, trade any of the above players before February 29th. Ron Hextall's philosophy is clearly to build through the draft and look to the future. If the Flyers are not in the playoff hunt a month from now, it would not be ridiculous to see some of their impending free agents dealt.
Utilize Entry-Level Contracts
The math is relatively simple: $11 million Dollars spread among seven players rounds out to about $1.5-2 million per player. Assuming Schenn, Raffl, Medvedev, and Gudas each signs a contract worth $2-3 million a year, the Flyers will need to fill their final few roster spots with very cheap players.
Luckily, they have a group of prospects who look ready to jump to the NHL. Ivan Provorov, Travis Konecny, and Taylor Leier seem to have the smoothest paths to an NHL job, but players like Robert Hagg, Sam Morin, Travis Sanheim, and Oskar Lindblom could all force their way onto the NHL team next year.
The way entry-level contracts are structured gives NHL teams flexibility. The base salary for a player on an ELC cannot be higher than $925,000. Therefore, that is the highest amount that that players cap hit can count against the cap for the year, with bonus overages being tagged onto the next year's cap. Although it would be unwise for the Flyers to store up a large amount in bonus overages to pay out the next year, having players on ELC's would be a huge help for the cap situation next season.
If the Flyers can find a way to get 3-4 more players onto the team with their ELC's (to go along with Scott Laughton and Shayne Gostisbehere), that will free up room to re-sign some of the important pieces.
Avoid The Free Agent Frenzy
Who remembers the last time that the Flyers had some cap space and a few roster spots to fill? We all should. It was the summer of 2013 and the Flyers used their cap space to sign Vincent Lecavalier, Mark Streit, and Ray Emery. Although the Mark Streit signing has been generally positive and the Ray Emery signing did not do any long-term damage, those signings did a lot to bring along the Flyers' salary cap crisis.
One must only look at contracts to Andrew MacDonald and RJ Umberger on the Flyers, and contracts to players like David Clarkson and Dave Bolland  abroad to see how bad teams can be burned by the Free Agent Frenzy. For a player to reach free agency, he typically is at least 27-28 years old and has very few good years left. For a team building for the future, making a big free agent splash would be a big mistake.
But the Flyers need a top pair defenseman, right? They need a big, mean, scoring winger, right? But but but, Dustin Byfuglien and Milan Lucic may be available. What about Andrew Ladd or our old pal Braydon Coburn?
However, the Flyers do not need pricey veterans. They need youth. Lucic will be 28 at the start of next season and Andrew Ladd will be 28. Byfuglien, Coburn, Eric Staal, and Alex Goligoski will all be 31. David Backes will be 32 and Brian Campebell will turn 37. When age and an estimated price are factored into the equation, there is very little reason to expect the Flyers to be active in free agency. They do not want a repeat of the Lecavalier fiasco. Therefore, signing a player into his mid 30's is something Hextall must avoid.