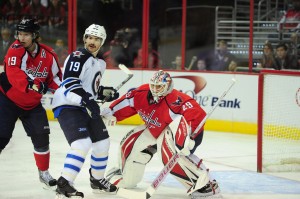 Not all of the Winnipeg Jets are on the golf course this May.
As we speak, there are four members of the team that are overseas, three of which made their country's final rosters for the 2012 IIHF Men's World Hockey Championship in Stockholm, Sweden and Helsinki, Finland. As well, Zach Bogosian, Dustin Byfuglien and Blake Wheeler received invitations from Team USA, but declined to participate. Tobi Enstrom chose not to play for the Swedes.
Alex Burmistrov played in exhibition games for the Russians but was not named to their final roster. Forwards Jim Slater with Team U.S.A. and Evander Kane and Andrew Ladd as members of Team Canada are playing in the annual tournament.
In pre-tournament exhibition games:
May 1 in Gävie, Sweden, Jim Slater scored a goal and added an assist for Team USA in a 3-2 win over Team Sweden.
Also May 1, in Kloten Switzerland, Evander Kane set up line mate Andrew Ladd for a second period goal, en route to a 4-2 win over Switzerland.
The tournament started for real on Friday May 4 and here's how the Jets contributed in the early games:
Jim Slater again chipped in with a goal in the Americans' 7-2 drubbing of the French. The US out-shot France 35-23. Jimmy Howard of the Detroit Red Wings got the win in goal.
Also on Friday, Team Canada held on in the third period to defeat Slovakia 3-2. Evander Kane assisted on Jordan Eberle's second period goal and Andrew Ladd added another three minutes later. Canada controlled the play through the first and second periods and Cam Ward was strong in the third to tally the win.
On Saturday May 4 in an interesting early matchup, the US downed the Canadians 5-4 in overtime on a power play goal by Jack Johnson. Evander Kane of the Jets scored for Team Canada while Jim Slater continued to come through offensively for Team USA, contributing another goal.
The offensive showing by Evander Kane and Andrew Ladd at the World Hockey Championship so far isn't a huge surprise, but Slater's contribution has to be eye-opening to the Jets' management. It should encourage them to make a big play to re-sign him for next season. As well, he may have played himself into a bigger role with the Jets next season with his impressive play overseas.
Long time sports fan dating back to the stone-age – when hockey players were ridiculed for wearing helmets! Besides being a part of THW team, Jeff is also a member of the Yahoo Contributor Network.