While most of the conversation this offseason about the Winnipeg Jets is centric to Connor Hellebuyck's Vezina Trophy-winning campaign and the sudden buzz of energy about a potential Patrik Laine trade, the Jets still have major concerns for their roster heading into the draft crunch. Jack Roslovic may be the first cog in the wheel of the Jets contending moving forward.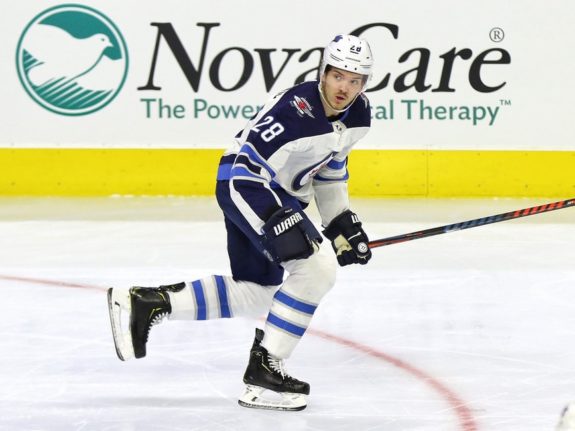 It wasn't long ago that Roslovic was a fresh-faced 18-year-old, recently selected by the Jets with the 25th pick of the first round in the 2015 NHL Entry Draft. Roslovic was credited right from the start as a fleet-footed, hard-working young playmaker and has slowly been making a name for himself in the NHL as just that.
Related: Jets UFA Options for Second-Line Centre
Roslovic started his time in professional hockey with the Manitoba Moose of the American Hockey League from 2016-17 to 2017-18 and produced a commendable 83 points over the course of 97 games, including 55 assists. His performances were strong enough to have him called up to the Jets for 31 games during the 2017-18 season where he generated 14 points for Winnipeg's offense and a positive plus/minus.
A Product of Misfortune
Seeing his numbers were solid in his rookie debut, the Jets called him up full time from the Moose where he played out the 2018-19 season playing bottom-six minutes. He was able to produce a decent point total of 24, with 15 assists over 77 games. Lacking offensive firepower around him and with a time on ice drop of 2:45 per game, Roslovic seemed to pitter out offensively for what can effectively be called a sophomore slump.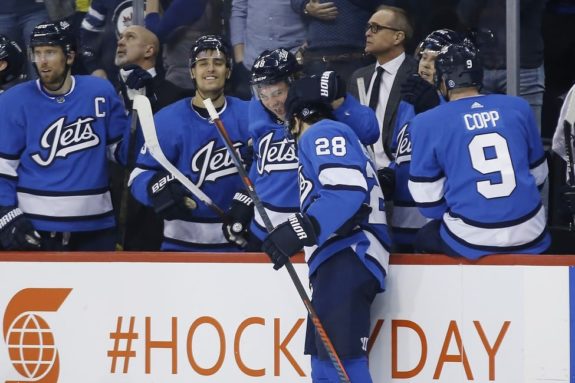 This last season saw a change in dynamic amidst the Winnipeg Jets locker room. After the loss of Bryan Little, who had been playing second-line center alongside high-caliber young stars in Nikolaj Ehlers and Laine, the Jets' second line concerns were more pressing than ever. With plenty of options but none that stood out, Roslovic was rotated into the second line position a handful of times throughout the latter half of the season.
Roslovic Saw Growth During 2019-20 Season
Even from a simple analytical standpoint, Roslovic took some grand steps in his game during the 2019-20 season. With statistical growth in every category apart from special teams' contributions despite fewer games played, fans should be interested to see what Roslovic could do playing an entire season on the top six. While it's not set in stone that he'll find his way there just yet with acquisition speculation swirling about players like Derrick Brassard and Alex Galchenyuk, it seems more and more likely that Winnipeg will opt to stick close to home for their man.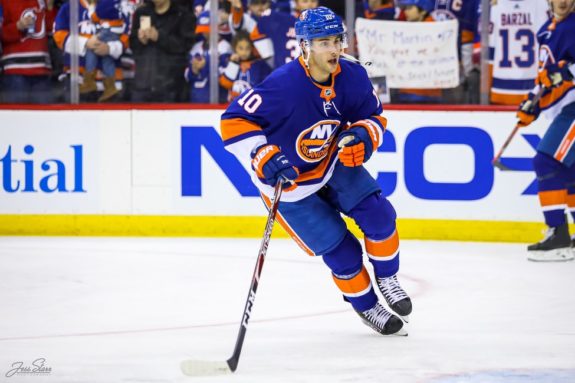 Not only did the youngster see a statistical progression, but he also matured on and off the ice as he continues to forge through his early 20s. Comparing where he started this season against where finished, it's clear that he's gained a maturity that was lacking before.
Related: Jets UFA Options for Second-Line
He seems less shaken on the ice, and more focused on creating offensive opportunities. He struggled in the past with being a negative player while in the USHL and AHL but has seemingly overcome that roadblock.
Proven Track Record
Roslovic is uniquely known around the Jets organization for being an outstanding player on an off the ice. Jets winger and Roslovic's former AHL teammate with the Moose, Mason Appleton, said the following in a tweet by The Athletic's Murat Ates.
Mason Appleton says he's played with Jack Roslovic a lot over the past few years — I asked him about that chemistry.

"I think it's just something I expect when I play with Jack. We feed off of each other's speed… We can kind of cross up on the d-man and do different things."

— Murat Ates (@WPGMurat) February 17, 2020
Roslovic should look to lean on the core foundation around him for support this season. As a young center looking to come in and make a big mark in the future, he's going to have some growing pains but those are unavoidable, no matter who you're looking at. General manager Kevin Cheveldayoff is going to need to be patient with this one, but if he is, it's a near guarantee his patience will pay off.
---
---
Young and driven by a fresh viewpoint of the NHL, Shmyr first found his love for writing in music, and was a SOCAN Top Young Canadian Songwriter award nominee two years in a row. Having played hockey growing up before transitioning into lacrosse to play Junior lacrosse in the RMLL, sports runs deep in Shmyr's story. He looks forward to the opportunity to write for his (basically) home team of the Winnipeg Jets.