TheHockeyWriters.com chats with NHL Hall of Fame broadcaster Jiggs McDonald, who discusses the 2015-16 New York Islanders and the plethora of questions surrounding the organization from pending free agents Matt Martin, Frans Nielsen and Kyle Okposo, to questions about the futures of talented youngsters Ryan Pulock, Alan Quine and JF Berube.
With over a half century of NHL broadcasting experience, calling over 3,000 games for the Atlanta Flames, Los Angeles Kings, Islanders (1980-95) and Florida Panthers, McDonald, who called several games for the Islanders in 2015-16, is one of the most experienced and insightful hockey journalists of all-time.
The Islanders' Road To The Second Round:
Patrick Hickey Jr.: What did you think of the Islanders 2015-16 season?
Jiggs McDonald: Taking into consideration all the lifestyle/game day changes the team and their fans had to make, it was an excellent season. One hundred points in this NHL era of competitiveness shouldn't be taken lightly.  It was a learning experience for everyone that in the long haul proved to be rewarding with a playoff berth.  The changes weren't limited to the commute from their homes and back on game day. The new ice surface, the new dressing room, team charter arrangements, everything added up to a test of a player's comfort zone and I think, to a man, they made the transition without too many complaints and handled it professionally.
Hickey Jr.: Was there a moment that you think the guys really came together? If so, when?
McDonald: Probably the way they competed against the New York Rangers in every meeting would be the true indicator of how motivated and accountable they were. I sensed a belief amongst the team right from the first week of October.  They wanted to make this work. That five-game trip I worked — Minnesota, Calgary, Edmonton, Vancouver and Winnipeg that encompassed the trade deadline — showed the resilience this team had developed.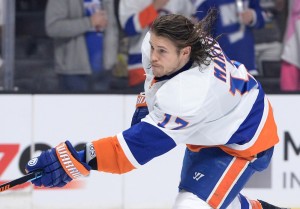 The Future
Hickey Jr.: Tough question: If you could only keep one of Frans Nielsen, Matt Martin and Kyle Okposo, which one would you pick and why?
McDonald: That's like asking me which one of my children I like best … each individual brings significant value whether in the dressing room, on the ice or within the community. Put to the wall, it's Frans Nielsen.  His ability to play center or the wing as well as his shootout talent is one thing. His defensive abilities are another.  Does he hit like Matt? No!  Does he equal Kyle's potential goal-scoring numbers?  Probably not. Factor in his age too and I've got another argument going with myself … but I will stick with keeping Frans on the roster. Doing so probably leaves a little more wiggle room with the cap numbers to replace Kyle and or Matt as well.
Hickey Jr.: Can JF Berube be a quality NHL backup?
McDonald: There's no question in my mind.  He has a wealth of talent as proven at the AHL level and shown again in the few NHL outings he had this past season.  From what I saw when I was around him — his temperament and team-first attitude — make him a great teammate and a valuable commodity for this team.
Hickey Jr.: Alan Quine and Ryan Pulock stepped up big at the end of the season and in the playoffs. What do you expect from them in 2016-17?
McDonald: Ryan Pulock should be a regular next season.  His shot from the point, when converted on the power play, will be lethal.  He showed great poise and read when to jump in offensively like a seasoned pro.  Alan Quine showed hockey smarts to go with excellent speed.  Right, place at the right time and a good, quick release.  His spot may hinge on what free-agent activity the Islanders get involved in as well as the development of some of the more recent draft picks who'll be given every opportunity to make the team at training camp.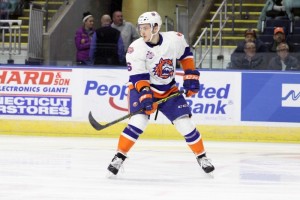 Next Season:
Hickey Jr.: What are your expectations for the Islanders next season?
McDonald: I think they'll go into the season using the 100 points as the number to be the worst they can do.  They'll want to build on that, of course.  However, so much hinges on whether the team will be able to attract a free agent or two.  Trades might be necessary in order to find the right fit for a winger or wingers to augment and enhance the talent of John Tavares.  (General manager) Garth Snow has some challenges facing him in getting the best 23-man roster available in order to build on last season's improvement.  Trade for the sake of trade doesn't always work out.  He'll be looking at not just talent and ability.  Any player coming into the Islanders organization is going to have to be a 'fit' for that dressing room and make a commitment to making the team an NHL force for the next several seasons.