The Stanley Cup Finals are still underway, yet that hasn't stopped newly-hired Dallas Stars general manager Jim Nill from getting a head start on his first offseason controlling the reigns of his new team.
Last week Nill made the first big trading splash since April 3rd's trade deadline, sending Dallas' 6th-round pick in the upcoming 2013 NHL Entry Draft to the Ottawa Senators in exchange for pending-free agent defenceman Sergei Gonchar. Nill then wasted no time in ensuring that Gonchar would never test the free agent waters, signing the 39-year old to a two-year deal worth $5 million per.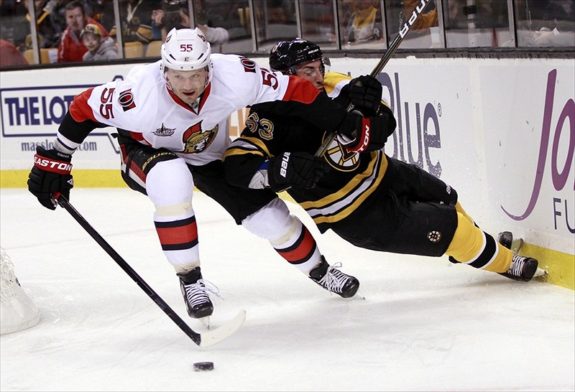 Although some NHL teams only make one or two big moves between seasons, that doesn't appear the case for Nill and the Stars this summer. With no head coach, a lack of depth at forward, four valuable picks within the first two rounds of the draft and a team that, overall, has lacked both consistency and an identity over the last few years, it looks like Nill has a lot of work ahead of him between now and when training camps open up again in the fall.
"I think we're going to be active," he said in a recent article on NHL.com. "I know I need to make changes. We need to get … our team has to get better. That's my game plan — I need to make some changes. It's going to be different."
Over the last five years, all of which were void of playoff appearances, the Stars have undergone a flurry of personnel changes, starting at the very top with two owners (Tom Hicks going out, Tom Gagliardi coming in), three general managers (recently-fired Joe Nieuwendyk and the short-lived GM duo of Brett Hull and Les Jackson), and three coaches (Dave Tippett, Marc Crawford, and Glen Gulutzan, all now gone), and then trickling all the way down to the roster, with the losses of Mike Modano, Brenden Morrow, Marty Turco and other former staples of Dallas' on-ice product.
It's clear that Gagliardi, the current owner of the Stars, views Nill as a long-term investment for the organization. After years of being highly-touted as assistant general manager of the Detroit Red Wings before being hired to his first head GM gig, Nill is likely to be given a lot of freedom this summer to re-evaluate Dallas' current assets and shuffle them accordingly, all in the hopes of laying out the foundation for the team that he envisions both in the present and in the future.
Likely the most impending move on the horizon for Nill comes in the area of coaching. His first official move as Stars GM was not exercising the final year contract option of former head coach Glen Gulutzan, who led the Stars to a respectable, yet still underwhelming, record of 64-57-9 during his two-year tenure. Talks have been ongoing the past few weeks between Nill and a bevy of coaches about the vacant position. Alain Vigneault, Lindy Ruff, John Tortorella and AHL Coach of the Year Willie Desjardins have all been mentioned in the hockey media as being interviewed by Nill, while others might also be in the running. While Nill has stressed that he is taking his time with the decision to explore all possible options and find the absolute best fit, he's also expressed an interest in having the new candidate hired prior to the draft on June 30. With reports of second interviews already being underway for certain coaches, it seems highly likely that whoever his new hire ends up being will be joining the Stars GM in his trip to Newark for the draft at the end of the month.
Speaking on the draft, the Stars are primed to be one of the biggest players this year, holding four picks within the first two rounds. They hold their own 1st and 2nd rounders, while also holding Boston's yet-to-be-placed 1st as part of the Jaromir Jagr trade, as well as Vancouver's 2nd, which was received in exchange for Derek Roy. Even though Nill's background from his time with the Red Wings focused heavily on scouting and the draft, Nill has a lot of freedom as to what to do with his team's picks, whether trading them up or down, or even using them as trade pieces to help retool Dallas' current roster.
"We have four picks in the top 54," Nill said. "We have the 10th, we'll have either the 29th or 30th, and we also have the 40th and 54th. So we have four picks in the top 54 … if gives you a chance to get four pretty good players and it gives you options to do things at the draft, whether its trading up or trading down. Gives you a lot of flexibility."
There won't be any time for rest after the draft is completed, as free agency begins the very next day, July 1. While the Gonchar signing adds much-needed depth to Dallas' blueline, the team still lacks depth at forward, notably on the top two lines. Jamie Benn and Loui Eriksson are locks, but things get more sparse from there. Ray Whitney and Erik Cole are valuable but still in the later years of their careers, and while Cody Eakin, Alex Chiasson, and Reilly Smith have all shown potential, they are all unproven playing difficult offensive minutes throughout the course of an 82-game season.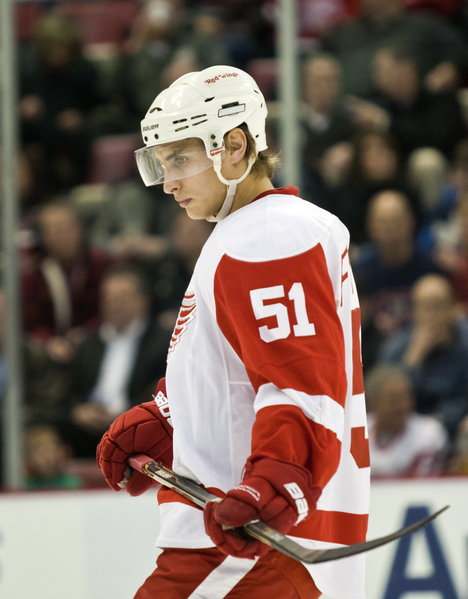 Will the Stars turn to free agency to pick up an offensive forward? That seems to be the case, at least according to this curious quote from Gonchar that might foreshadow Nill's future plans. From Mark Stepneski's Dallas Stars Inside Edge:
"The most important reason I signed with Dallas is because after I talked to them I find out they are going to sign more players, they are going to improve the team and they are going to do whatever it takes to make that next step" Gonchar said. "That's what made me sign with them."
This year's free agent forward crop is somewhat lacking in terms of elite star power, but Nathan Horton, Ryane Clowe, Stephen Weiss, Valtteri Filppula and other possible signings could all add reliable depth for the team.
While this is all still speculation at this point, there's no doubt that one way or another Nill will be making big moves for Dallas this summer as he puts his own personal stamp on the team. It's going to be a very interesting times for the Stars, and they're going to begin very soon.
Derek Neumeier primarily covers the Dallas Stars, but also other various topics related to the sport of hockey. A Journalism graduate of Mount Royal University, Derek also writes for Defending Big D, and has done previous work with the Edmonton Oilers as a communications intern and Hockey Canada as a freelance writer. You can follow him on Twitter at @Derek_N_NHL