After four seasons outside of the playoffs and the departures of Jarome Iginla and Jay Bouwmeester prior to the trade deadline, it goes without saying that the 2013 NHL Draft is the most important draft in Calgary Flames history.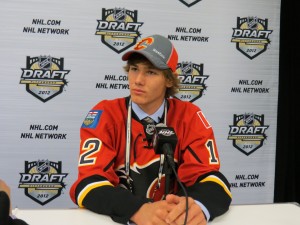 That said, the groundwork for a successful draft may have been built over the past few years. Flames general manager Jay Feaster joined the Flames as assistant GM in 2010 and the 2013 draft will be his third at the Flames draft table. By now, he's very familiar with the Flames scouts and their tendencies. Moreover, the heads of Calgary's scouting – head amateur scout Tod Button and assistant GM John Weisbrod – have long resumes and a few good drafts to build upon.
For Button, after a few years of struggles, he's coming off a few fairly strong drafts. In 2008, the team selected Lance Bouma and T.J. Brodie in the middle rounds. Brodie has cemented himself in the Flames' top-four, while Bouma was penciled into the fourth line before suffering a season-ending injury in the AHL. In 2010, the club grabbed junior utility-man Max Reinhart, despite not having a pick in the first two rounds, and Reinhart managed to play 11 games for the Flames this year. The 2011 draft class featured Sven Baertschi, NCAA super-star Johnny Gaudreau and WHL all-star Laurent Brossoit.
And in terms of Weisbrod, the 2012 draft cycle was spent streamlining the scouting process, cleaning up the evaluation of players with clearer language and getting to know the holes in the team's system. The club was reportedly very happy with how the 2012 draft went and with the heavy lifting of revamping the scouting system done with – and with the 2013 draft class expected to be significantly deeper than 2012's – expectations are sky-high for 2013.
THEIR 2013 PICKS
The Flames will be extremely busy in Newark on June 30, bringing along with them eight draft picks. That's the most they've had since 2004 – and easily the most they've had since the draft switched to the seven-round format after the 2004-05 lockout.
Barring trades, Calgary will select three times in the first round (6th, 22nd and 28th), once in the third round (67th), once in the fifth (135th), once in the sixth (157th) and twice in the seventh round (187th and 198th). They had a fourth round pick, but traded it for Florida prospect Corban Knight.
The three first-round picks represent the most that Calgary has ever had entering a draft – in the Atlanta days they had two in 1973 and 1976. Sixth overall is also the highest they've ever picked since moving to Calgary; they previously drafted sixth in 1992 (Cory Stillman), 1997 (Daniel Tkaczuk) and 1998 (Rico Fata).
For the tenth straight draft, the Flames won't be selecting with their own second round choice. That pick was traded to Montreal in the Mike Cammalleri trade last season. Three times in the past decade, though, the Flames have traded for a second round choice from another team (including getting a pair of picks from the Rangers in the Tim Erixon trade).
RECENT HISTORY
Jay Feaster's been the GM in Calgary for two drafts, the 2011 and 2012 editions. He's overseen the selection of a dozen players, including 2011 first rounder Sven Baertschi and 2012 first rounder Mark Jankowski.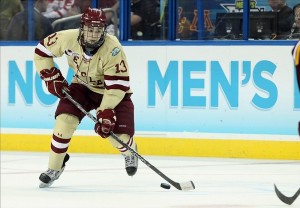 Under Feaster, the Flames have drafted a little bit of everything – choosing two goalies, four defensemen and six forwards. Four have been Americans, one has been Swiss, one Finnish and the remaining six were Canadians. Four players were taken from the USHL, five from the WHL, one from the QMJHL, one from Finland and one from Quebec prep school.
Above all else, the Flames scouting staff values hockey sense when evaluating hockey players, but they seemingly also value character quite highly. The logic is that hockey sense can't really be taught, and that players with high character will be more easily integrated into a team and help them succeed in the long-term.
WANTS AND NEEDS
A few years ago, the knock on the Calgary Flames was that they were simply unable to draft and develop hockey players with any regularity. The good news is that reputation has been refuted in recent years, as the club has drafted and otherwise acquired several talented players and integrated them into their roster – Sven Baertschi, Roman Horak, T.J. Brodie and, to a lesser extent, Max Reinhart and Mark Cundari, are examples of this.
The bad news is that the team's prospect base is still very thin on high-end talent. The development system has a lot of projects in it; guys that don't have too many elite-level attributes but work extremely hard. These guys can fill out your bottom two forward lines and your bottom defense pairing, but you need high-end talent to win. Outside of Baertschi (NHL), Brodie (NHL), Johnny Gaudreau (two more years of college) and newcomer Corban Knight – and a case can be made for Mark Jankowski (three more years of college) – the Flames don't have much.
In his year-end press conference, Feaster acknowledged that the club needed physical defensemen, centers and to generally be harder to play against. In terms of a drafting schematic, you can probably add "a goaltender' to that wish-list, given that the Flames are likely bringing five netminders to training camp in September, none of whom have experience as a number-one in the NHL. Even though they've grabbed goalies in each of the last two drafts, they could use another just to give themselves options down the line.
In short, expect Calgary's "a little bit of everything" draft strategy to continue, as they have a need for basically every kind of hockey player you can think of. The upside is that this approach is almost the exact opposite of Daryl Sutter's prior narrow drafting scope of drafting for specific positional and stylistic need.
WHO FITS
First-off, the depth of the 2013 class creates a bit of a problem beyond the first dozen picks. I'd wager that most teams have the same 10 or 12 players at the top of their lists, albeit likely in a scrambled-up order. Beyond that, it's probably chaos.
As for the Flames first selection at sixth overall, I'd guess it's between Sweden's Elias Lindholm and Ottawa's Sean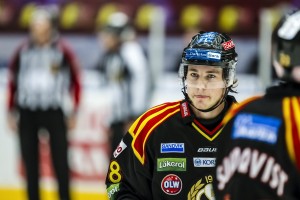 Monahan. Lindholm's gained tremendously valuable experience in a high-level men's league as a 17-year-old and contributed well. Monahan is one of a handful of key players for the 67s, which means he's getting experience in all kinds of situations. Lindholm perhaps has more offensive upside, but is smaller. Monahan is bigger and is the better two-way player. Either guy would fit in well with the Flames down the line.
Depending on how things go after the sixth pick, the Flames could pick a lot of guys.
OHL rivals Ryan Hartman and Kerby Rychel are both tough to play against, have offensive upside and play with an edge. Nic Petan is highly offensively talented but undersized – as are late-round contenders Taylor Cammarata and Evan Allen. American defender Brett Pesce has size and college experience, while Steven Santini, Michael Downing and Ian McCoshen are heading there soon.
I wouldn't expect a lot of Europeans, maybe one or two, but I'd expect the trend towards Americans and WHL products to continue. The strategy has worked for Calgary thus far, so unless there's a player that stands out among the pack when they pick, that selection guide may continue.
Ryan Pike has covered the Calgary Flames and the NHL Draft extensively since 2010 as a Senior Writer for The Hockey Writers and Senior Contributing Editor of FlamesNation.ca. A member of the Professional Hockey Writers Association, he lives in Calgary.