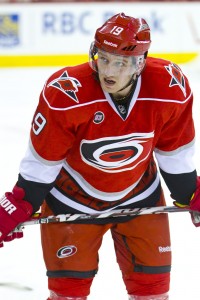 The Carolina Hurricanes have re-signed forward Jiri Tlusty to a two-year, $3.2 million contract on Monday, according to Team President and General Manager Jim Rutherford. The deal will pay Tlusty $1.5 million next season and $1.7 million in 2013-14.
"Jiri had a very good season and showed that he can contribute as a top-end NHL forward," Rutherford said in a news release. "He should continue to be an important part of the Hurricanes coming off of his career year."
Selected by the Maple Leafs 13th overall in the 2006 NHL Entry Draft, the Czechoslovakian native was traded to the Hurricanes in 2009 in exchange for Philippe Paradis. Now having completed his second full season with the Canes, Tlusty has grown into one of Carolina's most productive and reliable forwards.
"I always knew I could put the puck in the net," Tlusty told the News & Observer during the season. "The last couple of years, I struggled and had tough luck with injuries and stuff, and I had a lot going through my head, wondering why I was getting hurt. This season I've felt great and healthy and it has been a good season for myself."
Tlusty, 24, scored 17 goals and tallied 19 assists in 2011-12, both career highs. Following the departure of Erik Cole, No. 19 eventually became a serviceable replacement alongside Eric Staal on the Canes' first line, playing a vital role in the captain's second half resurgence.
While it is uncertain whether or not Tlusty will remain a top-six left wing next season, he is certainly a candidate to notch 20 goals and become a vital piece to Carolina's roster in the near future. By signing Tlusty, the Canes locked in a young, productive forward with a lot of potential, getting better value for him than they would for a comparable player on the open market.
"Sometimes we forget how young he is," Rutherford said. "He's still a young player. There's still room for him to make an even bigger jump.
"He's battled some injuries and a part of that is because of the way he competes. I think he's capable of scoring 20 or more (goals) if he continues to compete as he has and stays healthy for 82 games."