Christopher Ralph is a hockey writer with a focus on prospects and the entry draft, as well as the Leafs' correspondent here at THW.
2008 RBC Canadian Junior Hockey League's Player Of The Year Award winner, Joe Colborne, was a wild card in the entry draft a year ago until the Bruins selected him 16th overall, becoming the first AJHL 1st-rounder since Brent Sutter in 1980.
Last season, Colborne joined the NCAA ranks, suiting up for the University Of Denver Pioneers where he was named to the 2009 All-WCHA Rookie Team.
Colborne possesses outstanding hockey sense, on-ice vision and play-making ability. "Big Joe" has an underrated and still developing physical game. Joe continues to polish and fine tune his current elite hockey skill set and add even more weapons to his arsenal. The Bruins will have to find room for this young gun in the not so distant future.
 I was recently able to do an in depth interview with this promising young centre, recently ranked as the 34th best prospect overall by The Hockey News and 19th overall by Hockeys Future.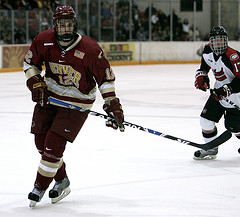 Ice Breakers: A Few Of Joe Colborne's  Favorite Things:
 Movie(s)? Blood Diamond
 TV show(s)? 24, Entourage
 Book(s)? Lone Survivor, Power of One
 Quote? Real Stars shine when it is darkest
 Music Artist(s)? Garth Brooks, Fray
 Hockey players? Joe Thornton, Getzlaf
 Athlete(s) outside of hockey? Tiger, Peyton Manning
 NHL jersey? Bruins
 Sports (other than hockey)? Golf, baseball, anything
 Sports teams? Bruins, Colts, Calgary Stampeders
 Pre-game meal? Chicken and Rice
 Travel destination? Cuba
If you haven't had the chance to see Colborne play, check out this video clip when he still a member of the Camrose Kodiaks of the AJHL.
httpv://www.youtube.com/watch?v=af_i9AsVLcM
Hockey-specific:
CR:  Which person in your life has had the most impact on your hockey adventure thus far in your life?
JC:  My dad is the most influential.  He coached me all through my younger years and taught me all about hard work and the importance of practice.  My junior coach Boris Rybalka was next as he helped me grow up and take my game to a new level.
CR:  What is your most memorable hockey event so far in your career?
JC:  Winning the AJHL title twice, getting the Playoff MVP the second time and getting drafted to the Bruins.
CR: You chose the AJHL followed by NCAA route rather than the CHL. What was your reasoning for choosing that path?
JC:  I was a late bloomer and got passed over by the WHL draft.  As well, I chose the team where I believed that I would get the best coaching and play time- Camrose.  It worked out great because I had the best coaching I have ever received and was given the opportunities to succeed.
CR: After registering just 2 points in your first 8 games with the Pioneers, you notched 29 points in your last 32 games, and found yourself on the All-WCHA Rookie Team at season's end. How was the adjustment from the AJHL to the NCAA?
JC:  There was a steep learning curve when I first began, since I was now playing a higher level with older and faster players.  However, I kept my confidence up with the help of my coaches and soon I felt much stronger on the puck and was able to make better decisions.
CR: Describe your style of play?
JC:  I like to think of myself as a skilled forward who likes to control the puck as much as possible and is responsible in the d-zone.
CR: What do you consider your strengths?
JC:  Stickhandling, passing, scoring, smarts
CR: What are some aspects of your game you think you have to work on?
JC:  Everything, but specifically skating, strength quickness, power etc.
CR: Given your height and the fact you were also drafted by the Bruins, you have been inevitably compared by many sports writers to another Joe – Joe Thornton. Which current NHLer do you think most resembles your style of play, assuming you reach your potential?
JC:  Joe is definitely a role model for me.  He uses his size to his advantage better than anyone in the league, but I also was very impressed with the way that Getzlaf played this season, and I see many areas I can look to play like him.
CR: Scott Cullen of TSN in his Prospect Insider column made the following statement in describing you: "If he can be more assertive and show a nasty edge once in a while, he will be given more space. If he ever truly unloaded on someone once he finished filling out, they would probably end up somewhere in the stands." Comments? 
JC:  I feel more confident than ever in my physical play and I think that I can win many battles in the corners.  Especially this past year, I feel like I am adding that element to my game, but even when I was smaller and skinnier I always enjoyed the contact.
CR: Who is your favorite teammate(s) so far in your career (and why)?
JC:  I've been lucky to have many great teammates for a number of reasons, but the one player that I felt like I had the best chemistry with is Mike Connolly.  We played together in Camrose for most of our time there, and he now plays UMD.
CR: Who is the funniest teammate or player you have encountered?
JC:  Again, I've had some big pranksters on my teams growing up but it would be a toss-up between Ian Harvie and John Cook.  Every day they had some new story or act to make me laugh.
CR: Can you recall and relate the most humorous hockey event either involving yourself or that you have witnessed?
JC:  Definitely this past year at DU when our coach was in the middle of an inspirational pre game story, and right as he was getting to the emotional ending, Tyler Ruegsegger, our assistant captain threw up all over the floor and into a garbage can.  Completely ruined the whole 5-10 minute story.
CR: How was your experience at your first NHL training camp with the Bruins?
JC:  It was great.  Learned so much, and it really just left a taste in my mouth for what is to come.  I cannot wait to get down there again.
CR:  Which current Boston Bruin are you most looking forward to playing with and/or would best compliment your game?
JC:  I would be happy to play with anyone on that team, but I think playing with guys like Savard, Kessel, Wheeler, Krecji, and Lucic would be great. Although I think almost anyone could play with them and have success.
CR: You didn't get an invite to last year's WJC. Is making the 2010 WJC Team Canada a primary goal for you this year?
JC:  It has been a goal for me my entire life and not even getting an invite to camp was a big disappointment and motivator for me.  It would be a dream come true to represent Canada at the WJC.
CR: How are the fans and media with respect to University of Denver Pioneers' hockey? How do they compare to those in Alberta?
JC:  DU has some passionate fans, but you can't beat Canadian fans when it comes to hockey.  The red mile in Calgary during the playoffs is legendary and the whole city seems to be that much more excited when the Flames are playing.
CR: Your Pioneers were the #1 seed in the NCAA West Region and suffered a tough loss to #4 seed Miami in tournament play. Comment on your team's season.
JC:  We had a lot of adversity this year, with injuries and other things outside of the rink, but I believe that we learned a lot from our loss to Miami, because they were a great team who were set on a single goal of beating us.  Tough way to go out but hopefully we will have a much better result.
CR: University of Denver fans and writers covering the team seem to be expecting good things this season. A few prospects for the upcoming draft, including Drew Shore and William Wren, will be joining the squad. What are your expectations for the team and for yourself for next season?
JC:  My expectation is to challenge for a National Championship.  We learned a lot last year, and we now have a good core of freshmen coming in.  It should be exciting. 
CR: Any comments on the play of Ottawa Senator 2ndround draft pick and fellow freshman blueliner Patrick Wiercioch?
JC:  Patty is one of the most offensively skilled d-men that I have ever played with.  He has a rocket of a shot and is a threat to score from anywhere in the offensive zone.  He has a great future ahead.
CR: I had read prior to last year's draft that you were not sure where you would go in the draft or if you would even go in the first round. What was your reaction when you were drafted by the Boston Bruin, an original six team, 16th overall?
JC:  It was a dream come true.  I barely remember hearing my name called and the next thing you know I am putting my jersey on.  Such a rush of excitement and pride to wear the historic jersey.
CR: Bruins Assistant GM Jim Benning stated when he drafted you that it was for the player you would be in four years. Do you have a timeline in mind on reaching the NHL?
JC:  As soon as I am ready.  I have dreamed my entire life of playing in the NHL, and as soon as both myself and the Bruins think that I am ready I will be there.
CR: The NHL scouting combine was held in Toronto this past Friday and Saturday (May 27th &28th). What are your memories of your time at the combine last year? Can you recall a question you were asked in any of your interviews with NHL teams that stood out?
JC:  I was very busy as the NCAA only allowed me to be there for a total of 48 hours, and I had to meet with 27 of the teams along with the physical testing.  It was awesome meeting some players like Cam Neely, Ron Francis etc. and some teams were harder than others but overall it was a great experience.
CR: What are your plans (leisure) for the summer/off-season?
JC:  Hopefully to get some golfing in, but I am pretty busy with Boston and getting ready for the WJC camp and next season.
CR: I've seen you listed at anywhere from 6'5″ to 6'6″.  What are your current dimensions and describe your plans for your off-season workout/conditioning program?
JC:  I am about 6'4 and a half and just over 200 lbs now.  I am very fortunate to work out with Sean Hope-Ross, my trainer in Calgary, along with Mike Sanders- my DU strength trainer and John Whitesides, the Bruins conditioning coach.  Between those three guys, I am very well taken care of.
CR: It is no secret that your father is a successful oil executive. Some hockey "experts" have written coming from a wealthy family is detrimental, questioning the commitment level to the game. More writers have said that your excellent grades in school and your coaches speaking of your drive and dedication to improve yourself on and off the ice, bode well for a successful hockey career. Comments?
JC:  I always noticed that the people questioning my work ethic were the ones who never did the research on me.  But I actually welcome those comments because there is no better feeling than proving them wrong.
CR:  What are your thoughts on allegations of performance-enhancing drug use by Washington Capital players? Have you ever noticed any evidence of this at the levels of hockey you have played?
JC:  I know of some players who have used some enhancing products, but to me, I think that hard work in the end will pay off more whether it's from injury prevention or something else.  It all evens out in the end.
Stay tuned! Part 2 to follow – Rapid Fire Shootout questions!