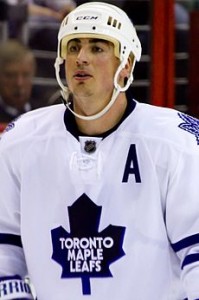 Colborne for Kaberle
It wasn't so long ago that most people were looking at the Boston-Toronto deal for Tomas Kaberle as a complete steal for the Leafs.
Though the Bruins won the Stanley Cup the year they acquired Kaberle, the offensive blueliner never really found his stride with the B's. From then on, it was all downhill for Kaberle. He was bounced from Boston to Carolina to Montreal, and is now out of the NHL.
The cost of acquiring Kaberle was massive – a first and second round pick, along with a top prospect by the name of Joe Colborne, a former first-round pick.
Fast forward to today. While the Kaberle deal is still decidedly in favor of the Leafs, Colborne has not at all panned out the way Toronto expected.
No Opportunity
The 23-year old forward is still young and has plenty of upside, but has failed to crack the Leafs roster so far for extended periods of time. Colborne has scored 6 points in 16 games so far, but a full season has eluded him.
Colborne was especially interesting to Leafs management because of their previous lack of centers. However, since the emergence of Nazem Kadri and the recent acquisition of Dave Bolland, there is no real space for Colborne.
The Leafs are primed to start the season with Tyler Bozak, Kadri, Bolland and Jay McClement as the centers on the big club, and barring injuries, Colborne would have started the season once again in the AHL.
There was speculation that if Colborne did not live up to expectations this year at camp that he would be moved. That speculation seems to have become reality.
Calgary Comes Knocking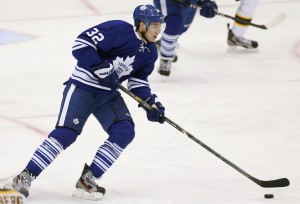 The Calgary Flames are in a full rebuild mode, so they can be forgiven for having a few holes in their lineup. However, their trouble at center depth was well-documented even before this season.
Several players were given a chance for the #1 center role, and that question still hasn't been solved. Alex Tanguay was put there with unspectacular results, and Mike Cammalleri now takes the spot despite playing a large percentage of his career at wing.
Past the first line, it gets quite depressing. Recent top pick Sean Monahan will almost definitely make the club and will provide some punch from the second or third line. If all goes well, Monahan could even have taken over the top slot.
Other options include Matt Stajan and Mikael Backlund, but all in all, it doesn't look good.
People speculated widely about how the Brian Burke/Dave Nonis relationship would work out now that the old dynamic duo were no longer together. Clearly, it was not hard for Burke to put in a call to his old colleague.
The Flames have been making a habit of adding relatively younger players for mid-round draft picks this off-season. This offseason, they have acquired Kris Russell from the Blues for a 5th, and TJ Galiardi from the Sharks for a 4th.
The Deal
The deal is quite straightforward – Colborne for a 4th round pick.
Clearly, this is not what the Leafs had in mind when they acquired him, but at least they were able to get something out of a player that was clearly no longer in the long term plans. Colborne did not develop quickly enough for a Leafs team that is now primed to compete for a playoff spot, and it seems the team was no longer will to wait.
However, the Flames are more than happy to give Colborne a chance. Calgary will not be in the conversation for contender for a while, and they would gladly take the risk on Colborne to see if he can pan out the way the scouts thought he would when he was drafted.
Leafs fans may have wanted to get more out of Colborne, and perhaps there is some truth to that. However, fans should be glad that Toronto was able to get anything at all for Colborne. Few teams are in a position where they would be interested in a 23-year old who has yet to crack the NHL. Teams currently contending for a Cup would not be interested, nor would rebuilding teams that are already stocked with prospects from their own respective drafts.
When it comes down to it, there was only one team that had just started a rebuild and had more or less forsaken the playoffs this year. And that team is the Calgary Flames.
A low investment from the Flames on a player that has the potential to become a solid 3rd/4th line player. A moderate return for a Leafs team that no longer wanted the player.
A decent trade that both teams can appreciate.