At 5'11" and 190 pounds, Joe Pavelski stands in the shadows of most of his teammates.  But those same imposing team members of his San Jose Sharks spend a lot of their time looking up to "Little Joe."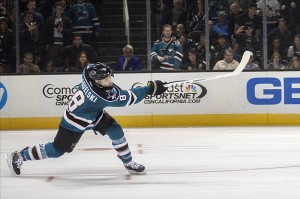 You Don't Know Joe
Joe Pavelski has almost twice as many hits as Joe Thornton.  Who's Little Joe and who's Big Joe?
Joe Pavelski is tied for the team lead (Couture) among forwards in blocked shots with 40.  Bring on Zdeno Chara and his record breaking slapper.
He only trails Joe Thornton by four takeaways for the team lead.  He has 30.
He leads all forwards on the team in time on ice during the penalty kill.  Hockey sense earns a coach's trust when your team is down a man.
He is the second least penalized player of those who have played all 41 games so far.
Ice Time
Defensemen normally lead teams in time on the ice per game.  But what about forwards?  Before his injury, Ilya Kovalcuk led the forwards of the NHL with over 25 minutes on the ice per game.  But he is an outlier and a workhorse.   Second placed Marty St. Louis has just over 21 minutes.  In San Jose, however, the top line does not necessarily spend the most time on the ice.  Joe Pavelski is right behind Patrick Marleau with just over 19 minutes per game and skates with the second (and sometimes third) line.  That's right, Pavelski sees more ice time than Captain Joe Thornton.
But Marleau's ice time may not be nearly as beneficial as Pavelski's.  Marleau sports a plus/minus of -7 while Pavelski breaks even at +0.  This could be attributed to Marleau skating on the top line against the league's other top lines, but San Jose's plus/minus leader is Marleau's linemate Joe Thornton at +4.  It stands to reason that Joe Pavelski plays both ends of the ice better than Marleau.
What is truly amazing about this fact is the differences in skating style between "Little Joe" and "Big Joe."  Thornton definitely does not have the speed he used to, but his reach and strength are assets.  He reads the flow of the game and uses his imposing size to bump opponents off the puck.  But Joe Pavelski's game consists of quick steps and hard charges to the front of the net.  Many of his goals come from work plays rather than that of skill moves.  That is not to say his goals lack elements of skill.
Coming Up Clutch
Joe Pavelski has a nasty habit of going on cold streaks.  However, many of those cold streaks are followed by massive hot streaks that send his team into winning streaks.  Little Joe leads the San Jose Sharks in game winning goals with five.  His most recent, against the Flames (shown above) epitomizes his style of play.  He may not be the physical threat the other Joe is, but he works hard for his goals.  Pavelski always seems to be at the right place at the right time.  In last week's home game against Detroit, it was hard work by him and Joe Thornton that produced a turnover and a wraparound goal that eventually was the deciding tally.
His truly clutch moments, however, come when the season is on the line.  Twice in the postseason, Joe Pavelski has become a force to be feared.  In 2008 he was tied for the team lead in goals during the playoffs and in 2010, his real breakout occurred.  In three straight games, he scored twice.  Two in the series clincher against the Colorado Avalanche and two more in both Game 1 and 2 against the Detroit Red Wings.  The San Jose Sharks did, in fact, win all three of those games.  As San Jose prepares for another run in the playoffs, look for Pavelski to turn up his game at the perfect time once again.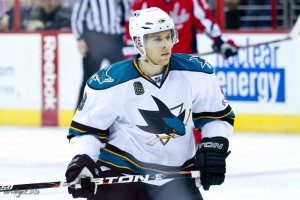 Joe Pavelski: Guts Under Six Feet
Number 8 may not be the fastest man to the puck, but he definitely has one of the greatest hockey senses in the league.  That is to say that he can see the plays developing and will innately know where he can the most effective.  His goals are not end-to-end jukes of defensemen, but more of popping up where no-one expects.  They are not blazing slapshots from the point, but scrambles for loose pucks that others might take for granted.  While he does love to shoot the puck, his goals are products of a lack of knowledge (or lack of caring) that he is small by NHL standards. He will get knocked down, but he will never stay down for long.
Joe Pavelski is most dangerous when you forget about him.  Right about the time you start saying: "I wonder what happened to Little Joe.  He has been awfully quiet." is right when he gets you.  In the following video, track Pavelski through the play.