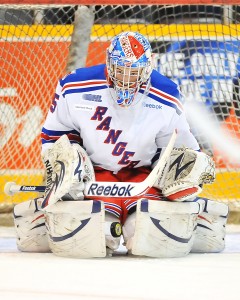 Goaltender John Gibson has been the best player on the ice for Team USA at the World Junior Championship in Ufa, Russia. Gibson has certainly lived up to the hype on the world stage facing the best U-20 competition the hockey world has to offer.
The Pittsburgh native recorded two scoreless periods in Team USA's opening contest against Team Germany. He was pulled before the start of the third period since Team USA had the game wrapped up after two periods.
Gibson was even better against Team Russia stopping 28 shots on goal. Team USA surrendered plenty of quality scoring chances in front of Gibson. He was up to the task making many spectacular saves including a 2-on-0 breakaway chance for Russia. As the best goaltenders do, Gibson made a huge save at a key moment in the game. With under three minutes to go, down 2-1, Gibson made a stellar save on a breakaway which could have put the game away for the Russians. This was against a Russian squad with about a dozen Kontinental Hockey League (KHL) players on their roster. Despite Gibson's valiant effort, Team USA fell short in the match, 2-1.
In a highly anticipated match-up against Team Canada, Gibson was once again on his game. Facing a talented Canadian squad full of top ten draft picks and soon-to-be top ten draft picks, Gibson stopped 30 of 32 shots. In the clash against Canada, Gibson stood out as the best player on Team USA. After the US squad cashed in on a power play opportunity to cut Canada's lead to 2-1, Gibson had to be spectacular when Team Canada had consecutive five on three man-advantages late in the third period. Gibson was fantastic keeping the game in reach and giving Team USA an opportunity to tie the game with less than two minutes remaining in the contest.
While Team USA had their fair share of scoring chances, they could have easily been blown out against Team Russia and Team Canada if Gibson was not at the top of his game. Gibson has arguably been the most impressive goaltender in the tournament stopping 77 of 81 shots for a 0.951 save percentage making many unforgettable saves in the process.
At the WJC, Gibson has continued to solidify his strong reputation by showing he is the best goaltender the US has to offer to the rest of the hockey world. Gibson's strong play got him drafted by the Anaheim Ducks in the second round (39th overall) of the 2011 NHL Entry draft.
In 2011, NHL Central Scouting ranked Gibson as the number one goaltender available. Many NHL teams were afraid to draft Gibson after he initially committed to the University of Michigan. With his stock rising, Gibson decided to play for the Kitchener Rangers of the Ontario Hockey League (OHL) where he has shined.
Last season for the Kitchener Rangers, Gibson recorded a 2.75 goals against average and 0.928 save percentage. His save percentage was the best in the league last season. Remarkably, Gibson has improved on these numbers this season for the Rangers. In 20 games, he has a 2.33 GAA and 0.929 SVS%.
Gibson seems to consistently improve over time. He has partnered with Joe Exter, USA Hockey's National Team Development Program goaltender coach. Exter's influence on Gibson's young career is portrayed in an article by Josh Brown of TheRecord.com.
"The pair met two years ago in the USA Hockey's National Team Development Program. Exter was the goaltending coach and Gibson was a 16-year-old Pittsburgh native loaded with promise. They hit it off immediately. "He's a mentor and inspiration," said the Rangers goalie (John Gibson). "He's definitely the best coach I've played for. I can talk to him (Exter) about anything. It's just the way he teaches," said Gibson."
In the same article, Exter says the poise Gibson possesses is the main reason why he has been so successful on a national and international stage.
The same has been said about Gibson by NHL Central Scouting goalie expert Al Jensen in an NHL.com article by Mike G. Morreale.
"John has great net coverage and size, and is very strong. He's sound technically, moves very well laterally and is controlled. He's calm, not busy," said Jensen.
If Gibson continues on the same path, he will soon be succeeding at the NHL level. If Team USA somehow finds their way to the WJC elimination rounds, and Gibson stands on his head, he could carry Team USA to the promised land. We have all witnessed a hot goaltender carry a team in the past.