"It's unbelievable that after more than 30 years in the game, pummeling a guy with his loafer will be my legacy. But I guess it's better than having no legacy at all."

– Mike Milbury
I don't think Mike Milbury gives himself enough credit.
Sure, he beat a fan in the stands with his loafer back in his playing days. He also managed to make numerous head-scratching deals as GM of the New York Islanders, and has made no reservations when questioning the gumption of coaches and players alike.
While it would be easy to write off Milbury for his rap sheet of unsavory incidents and various blunders (as a player, coach, GM, or commentator), Mad Mike tried his best to succeed in whatever role he undertook in the game of hockey.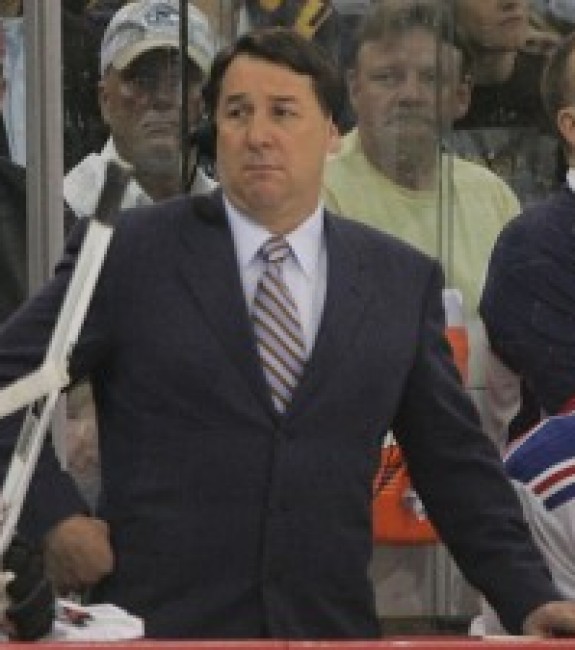 Fans of the New York Islanders might not have many pleasant thoughts to share when they are reminded of Milbury, but the man was also instrumental in returning the Islanders to the Stanley Cup Playoffs after a seven year drought.
Even if some of Milbury's moves turned out to be short-terms fixes, it wouldn't hurt to look at some of the stronger moves that the former GM made during his tenure with the New York Islanders:
Mike Milbury Trades #7: Traded Felix Potvin and Two Draft Picks at 2000 NHL Entry Draft for Kevin Weekes, Bill Muckalt, and Dave Scatchard
Dave Scatchard wound up being a serviceable center for the Islanders while Weekes and Muckalt were used in later trades. Considering the fact that Potvin was putting up below-average numbers with New York, it was also surprising to see that Milbury received a talented goalie such as Weekes in return.

Mike Milbury Trades #6: Traded Damian Rhodes and Wade Redden for Don Beaupre, Bryan Berard, and Martin Straka, then Traded Kirk Muller and Don Beaupre for Future Considerations
Okay, that was a pretty long and overly bold illustration of a three-team deal between the Islanders, Senators, and Maple Leafs. The trade also happens to work on many levels and happens to be a very wise move by Milbury.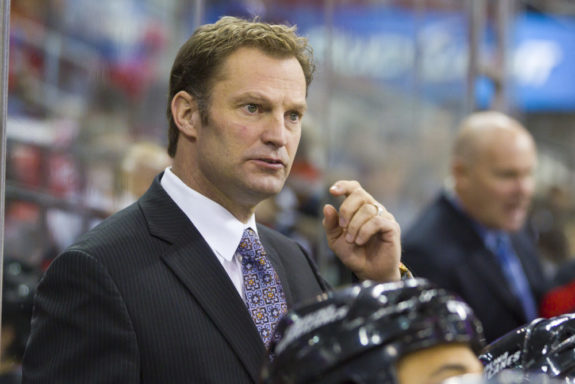 On the one hand, trading away Kirk Muller relieved a huge headache for the Islanders organization. On the other hand, Milbury also managed to acquire future Calder Trophy winner Bryan Berard. All in all, this was quite a good move for Milbury and the Islanders as it managed to ease some tensions within the organization and netted the Islanders a future rookie of the year.
Mike Milbury Trades #5: Traded Mathieu Biron and 2002 Second Round Draft Pick for Adrian Aucoin and Alexander Kharitonov
Kharitonov didn't really pan out for the Islanders, but Adrian Aucoin definitely worked out in the Isles' favor. Aucoin averaged nearly 30 minutes a game during his first two seasons with New York, but he also contributed on the offensive side of things as he registered 34, 35, and 44 points respectively in his three seasons on the Island. Aucoin was one of the main reasons for the success of the New York Islanders teams of the early 2000s and his presence was certainly welcomed by Islanders fans.
Mike Milbury Trades #4: Traded Trevor Linden for First Round Selection [10th Overall at 1999 NHL Entry Draft]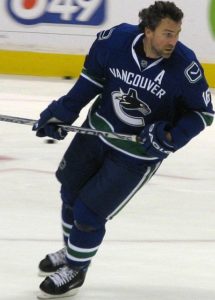 How Mike Milbury managed to get the tenth overall pick at the 1999 NHL Entry Draft for Trevor Linden is a question that I still want answered. Linden's stay with the Islanders saw the center experience a marked drop-off in production, so it is very surprising to see Milbury walk away with a first round pick in this situation, especially one that places him within the top ten slot. Even though Milbury's use of the pick (Branislav Mezei) at the 1999 NHL Entry Draft did not work out for the Isles, the fact that Mad Mike saw such a return on Linden was enough to merit inclusion on this list.
Mike Milbury Trades #3: Traded 2002 Conditional 5th Round Draft Pick for Jason Blake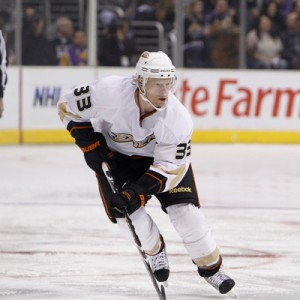 There is your diamond in the rough. Some might attribute Jason Blake's point totals with the Islanders to playing with superior linemates, but the fact still remains that the winger played himself into the hearts of Islanders fans.
Not only did Blake's style of play register well with the fans, but it also helped propel the Islanders to various playoff berths. Blake became an instrumental part of the Islanders teams of the early-to-mid 2000s as he registered 258 points with the team in five-plus seasons, and Isles fans are quick to acknowledge that every time he makes a stop at Nassau Coliseum.
Mike Milbury Trades #2: Traded Tim Connolly and Taylor Pyatt for Michael Peca
This trade definitely infused the Islanders' lineup with some much needed life and gave the fan-base renewed hope and belief in its organization. Peca got out of a sticky situation in Buffalo and helped lead the Islanders back to the playoffs during the 2001-2002 season. While Tim Connolly turned out to be a decent scorer (when healthy) for the Sabres and Maple Leafs, Peca was invaluable to the Islanders during the early 2000s as the team and its ownership tried to bring the franchise out of a lengthy funk.
Mike Milbury Trades #1:  Traded Wendel Clark, Mathieu Schneider, and D.J. Smith for Darby Hendrickson, Kenny Jonsson, Sean Haggerty, and 4th Overall Selection (Roberto Luongo) at 1997 NHL Entry Draft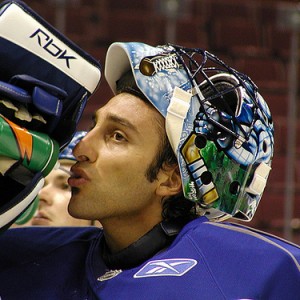 This was easily Milbury's best trade. Despite the fact that Mathieu Schneider put up very formidable numbers throughout his NHL career, this trade worked out for the Isles in a couple of ways.
Kenny Jonsson became an integral parts of the Isles' defense and the trade also netted Milbury a first round pick in the form of future All-Star Roberto Luongo. Even though Luongo's tenure on Long Island wouldn't last all too long, it is still very impressive to see Mad Mike walk away with a very steady defenseman and a high draft pick after all was said and done.
Traded 4th Round Pick at 2000 NHL Entry Draft for Trent Hunter
Milbury probably did not know that Hunter would work out so well for the Islanders, but he did. Hunter put up 30 or more points in a season on five separate occasions with the Islanders and was a player that didn't shy away from tough physical play. Hunter, much like Jason Blake, was respected and liked by Islanders fans for his style of play and commitment to the team.
Traded Mariusz Czerkawski for Arron Asham and 5th Round Draft Pick at 2002 NHL Entry Draft
Montreal Canadiens fans probably cringe when they hear the name Mariusz Czerkawski. For some reason, Czerkawski was always a good fit for the Islanders, but he couldn't find his niche elsewhere. Since Milbury got Asham out of this deal and Czerkawski wound up coming back to the Islanders during the offseason, this trade definitely deserves some consideration and/or mention.
Traded Eric Brewer, Josh Green, and Second Round Pick at 2000 NHL Entry Draft for Roman Hamrlik
While Roman Hamrlik might not have been all too pleased to go to New York back in the summer of 2000, he wound up having a big impact on the Islanders. Eric Brewer never really amounted to the player that he was projected to be when he was drafted, so this deal definitely works out for New York.
Mike Milbury, We Hardly Knew Ye
As previously mentioned, Mike Milbury will be remembered for many things. Whether hockey fans choose to remember Milbury in a positive or negative way will be solely based upon the individual.
Has Milbury committed a fair share of questionable acts as a player, coach, GM, or commentator? Probably so.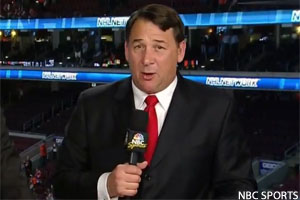 Many might consider Milbury's tenure with the Islanders to be one of complete havoc and devastation, but that would be an easy generalization to make without considering all the facts. While Milbury's early tenure with the Islanders might not have been a preferable one for a GM, he did what he could to get the Islanders back to contention. There were undoubtedly a number of trades that heavily backfired on Milbury and the Islanders, but the former GM's shrewd trades sometimes get lost amidst the notably unpopular deals.
To say that Milbury only made bad deals while with the Islanders would be doing the former GM a disservice. Arguments can be made as to what another GM in Milbury's position would have done over the years, but nobody can take away the fact that Milbury, with help from Charles B. Wang and Sanjay Kumar, brought the Islanders back to the Stanley Cup Playoffs after a lengthy absence.
Islanders fans might not have the rosiest of memories when thinking about Mike Milbury, but there are certainly some silver linings to take away from the former GM's tenure on Long Island.
This article was originally published in June, 2013.