It's evident that superb goaltending from netminder Roberto Luongo has been a big part of the Florida Panthers' success as of late.
The 37-year-old backstop from Montreal has gone 17-15-6 in 40 games this season, posting a 2.68 goals-against average and .915 save percentage in the process.
Those numbers may not look spectacular, but they're not horrible given the fact the Panthers have been treading water for most of the season, especially while key players like Jonathan Huberdeau and Nick Bjugstad were hurt. Luongo has also battled injuries this year and may be starting to show signs of decline.
Many fans may recall that Luongo was a trade deadline acquisition in 2014, when the Vancouver Canucks shipped him and forward prospect Steven Anthony back to the Panthers a day before the deal-making window closed.
In return, the Canucks received goalie Jacob Markstrom and centreman Shawn Matthias.
Over the span of Luongo's NHL career, which has spanned 17 seasons and 963 games, the Panthers have included him in three trades, with each of them having vastly different results in the short term as well as in the long run.
Round 1: The Move From Long Island
Luongo was selected fourth overall in the first round by the New York Islanders in the 1997 NHL Entry Draft. At the time, he was the highest-drafted goalie in history, but that record fell when the Islanders picked Rick DiPietro first overall three years later.
Luongo played out the rest of his Quebec Major Junior Hockey League career before being called up by the Islanders in 1999 and playing 24 games in the NHL. He went 7-14-1 and posted a 3.24 goals-against average and .908 save percentage, but then again, the Islanders were pretty bad at the time.
On the same day general manager Mike Milbury drafted DiPietro in the 2000 offseason, Luongo and winger Olli Jokinen were dealt to the Panthers in exchange for forwards Mark Parrish and Oleg Kvasha. This move was among several made by Milbury to cement his legacy as one of the worst GMs in NHL history.
That trade backfired, as Luongo soon became a franchise goalie in Florida and Jokinen had several fairly productive seasons with the Panthers.
In 318 games with the Panthers, Luongo posted a 108-154-32 record, along with a 2.66 goals-against average and .948 save percentage.
Jokinen, on the other hand, played in 567 contests with the Panthers over seven campaigns. He put up 419 points (188 goals, 231 assists) during that span.
Neither Luongo nor Jokinen saw any playoff action during those years, as Florida didn't make the postseason while they were there.
As for the Islanders' return on that trade in 2000, Parrish played 345 games and recorded 214 points (118 goals, 96 assists) over five seasons, along with seven points (four goals, three helpers) in 17 playoff games.
Parrish later suited up for the Los Angeles Kings, Minnesota Wild, Dallas Stars, Tampa Bay Lightning and Buffalo Sabres.
Kvasha also spent five years on Long Island, but was more of a bust than Parrish. He appeared in 332 games and notched 156 points (60 goals, 96 assists), along with three points in 17 postseason contests before being dealt to the Arizona Coyotes in 2006 and returning to Europe not long after.
The conditional fifth-round pick the Islanders sent with Kvasha to the Coyotes was used to select Brett Bennett 130th overall, while the third-rounder the Islanders got back from Arizona ended up being sent to the Boston Bruins for a fourth and fifth-rounder.
The Bruins acquired Brad Marchand with the pick the Islanders received from the Coyotes for Kvasha then sent to Boston. We all know how Marchand has worked out.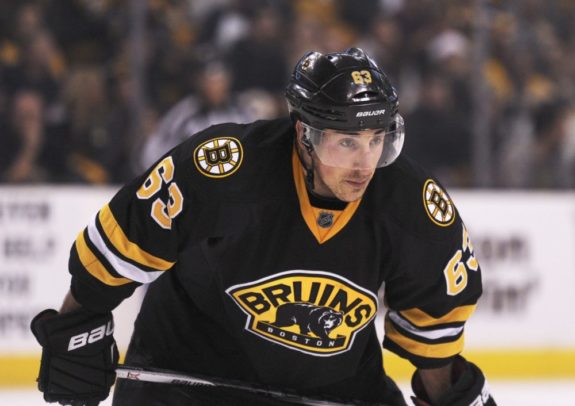 Round 2: Off to Vancouver
In the 2006 offseason, then-general manager Mike Keenan traded Luongo, defenseman Lukas Krajicek and a sixth-round pick (who became winger Sergei Shirokov) to the Canucks for netminder Alex Auld, defenceman Bryan Allen and forward Todd Bertuzzi. Luongo was signed to a six-year, $27-million deal not long after being shipped to Vancouver.
Luongo became a fan-favourite over the course of his eight seasons in Vancouver, and he was nominated for the Vezina Trophy a few times. His regular-season record was 252-137-50 in 448 games, and he posted a save percentage of .919 and goals-against average of 2.36.
In the playoffs, Luongo suited up for 64 contests. He went 32-31 in that span and put up a .915 save percentage and 2.70 goals-against average.
Luongo's postseason play included a trip to the Stanley Cup Final in 2011, which the Canucks lost in seven games to the Bruins.
A year earlier, Luongo was part of the tandem that won a gold medal with Team Canada at the 2010 Olympics in Vancouver. He also suited up for Canada at the 2006 Olympics in Turin, Italy.
As for Krajicek, he notched 23 points (three goals, 20 assists) in 85 games in Florida over parts of two seasons before his trade to Vancouver with Luongo.
From there, Krajicek played in 238 games over parts of five years with the Canucks, Tampa Bay Lightning and Philadelphia Flyers. He had 49 points (eight goals, 41 assists) on top of 12 points in 34 playoff matches with all three teams.
Krajicek played out the remainder of his hockey career with Dinamo Minsk of the Kontinental Hockey League in Europe.
Shirokov ended up being even more of a bust than Krajicek, as he only saw eight games of NHL action and scored once in that span.
Florida's return on the Luongo trade in 2006 didn't end up being terrible, although Auld was a career backup who went 53-58-21 in 142 games played and saw no playoff action in eight seasons with the Panthers, Coyotes, Bruins, Ottawa Senators, Stars, New York Rangers and Montreal Canadiens.
Allen ended up providing a stable blue-line presence for the Panthers, Carolina Hurricanes, Anaheim Ducks and Canadiens throughout 11 seasons. He played 505 games and scored 104 points (15 goals, 89 assists) along with two points in 20 playoff games with Anaheim.
While Bertuzzi is likely remembered most for the Steve Moore incident two years before the trade to Florida, he ended up enjoying several fairly productive seasons after only recording 11 points in 15 games with the Panthers and Detroit Red Wings in 2006-07.
Bertuzzi spent 434 regular season games over seven seasons with the Ducks, Calgary Flames and Red Wings. He got 230 points (88 goals, 142 assists) on top of 28 points (eight goals, 20 assists) in 63 playoff games.
Round 3: Return to Florida
Two days after then-Canucks head coach John Tortorella started goalie Eddie Lack instead of Luongo in the 2014 Heritage Classic between Vancouver and Ottawa, Luongo was shipped back to the Panthers along with Anthony for Markstrom and Matthias. The Canucks kept 15 percent of Luongo's salary for the rest of his 12-year, $5.33-million contract that was signed in 2009.
The Canucks have only declined since then, as they have only made the postseason once in the post-Luongo era. Their return for Luongo hasn't panned out either, as Markstrom only saw 65 NHL games with the Canucks and went 25-28-7 with a .911 save percentage and 2.71 goals-against average.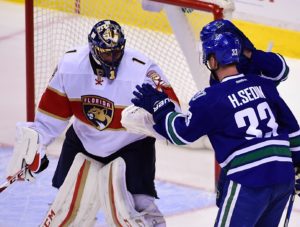 Matthias was slightly less disappointing in Vancouver, though. He recorded 37 points (23 goals, 14 assists) in 96 games along with two points in six playoff contests.
Matthias split the 2015-16 season with the Toronto Maple Leafs and Colorado Avalanche before suiting up with the Winnipeg Jets for 45 games this year.
Luongo, on the other hand, missed the playoffs in his first full season of his second Panthers stint, but he led the team to an Atlantic Division regular-season pennant in 2015-16 before Florida lost to the Islanders in the first round.
Anthony, the prospect winger who also joined the Panthers before the 2014 trade deadline, has never played a game in the NHL.