Many players are selected through the NHL entry draft at a very young age. Most players go to a junior league and quickly become club property as early as age 17. About one third of all NHL players go the college route, playing NCAA hockey, sometimes up to a full four years. With the college hockey season underway I will give you updates on the Capitals prospects. Today I will feature Caleb Herbert and Taylor Stefishen.
Caleb Herbert-Forward, University of Minnesota Duluth
Herbert, 21, was selected by the Capitals with the 142nd overall pick in the fifth round of the 2010 NHL entry draft. He is currently playing in his sophomore season at the University of Minnesota Duluth, following a 33 point freshman campaign. Listed at 6 ft. and 195 pounds, Herbert has the size necessary to become a stable forward in professional hockey, hopefully for Capitals' management, at the NHL level. Herbert was awarded the Bulldog Rookie of the Year during his 14 goal freshman season, ranking eighth in NCAA freshman scoring.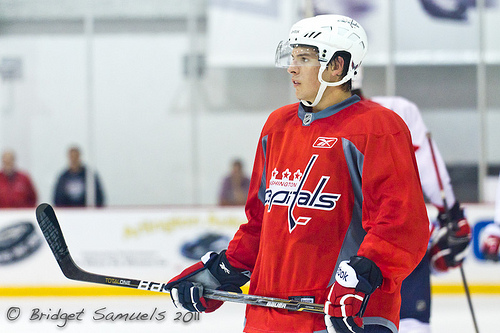 Prior to his college hockey career, the Minnesota native played for the Sioux City Musketeers, posting 50 points in 51 games. He finished first on the team in scoring for Sioux City, bringing solid offensive consistency as an 18 year old.
Only in his sophomore season at Minnesota Duluth, Hebert will likely spend at least two more seasons playing college hockey. This season, the 21 year old Washington forward prospect has contributed 11 points in 20 games, good for fifth on the team heading into the New Year.
Following his time at the University of Minnesota Duluth, Herbert will likely sign an entry level deal with the Capitals and head to the minor leagues. He'd be a good fit for a second line scoring role with the Hershey Bears, with potential time for the penalty kill and power play. Herbert projects as a third line forward at the NHL level.
Taylor Stefishen-Forward, University of Calgary
Stefishen, 22, was originally drafted by the Nashville Predators in the fifth round of the 2008 NHL entry draft, but was traded to Washington in 2011. He then attended Ohio State University for two years, totaling a combined 21 points in 42 regular season games.
Following two seasons at Ohio State, Stefishen spent his 2010-2011 season with the Prince George Cougars of the Western Hockey League. He posted an outstanding 67 point season in 68 games, finishing second on the team in scoring behind Tampa Bay Lightning forward prospect Brett Connolly.
Last season, Stefishen began playing for the University of Calgary, his third year in college hockey. He contributed 24 points in 25 games, following his only season in junior league hockey. Stefishen has posted close to the same numbers through 16 games this season, posting 12 points.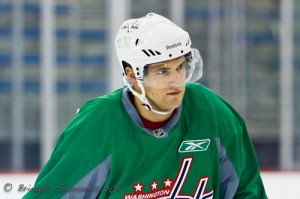 Following this season, Stefishen will likely sign an entry level deal with the Capitals or an AHL team, as he beings professional hockey. Washington has several prominent college hockey prospects ahead of Stefishen, meaning they could see how he does on an AHL deal first, before signing him to an entry level contract even though they wouldn't have his contract rights.
Stefishen's NHL potential could go as far as a third line winger, but don't expect much more than that. He's put up decent numbers in college and juniors, but hasn't faced close to the competition he'll face in the AHL and potentially the NHL. A few years away from any shot at the Capitals, but don't count him out just yet.
Thomas DiPauli Prospect Update
Austin Wuthrich Prospect Update
You can follow Matthew on twitter @m_speck and email him at mspeck21@yahoo.com with any questions or comments.