Many players are selected through the NHL entry draft at a very young age. Most players go to a junior league and quickly become club property as early as age 17. A select percent go the college route, playing NCAA hockey, sometimes up to a full four years. With the college hockey season underway, I give you an update on the Washington Capitals' college prospects and how they are faring so far this season. Today I will feature Capitals' prospect, Greg Burke. The next Capitals prospect I will feature is Thomas DiPauli, forward at the University of Notre Dame.
Greg Burke -Forward, University of New Hampshire
Greg Burke, 22, was selected by Washington in the sixth round of the 2008 NHL entry draft. Now in his senior season at the University of New Hampshire, Burke looks to prepare for time in the Capitals organization next season, likely at the ECHL or AHL level.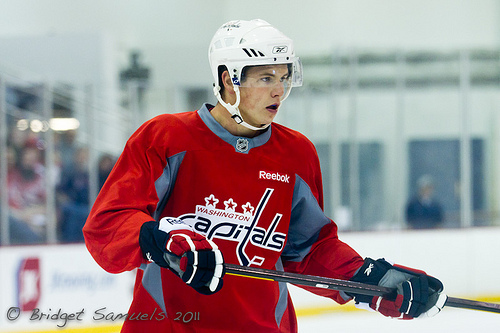 A native of New Hampshire, attending UNH, a college hockey powerhouse, was the logical choice to play hockey at the collegiate level. Before attending college, Burke played for the New Hampshire Jr. Monarchs of the EJHL (Eastern Junior Hockey League). In his first year with the Monarchs, Burke contributed 18 points in 34 games played. He followed up his first year in the EJHL, with a very strong campaign in the 2007-2008 season, posting 21 goals and 25 assists along with 46 penalty minutes in 40 games for the Monarchs.
He entered University of New Hampshire for the 2009-2010 season, and recorded 10 points in 32 games during his freshman year. He only played in 18 games in his sophomore year for New Hampshire, but followed it up with an 11 point campaign junior year. This season, Burke is off to a hot start, recording five points in nine games to date, on pace for his highest offensive output in his collegiate hockey career. He's also been named an alternate captain for UNH this season.
Burke is a big forward at 6'3" and 205 pounds and is a few years away from any shot at reaching the NHL level. While his offensive game will need to be developed, likely at the AHL level, Burke could eventually be a third line forward for the Capitals. He'll likely spend three to four years in minor league hockey, using his big body effectively during even strength play, along with some time on the power play.
You can view previous Capitals Prospect Updates by clicking on the links below.
You can follow Matthew on twitter @m_speck and email him at mspeck21@yahoo.com with any questions or comments.