Many players are selected through the NHL entry draft at a very young age. Most players go to a junior league and quickly become club property as early as age 17. A select percent go the college route, playing NCAA hockey, sometimes up to a full four years. With the college hockey season underway, I give you an update on the Washington Capitals' college prospects and how they are faring so far this season. Today I will feature Capitals' prospect, Travis Boyd. The next Capitals prospect I will feature is Greg Burke, forward at the University of New Hampshire.
Travis Boyd-Center, University of Minnesota
Boyd, 19, was selected by Washington in the 2011 NHL entry draft with the 177th overall pick and currently plays for the Minnesota Gophers of the WCHA (Western Collegiate Hockey Association). The 19 year old collegiate center is set to begin his second season with the Gophers, looking to increase his offensive production following a nine point season last year in Minnesota.
He may be a small player, but his greatest asset might be his ability to win face-offs. During his freshman with the Gophers, Boyd and won 11 of 12 face-offs against St. Cloud State and 9 of 15 face-offs against Wisconsin.  He seemed to be a clutch player in his first year with Minnesota, scoring his first career goal in the NCAA West Regional championship game against North Dakota.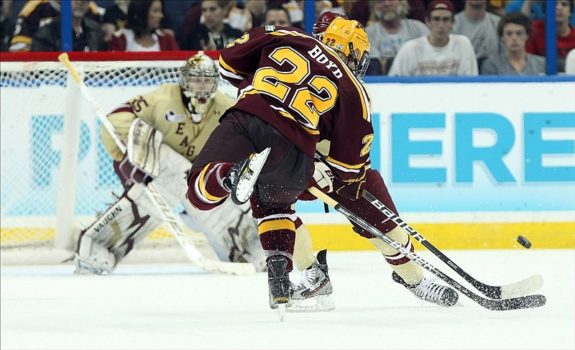 Boyd previously played for the United States National Under 17 Team during the 2009-2010 season, posting 10 goals and 18 assists through 34 games. He then played for the United States Development Team of the USHL prior to his freshman year at Minnesota. The 5'11", 185 pound Gopher forward potted five goals along with 13 assists in 24 games.
When drafted by Washington in the 2011 NHL entry draft, the Capitals never signed Boyd to a contract like many teams do to players intending to play college hockey. It's still unclear how long the sophomore center will play for the Gophers, but he will likely play a full four years like fellow Washington Capitals prospect, Patrick Wey.
This season, Boyd has played in 15 games thus-far, posting nine points on the season, tying him for seventh on the team. He's done a great job staying out of the penalty box to this point, accumulating only four penalty minutes on the year.
Following four years at Minnesota, the Capitals will likely sign Boyd to an entry level contract and he could begin his first season in professional hockey with Washington's AHL affiliate, the Hershey Bears.
Boyd projects to be a bottom six forward, possibly a fourth line center that can win face-offs and help on the penalty kill. He'll likely spend a few seasons in the minors, but with years of development Boyd can be a reliable defensive forward.
Boyd plans to major in business at the University of Minnesota along with his efforts to become an NHL player on day.
You can view previous Capitals Prospect Updates by clicking on the links below.
You can follow Matthew on twitter @m_speck and email him at mspeck21@yahoo.com with any questions or comments.